Newport is an astonishing place, nestled on the water's edge of the Eastern Sea border, it is a small place with a big heart and a lot going on. Our office is in the heart of the town and it is filled with yachting and the sea. When Berthon are putting together this annual publication, Newport just keeps giving with its stately homes, tennis, jazz, historic houses and famous cliff walk. This year, I wanted to tell you a little about Fort Adams, a National Historic Landmark, which will be well known to all those who have sailed our local waters.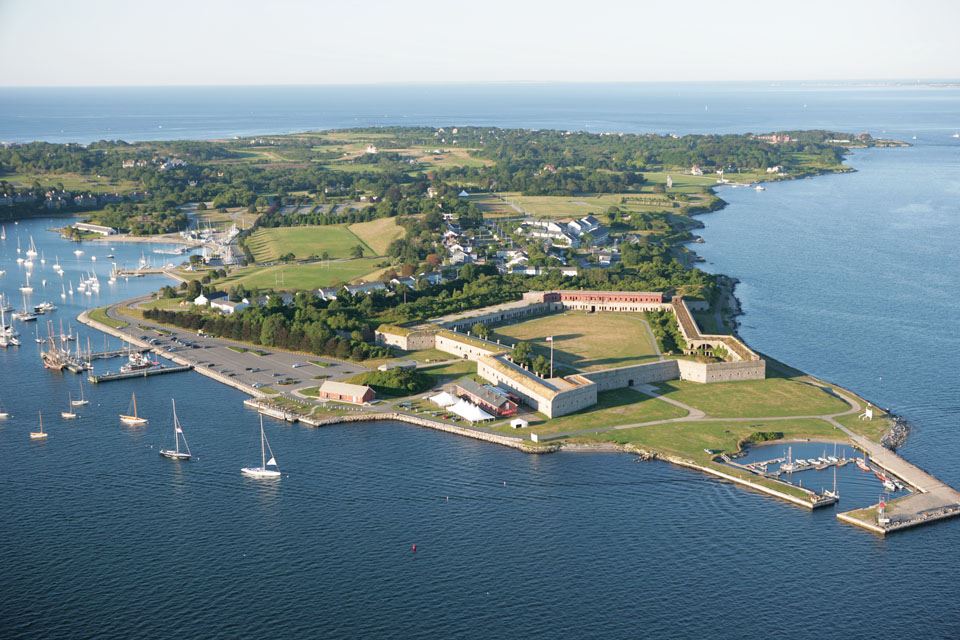 AERIEL SHOT OF FORT ADAMS – PHOTO BY ©BILLY BLACK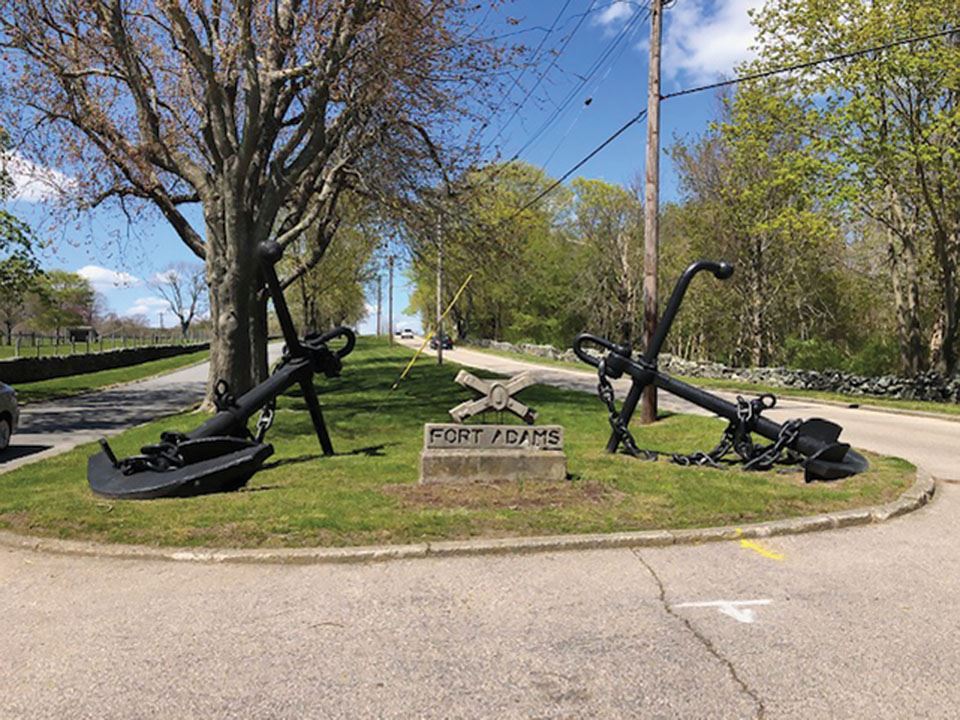 ENTRANCE TO FORT ADAMS STATE PARK
Yachts entering Newport Harbor from the sea will first pass the Castle Hill Lighthouse, and then, marking the entrance to Newport Harbor, sits Fort Adams. This extraordinary building and its surroundings are now a State Park and they are open to the public. If you find yourself in Newport, they are well worth a look.
Fort Adams was built between 1824 and 1857, and remained in active use through World War II. It is the most complex coastal fortification in the United States. Designed for both land and sea defense, guided tours provide scenic views of Newport Harbor from atop the walls. It is also possible to have access to the underground listening tunnels, deep beneath the fort.
In partnership with the State of Rhode Island, since 2001, the Fort Adams Trust, a 501(c)3 not for profit organization, has invested over $10 million in the Fort's restoration. Tours of this unique fortification include access to the restored areas, and you can also have a look at areas that are targeted for future restoration.
Mounting her flagpole was apparently quite interesting, as the flagpole was so massive that a crane was necessary to lift it into place, and the crane could not fit in to the fort grounds. So, the crane operator had to drop the pole over the walls without any visual on its location!
Fort Adams was originally built as a US Army post in 1799, and named after the then President of the United States, John Adams. In its current format, it was designed by Brigadier General Simon Bernard, a Frenchman who was one of Napoleon's engineers after the war of 1812. It was designed to defend against both land and sea attack. The walls are made from granite shipped in by schooner from Maine, shale quarried on site, and brick that it is believed was manufactured in Rhode Island itself.
Brick and stone tunnels were built in the outer walls of the fort, which is unique to Fort Adams, so that any possible intruders trying to access the fort underground would be heard. This is how they got their name as the listening tunnels! Although the majority of these are now in need of restoration, several are open and can be seen on the guided tour. Not bad considering that we are now 180 years on!
Although Fort Adams was an active military base through 5 major wars (Mexican-American, American Civil War, Spanish-American War, World War I and World War II), it never actually fired a shot in anger! During World War II, nets were strung from the Fort across the Bay to trap enemy submarines on their way to the Navy base further down the Bay. Today, those nets can still be seen in piles on Navy Land at the end of the Island.
In 1953, the ownership of Fort Adams was transferred to the Navy, which still has a huge presence in Newport. Even today it houses Navy families on the property. At one point President Eisenhower lived at Fort Adams. That particular Commander's house is now not surprisingly called Eisenhower House. Today it is used as a venue for private functions including weddings. An atmospheric and very lovely place steeped of course in history, it sits right on the water facing west, so the sunsets are pretty spectacular. I have spent many an enjoyable event there myself, truly one of the best views on the planet.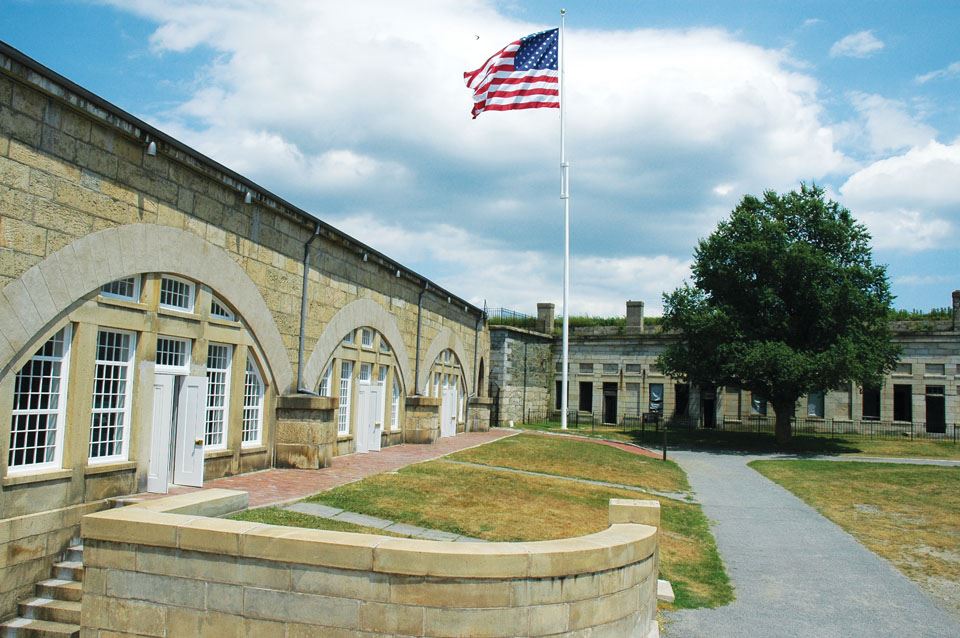 FORT ADAMS INTERIOR YARD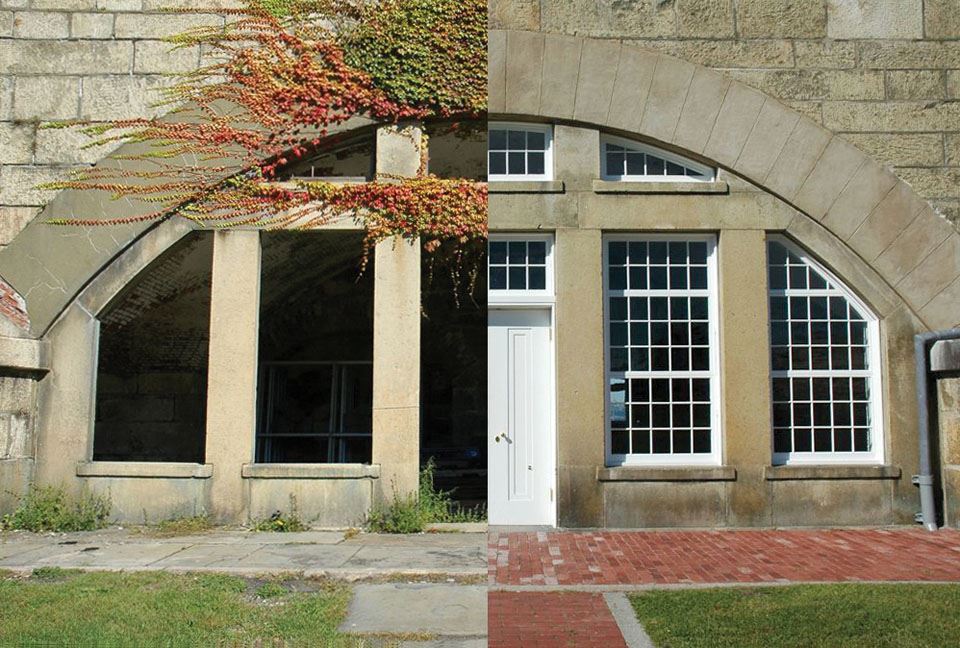 FORT ADAMS CASEMATES BEFORE AND AFTER RESTORATION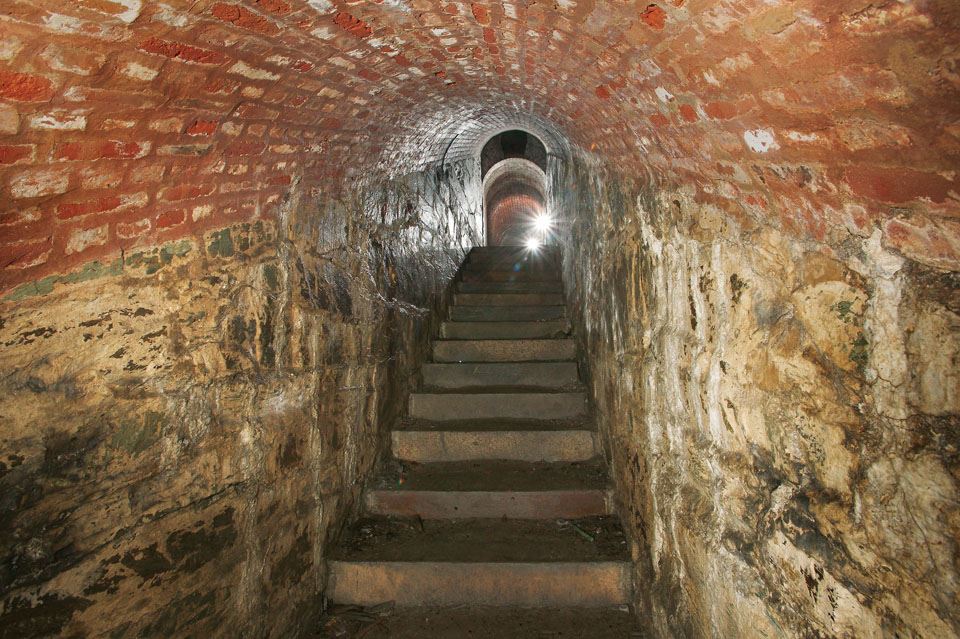 FORT ADAMS TUNNELS PHOTO BY ©RICHARD BENJAMIN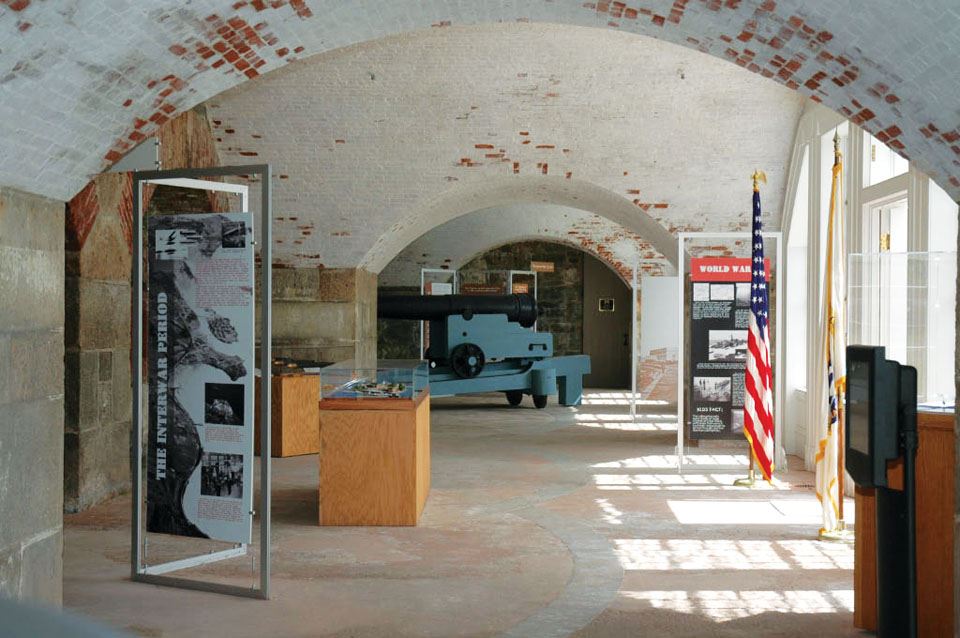 FORT ADAMS CASEMATES MUSEUM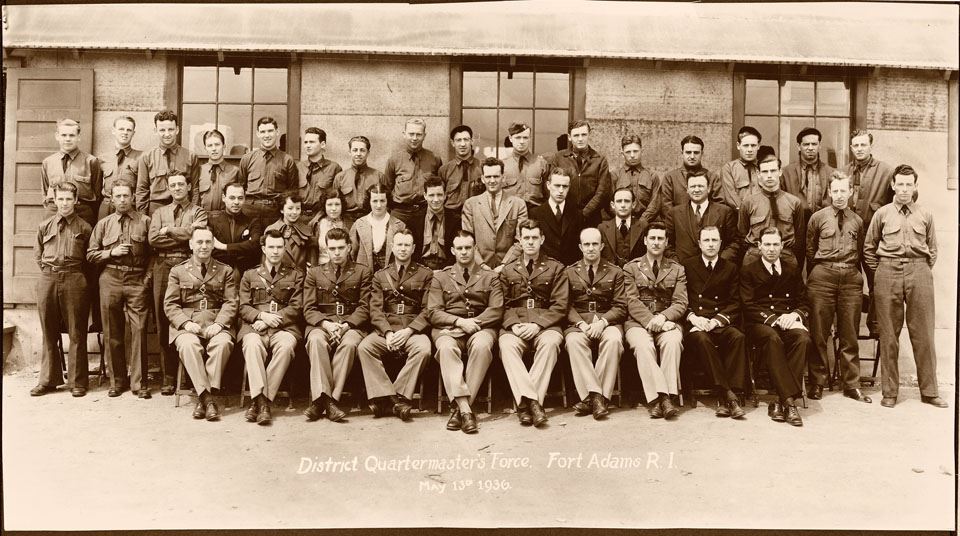 QUARTER MASTERS 1936
In 1965 Fort Adams changed hands again, this time to the State of Rhode Island, and in 1976, Fort Adams was declared a National Historic Landmark. In 1994, the Fort Adams Trust was formed partnering with the State in 2001 to keep the Fort open to the public and seek funding for continued restoration. Very much a local affair, my 93 year old neighbor was actually one of the founders of the Trust and she helped me with this article and the great imagery.
Many of you may have seen the Fort in media reports of the Newport Jazz Festival and the Newport Folk Festival. It also served recently as host the Volvo Around the World Newport, with the base set up at the Fort. Its austere profile was also in evidence at the 2012 America's Cup World Series. So even if you have never been to our town, you may well recognize this very unique building.
An inherent part of the fabric of Newport, the Newport Rugby plays there in season and there are also various football events. Aside from this it is the place to go for food festivals, swimming, fishing, family picnics, dog walking (myself included), and just general hanging out and enjoying the day.
SAIL NEWPORT, a not for profit community sailing organization, is another local organisation who calls Fort Adams home, running countless sailing events all season, teaching youth and adult sailing, and chartering small boats to its members. Newport's own Tall Ship, the OLIVER HAZARD PERRY, has her own special pier at the Fort, and there are many regattas spread around the Fort in the summer months.
You are always so welcome to visit us at Berthon USA at our Newport offices, but if you are doing so, please do make the time to have a look at the listening tunnels, marvel at the nineteenth century engineering (designed by a Frenchman) and to take in the views at this special and much loved part of the fabric of Newport.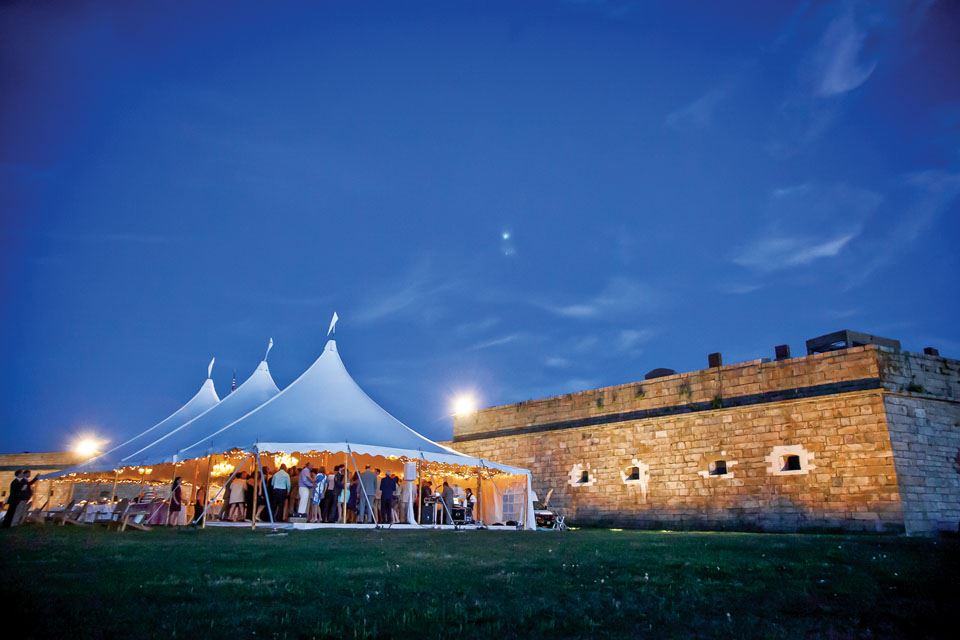 WEDDING TENT AT FORT ADAMS NORTH LAWN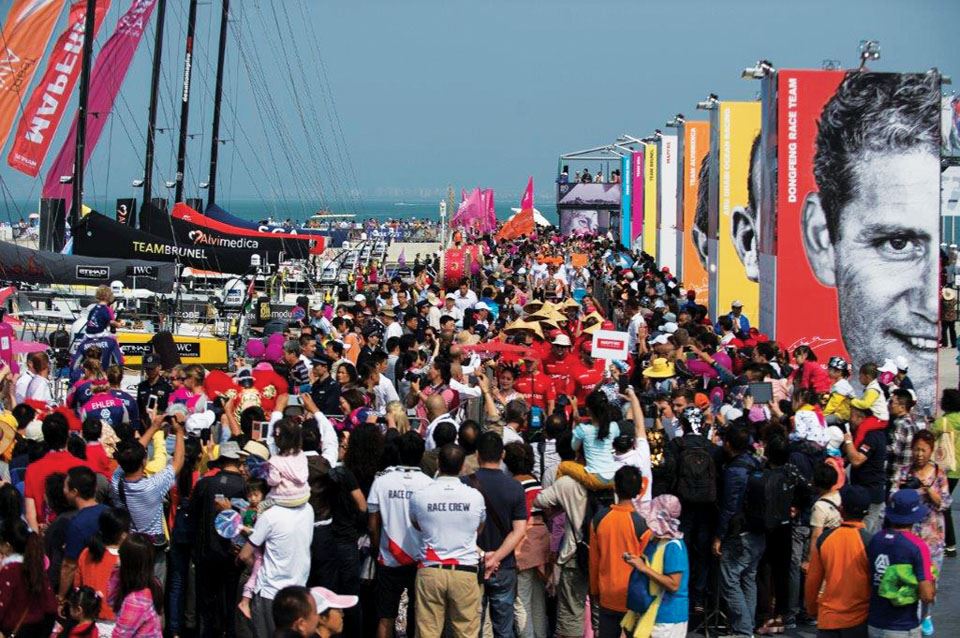 THE VOLVO RACE STOPOVER IN NEWPORT
Read Another Article
Download The Berthon Book 2020-2021 XVI (8.63MB)