by Jennifer Stewart, Berthon USA, Photography © Martha's Vineyard Museum, Historical information provided by the MV Museum and the New Bedford Whaling Museum, www.mvmuseum.org, www.whalingmuseum.org
As a local New Englander, Martha's Vineyard brings to mind James Taylor, Carly Simon, the Kennedy family, the vacation spot for various US Presidents, Edgartown Race Week and the filming of JAWS before remembering her history as a whaling community. These days, she is a luxury resort island during the summer, with her local population averaging about 15,000 living in six towns. These are – Edgartown, Oak Bluffs, Tisbury (Vineyard Haven), West Tisbury, Chilmark and Aquinnah (formerly Gay Head).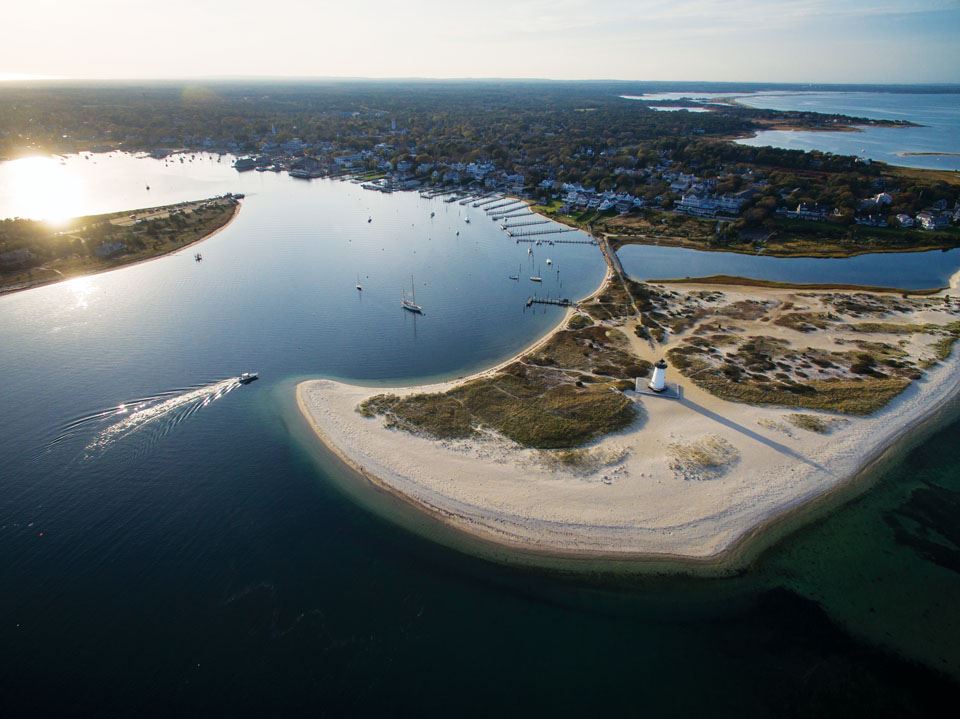 EDGARTOWN LIGHTHOUSE. PHOTO CREDIT DAVID WELCH.
Physically she is about 25 miles long, with around 7 miles across at the widest point, with two excellent harbors. Mainland ferries leave primarily from Hyannis, with smaller ferries arriving from other locations.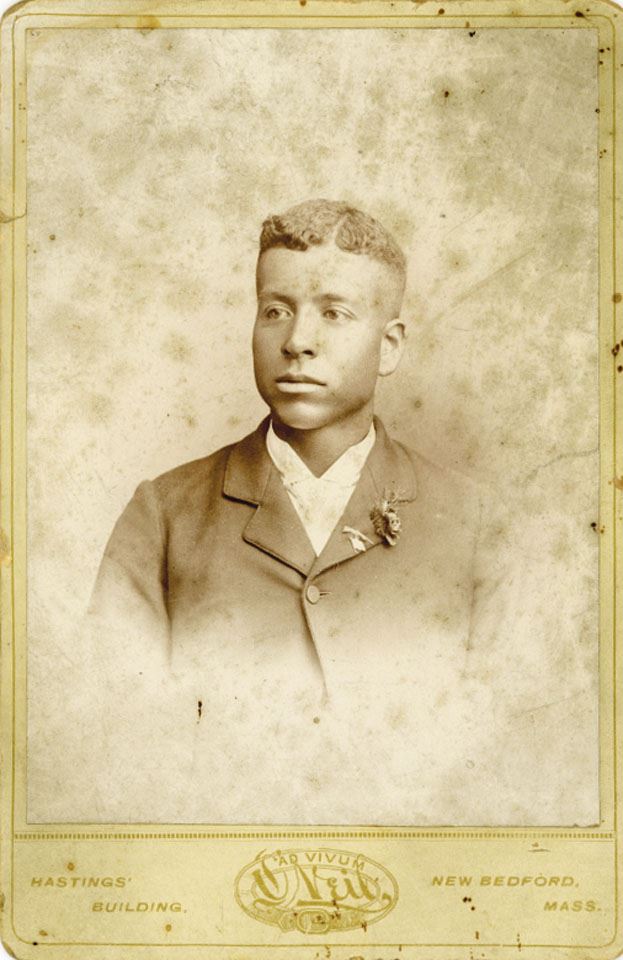 WAMPANOAG WHALEMAN AMOS SMALLEY (1877-1961) OF GAY HEAD, WHO SHIPPED AS BOATSTEERER ONBOARD THE BARK PLATINA OF NEW BEDFORD, IN 1901, AND FAMOUSLY KILLED A 90′ ALBINO SPERM WHALE WITH A DARTING GUN. HE LATER DID AN INTERVIEW WITH READER'S DIGEST IN 1956 ENTITLED "I KILLED MOBY DICK" IN WHICH HE TOLD THE STORY OF THE EVENT.
Legend has it that an Englishman, Bartholomew Gosnold, arrived on Cape Cod searching for sassafras in approximately 1602, renaming the Island after his daughter Martha, whom he buried before setting sail, and Vineyard because of the wild grapes he found growing there. The area was full of fish and of course, of whales for the much needed sperm whale oil. The native population at the time of the English arrival were the Wampanoag, who called the Island NOEPE, meaning "land amid the streams". They numbered around 3,000 at that time, but later fell prey in large numbers to diseases brought by the white settlers and loss of their lands. The first English settlers on the Island, led by Thomas Mayhew, brought their metal tools, cattle, sheep and swine, steadily shrinking the forests as they cleared the land for farm use. The land was rich, not only with food from the sea, but it was also perfect for corn and potato fields.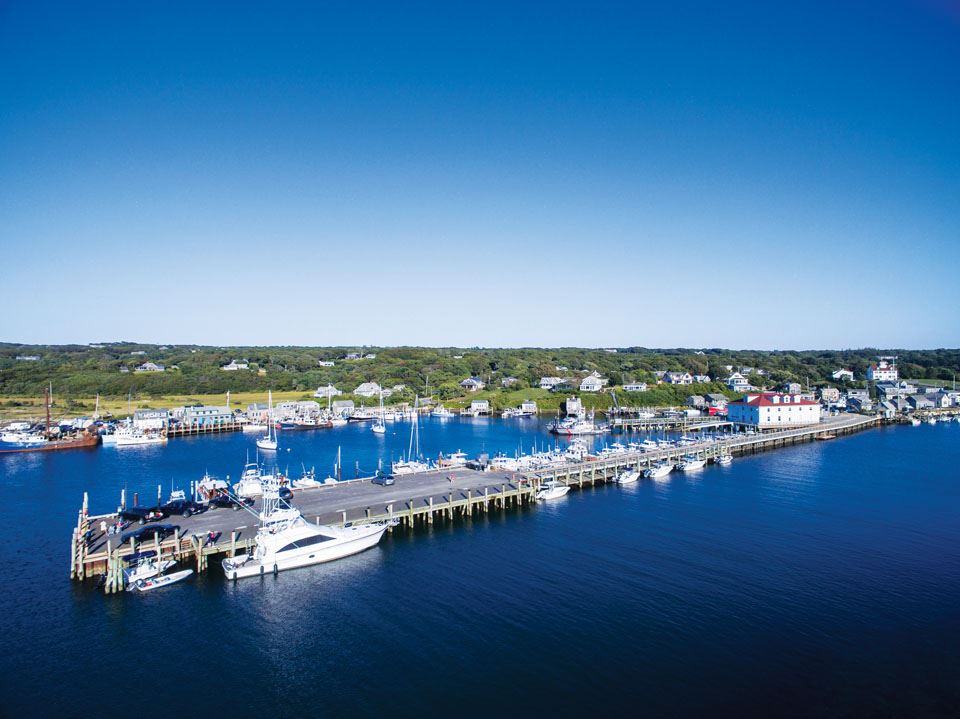 MENEMSHA HARBOR MARTHA'S VINEYARD. PHOTO CREDIT DAVID WELCH.
During the 19th century, as the whale population was depleted locally, as larger ships were built in Martha's Vineyard and nearby New Bedford, in order to sail further to fish. The Vineyard became a major offloading port for the sperm whale oil and home to many seamen, many of whom were either African American or Native Indian who had no interest in, or land to farm. Bringing in a shipload of oil made some men very wealthy, never mind those who built the ships. As Mr. Van Riper of the MV Museum said – "whaling was a hard life, years away from home, bad food, cramped quarters, and trying to kill 70′ animals with spears while standing in a 27 foot boat, but it could be incredibly lucrative. Rather than being paid monthly wages, whaling crews received a percentage of the profits, your share rising with your responsibility". The Whaling industry eventually died out in the late 1800's.
Being only accessible by sea, Martha's Vineyard has a rich maritime history. The men from the Vineyard were on all the commercial boats of the time, wooden schooners of the coastal trade and barks and brigs that were the "trucks" of the era, moving all goods up and down the East Coast and beyond. Even America's Cup boats showed up every now and then, with WEETAMOE, a J-boat built for the 1920's competitions pulling in to the Vineyard with a torn genoa in need of repair.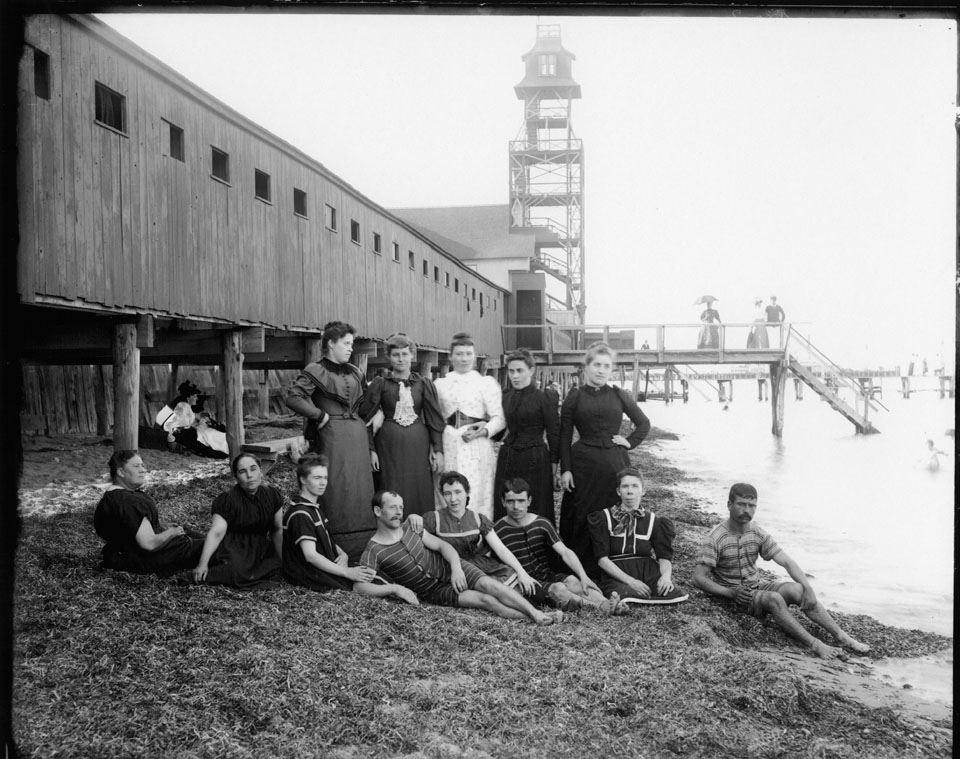 BATHING BEACH WITH OBSERVATION TOWER. HUNDREDS OF BATH HOUSES LINED THE OAK BLUFFS WATERFRONT.
Turns out the only person who could sew something like this was the local tailor and thanks to him, WEETAMOE made it to Newport and the Cup trials on time! A famous 100+ steel yawl from the mid-twentieth century, MANXMAN, made her homeport in Edgartown in the late 1940's. Her skipper (whose family roots went back to the first English settlers) was famous for bringing her up the narrow, twisty channel leading in to Edgartown Harbor under full sail, spinning her into the wind, dropping sails as he went, so that she coasted to a gentle stop at the dock.
Edgartown Race Week is hosted by the Edgartown Yacht Club founded in 1905; whose mission statement's aim, was to perpetuate the maritime traditions of Edgartown and Martha's Vineyard. The clubhouse has just undergone renovations to raise her floors, as her location right on the harbor was prone to flooding.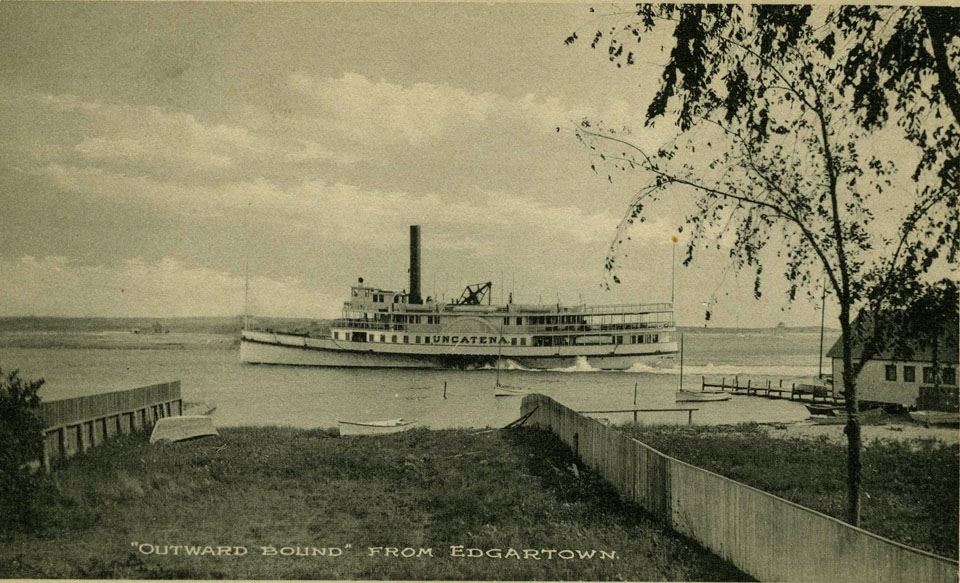 UNCATENA (1902) LEAVING EDGARTOWN THE LAST PADDLE STEAMER BUILT FOR ISLAND SERVICE. MEMORIAL WHARF IN EDGARTOWN WAS A STEAMER STOP UNTIL THE 1930s.
As with other years, in 2021 the club's regatta incorporated buoy racing along with an Around the Island Race. Having done the Round the Island race myself, it is either tons of fun with good breeze, or without it is a really long day!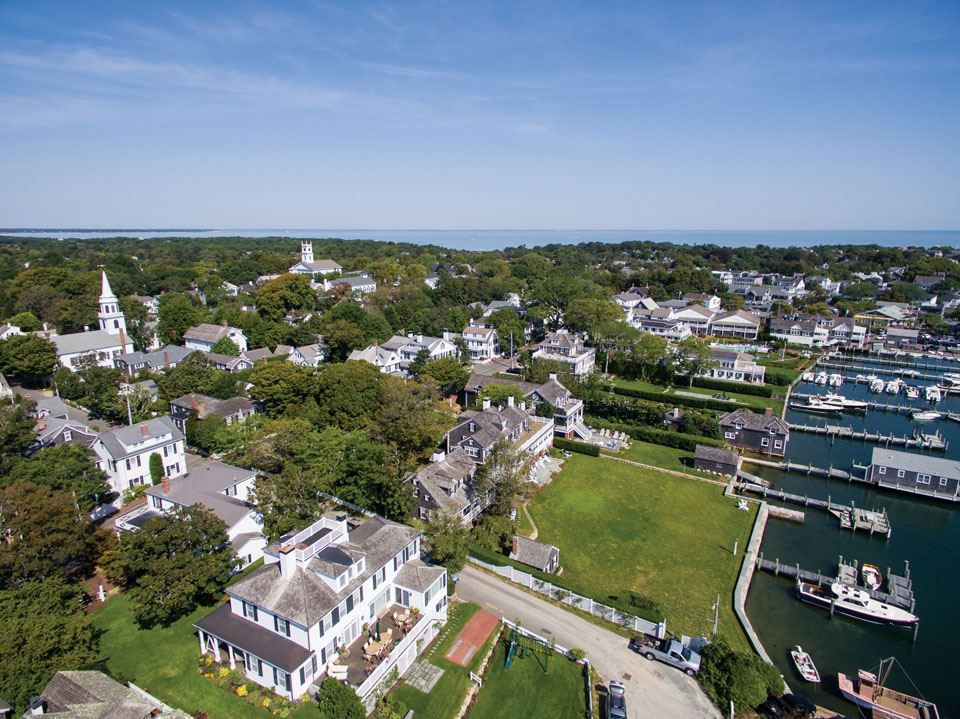 EDGARTOWN HARBOR. PHOTO CREDIT DAVID WELCH.
In the mid 1800's, Oak Bluffs had become a tourist destination, first visited by groups of Methodists & Baptists, who lived in tents and worshipped together in a stand of oaks, which is still there today. The word got around how pleasant the island was, and all those nonreligious people showed up too! After the Civil War, tiny "gingerbread" wooden houses were built in Oak Bluffs, which are still occupied today (and some by descendants of the original dwellers) and the Vineyard became the place to go, with bandstands, shops, huge hotels and the famous still running Flying Horses Carousel which is the nation's oldest operating platform carousel and an Historic Landmark. Walking through Edgartown, you can see gorgeous traditional New England homes, and in the harbors, plenty of beautiful yachts.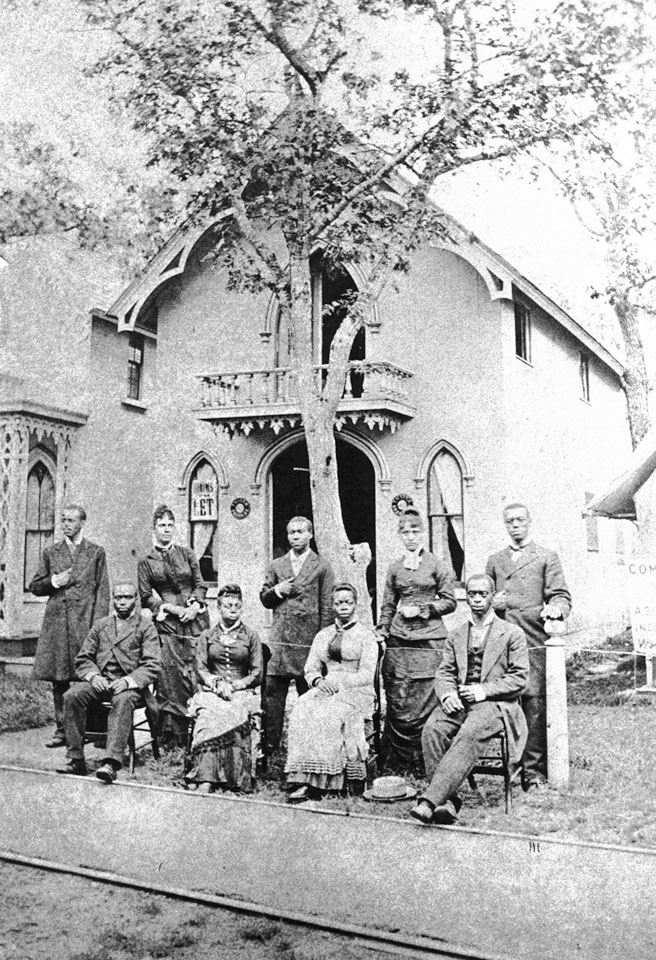 RENTED COTTAGE ON THE METHODIST CAMPGROUND, 1870s. AFRICAN AMERICAN VACATIONERS BEGAN TO COME TO OAK BLUFFS TO ATTEND METHODIST AND BAPTIST CAMP MEETINGS. BY THE EARLY 1900s, THEY HAD BEGUN TO RENT OR BUY VACATION HOMES, BEGINNING A "SUMMER COLONY" WHOSE MEMBERS ARE NOW (IN SOME CASES) 5TH OR 6TH GENERATION VISITORS.
Martha's Vineyard has also been a vacation spot for four Presidents to date: Ulysses S. Grant, Grover Cleveland, Bill Clinton and Barack Obama. JFK sailed in the Edgartown Regatta more than once, and Franklin D. Roosevelt stopped by on his yacht AMBERJACK during inclement weather.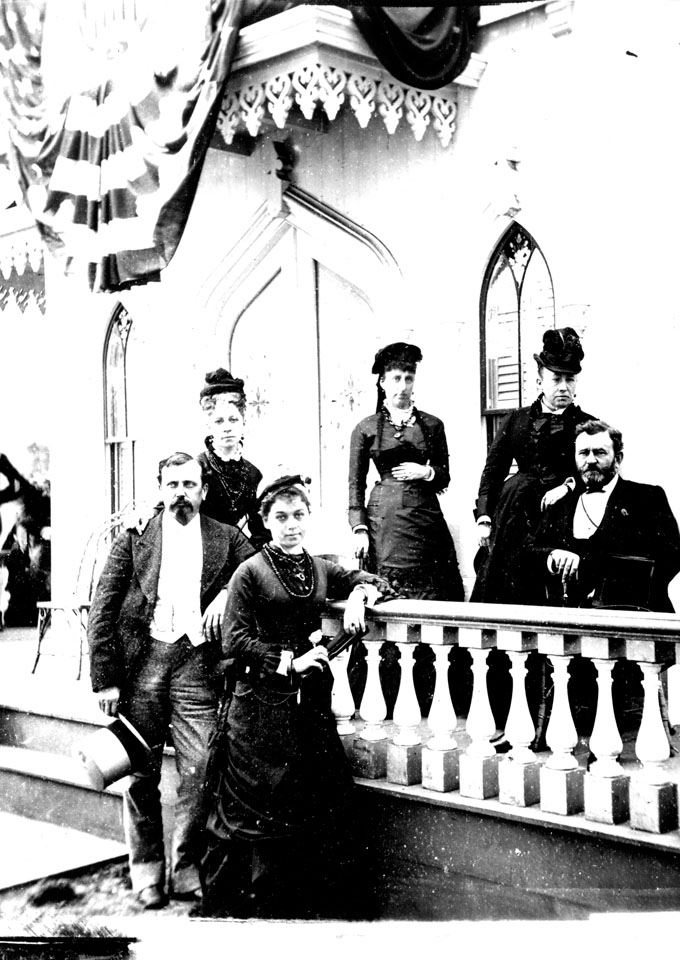 PRESIDENT GRANT (FIRST POTUS TO VISIT MV WHILE IN OFFICE) AND HIS WIFE JULIA (FAR RIGHT) AT THE COTTAGE OF BISHOP GILBERT HAVEN, WHERE THEY STAYED DURING A 3-DAY VISIT TO THE ISLAND IN AUGUST 1874.
Leaders in business had and still have their summer homes on the Vineyard, arriving in time for Memorial Day and usually gone by Labor Day.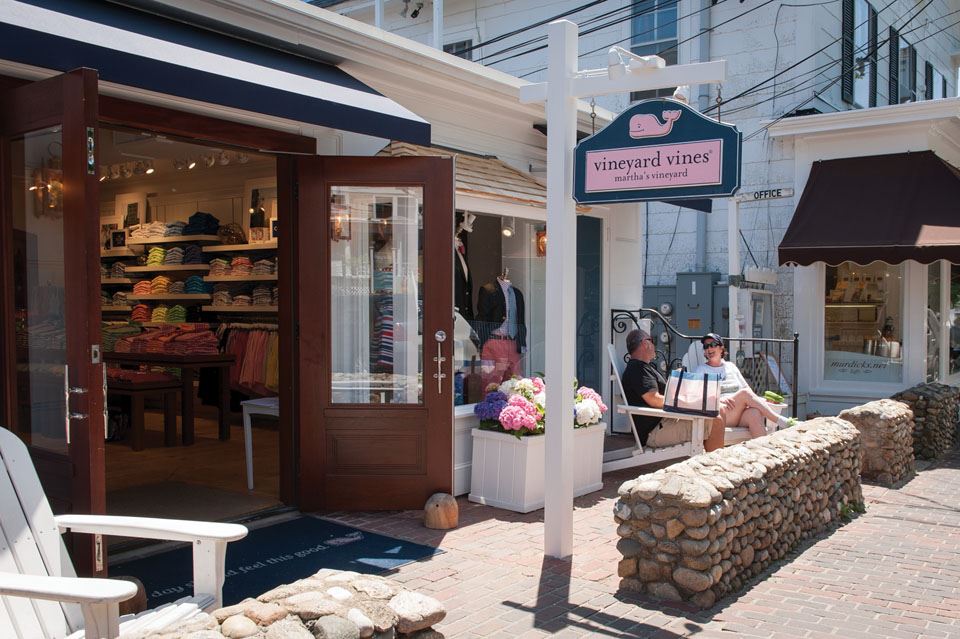 SHOPPING IN EDGARTOWN. PHOTO CREDIT NICOLE FREIDLER.
The island's most famous souvenir is the Black Dog T-shirt, which started out as a uniform worn by the employees of the Black Dog Tavern. The owner of the tavern was the owner and skipper of the cruising schooner SHENANDOAH, and realized he was on to something. I doubt very much that today you can be in any sailing port worldwide where the black dog is not seen on a hat, t-shirt or dog leash at some point!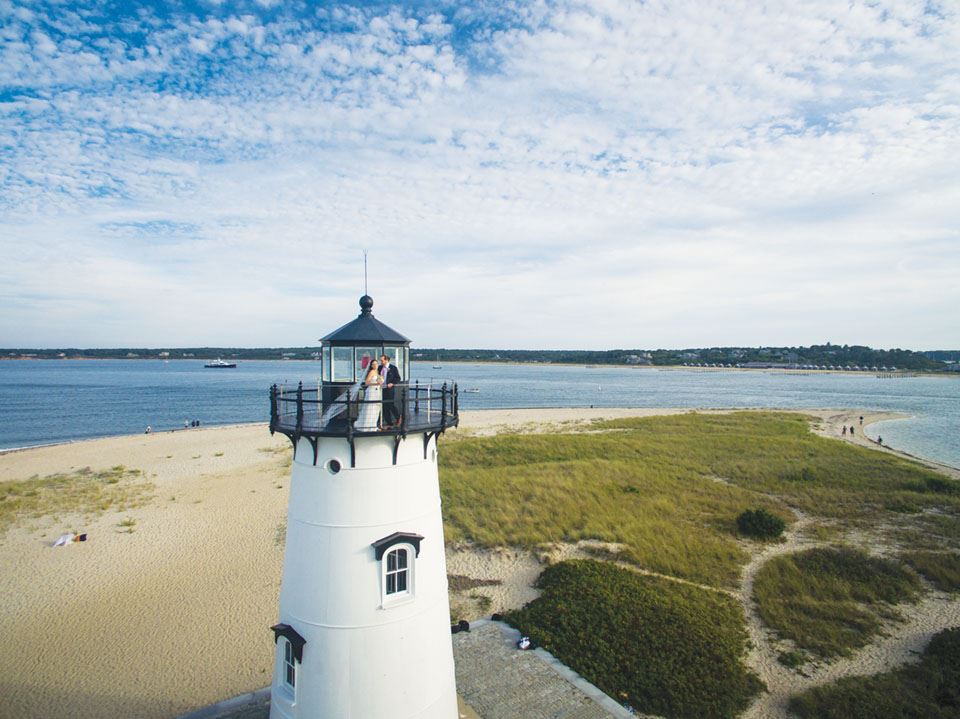 Martha's Vineyard is a wonderful destination, whether you are arriving on your own personal yacht, on the ferry with your bike for the day, or renting a room or house for a vacation. While Oak Bluffs and Edgartown are quite busy, the outlying towns are still very quiet with beautiful beaches and plenty of outside activities. Next time you are passing through, put the Vineyard on your list of places to explore!
Read Another Article
Download The Berthon Book 2021-2022 XVII (12.4MB)