Osborne Bay makes for a lovely anchorage and lunch time picnic stop for Solent yachtsmen. Through the trees you can make out the elegant house and gardens of Osborne, seaside home of Queen Victoria and Albert, Prince Consort. The shoreline is a pretty, private beach. No landing allowed, I'm afraid, but from your anchorage you can spy Queen Victoria's bathing machine and visitors to the grounds enjoying Punch & Judy shows with ice-creams in hand.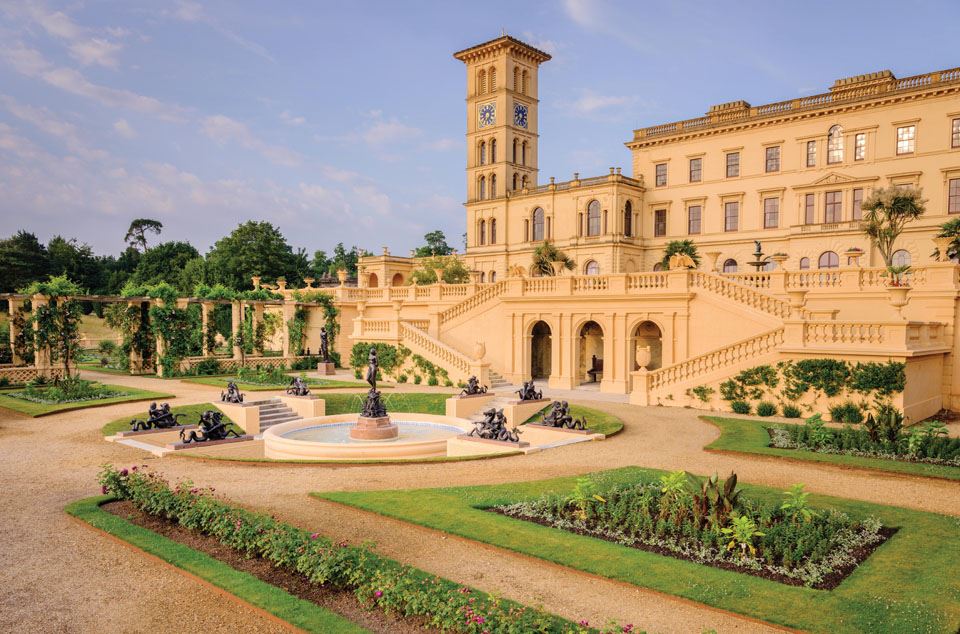 ITALIAN TERRACE AND ANDROMEDA FOUNTAIN
This magnificent palace, now managed by English Heritage, has played a significant part in my children's childhoods over the last 16 years. My motherin- law (Victoria!) recently retired from working at the house after 17 years. Not only did Vicki work at Osborne, but she also lives in a house within its grounds. We mostly lived abroad when the children were young and therefore spent a fair bit of holiday time at Osborne, going back and forth on the Fishbourne ferry to 'Gangan Vicki's Castle'. Over the years, we have come to know the house, gardens and its history very well. It is full of sumptuous rooms and incredible artefacts, but we have our own favourite places, pieces and experiences which I share with you today.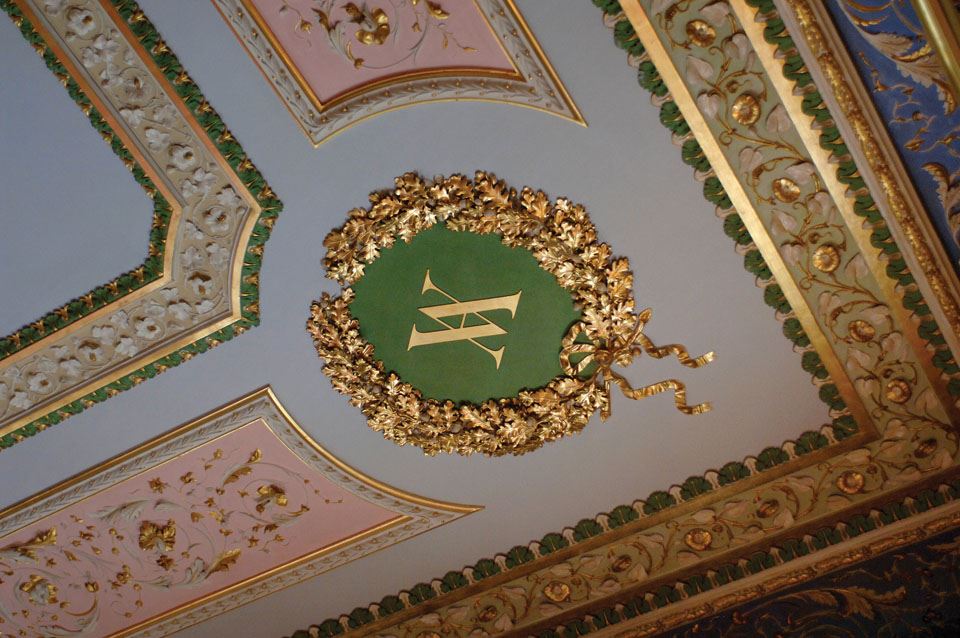 V&A CIPHER DESIGNED BY ALBERT
The charming photograph of Osborne House that graces the front of our 2021 Berthon Book, was taken on a chilly April day when the country was in national mourning for HRH the Duke of Edinburgh. If you look closely, you can just make out the flag flying at half mast. The nation was celebrating Prince Philip's life of unfailing public duty and dedication as Prince Consort to our Queen Elizabeth, his passions for science and industry and his modernising influence on today's royal family.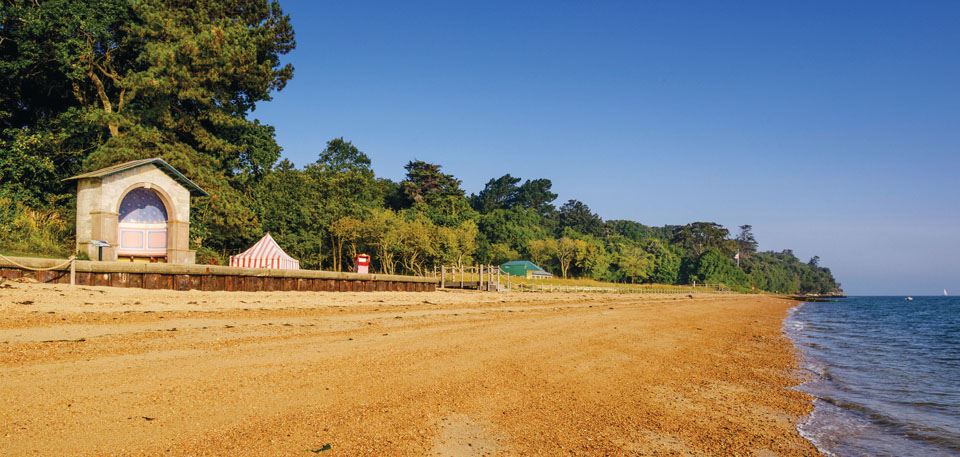 OSBORNE PRIVATE BEACH, SHOWING QUEEN VICTORIA'S PAINTING ALCOVE
Like Prince Philip, Albert too was a moderniser, fascinated with new technology. The house was built between 1845 and 1851, designed by Albert with London architect Thomas Cubitt and inspired by the Italian Renaissance style. As well as unrivalled luxury and beauty, Albert made sure to include as many mod-cons as possible.
So, on my list of 'Favourite things about Osborne House' Victorian technology has to be at the top!
Victorian Innovation & Technology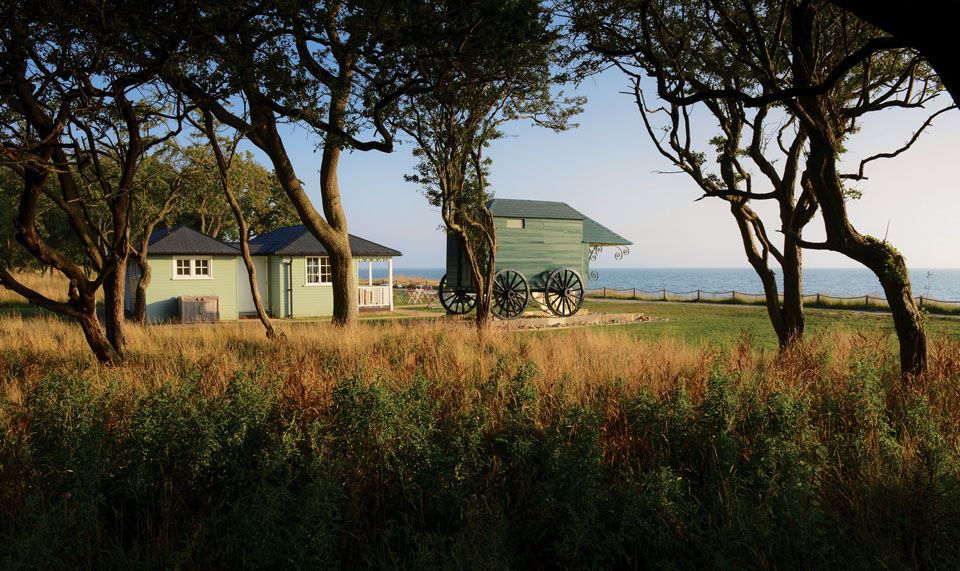 OSBORNE BEACH AND BATHING MACHINE
The Victorian era really was one of innovation, and modern royals Victoria and Albert wanted it all at Osborne; central heating and ventilation, the first lift installed by Otis, modern communications and more! With so much early technology incorporated into these palatial surroundings, it's a great setting to spark an interest in technology and science in young children.
Queen Victoria's bathroom was not only luxurious but exceedingly modern for its time. Her Majesty was one of the early few to have a proper flushing toilet plumbed in, hot water bath and shower. There is something a litte voyeuristic about admiring a queen's toilet, but we often found ourselves doing so with lots of childish giggles! The water was piped up from East Cowes for use by both house and gardens. Prince Albert had a reservoir built to water the flowerbeds and garden fountains via a system of pipes and this system still waters the gardens today.
Victoria and Albert were not cut off on the Isle of Wight. From 1852, Electric telegraph wires linked Osborne to the mainland, allowing the Queen to stay in touch with London and even the President of the United States, James Buchanan. Osborne was the second house in England to have electricity installed, though unfortunately 30 years after Albert's death. Victoria had the first chandeliers wired for electric light in 1893. Electricity was produced on site via gas turbine and stored in batteries.
In 1878, Alexander Graham Bell visited Queen Victoria at Osborne to demonstrate his great invention, The Telephone and so the telephone came to Osborne House.
And finally, I must mention that our very own Reverend Berthon received a royal invitation to Osborne in 1854 from Victoria and Albert, to demonstrate the now famous Berthon Collapsible Lifeboat. You can learn more fascinating history on this in a later article.
Swiss Cottage & Museum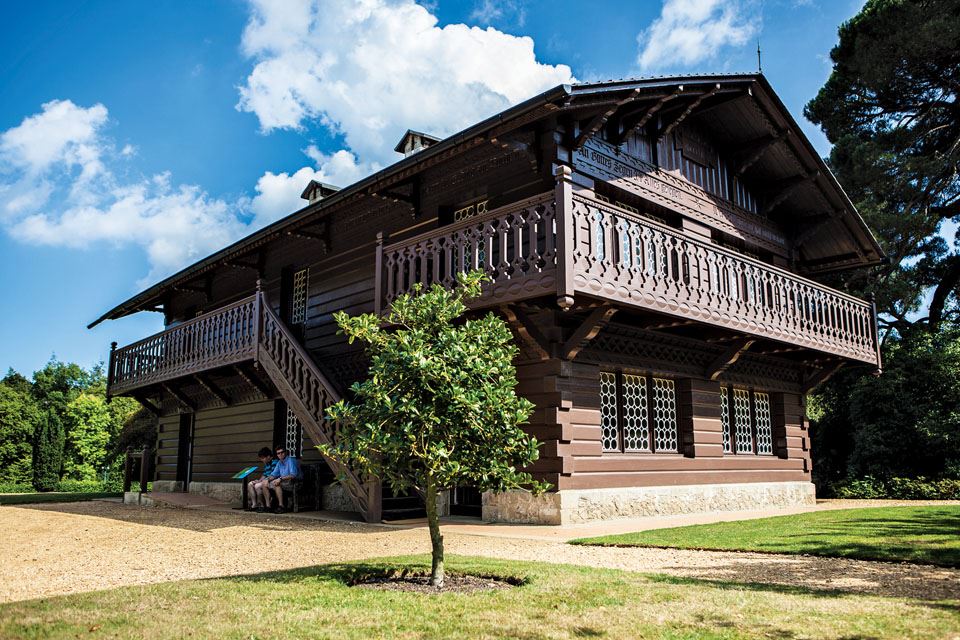 SWISS COTTAGE
This is a truly magical place and a lovely part of the grounds for which we always make a bee line. Victoria and Albert had a total of nine children, and this was their special place of play and education. Their play house 'Swiss Cottage' was built in the style of a Swiss chalet. Upstairs you can still see the children's dining room and living area. Downstairs there is a lovely children's role play area with Victorian dressing up clothes, and Victorian toys to play with.
Outside, Swiss Cottage's garden is sectioned into 9 different plots, one for each royal child. Here they learnt about gardening and growing vegetables, and each had a child sized wheel barrow bearing their initials 'Pss. A.' or 'P. A.' You will find these darling wheel barrows on display in the garden shed.
A little further on from the cottage, there is a wonderful curio museum, housing an eclectic collection of artefacts and many interesting gifts that Queen Victoria received from around the world. There are all sorts of things from a 5 legged deer to the original tickertape recording of the first ever transatlantic cable message sent by the Queen at Osborne to the President of the United States.
For more Victorian childhood fun, Swiss Cottage is just a short stroll from the beach for ice-cream, summer-time Punch & Judy shows and a good look at the bathing machine.
The Durbar Room
DURBAR ROOM
All Osborne House's state rooms are splendid, from the yellow satin adorning the Drawing & Billiard Room to the superb chandelier in the Council Room. But for me, there is something utterly mesmerising about the Durbar Room. It was carved and designed by Lockwood Kipling (Rudyard's father). Kipling described the room as a 'Hinduized version of the work of the Akbar period'. The whole room including the ceiling looks like it's been intricately carved out of ivory. I'm very pleased to say this is not the case and that the exquisite carvings are all out of plaster, cast from wooden moulds and carved under the direction of Bhai Ram Singh. The walls are lined with slender columns and with Arabic gold script. A magnificent, sculpted peacock watches over the room from above. The whole effect is awe-inspiring.
The Durbar Room takes its name from Indian princely courts meaning ruler's or king's audience hall. Osborne's Durbar Room was built as a banquet hall for ceremonial dinners with European royalty. Today, the room also displays the many precious, exotic gifts from India and the subcontinent, presented to Queen Victoria as Empress of India.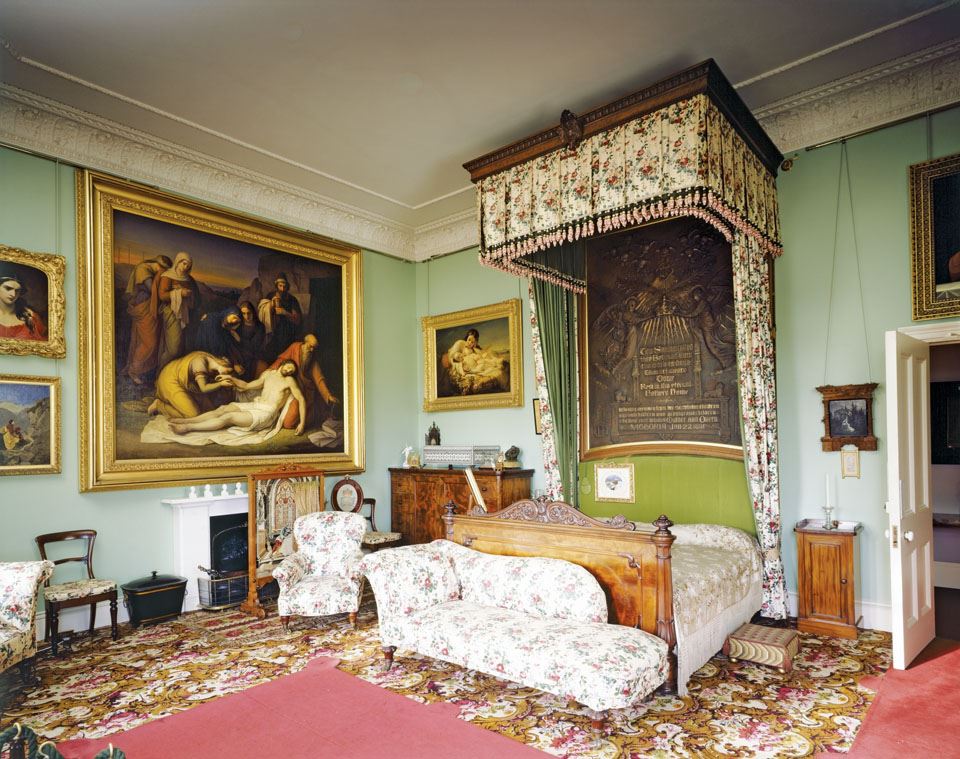 QUEEN VICTORIA'S BEDROOM
The Durbar corridors leading to the room are lined with famous portraits by Rudolf Swoboda of Victoria's Indian subjects. However, our family favourite is that of the Maharajah Duleep Singh, the last Maharajah of the Sikh Empire, painted by Franz Xaver Winterhalter. His portrait hangs at the end of a corridor as it turns to the left. As you go round the corner, the Maharajah's eyes and pointy toes seem to follow you!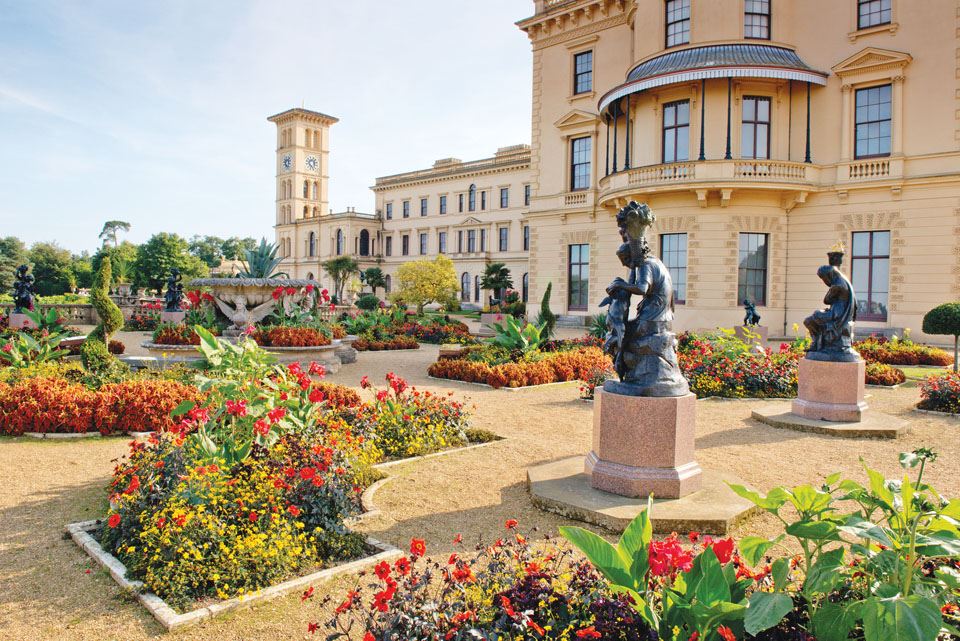 UPPER ITALIAN TERRACE GARDEN
My family's favourites have but touched the surface of all that Osborne House has to offer. The tabledeckers and its crockery, the nursery, the bedrooms, the ice house – there is so much to explore. It is a must visit for anyone holidaying on the Isle of Wight and a full day out, with cafés and restaurants for food and playgrounds and lots of run around space for the kids.
When you do get to go, I hope you enjoy it as much as the Moss family have!
Read Another Article
Download The Berthon Book 2021-2022 XVII (12.4MB)