By Ian Fagg
A career as a yacht captain on a series of Nautor's Swans and a CNB 93 amongst others, has brought with it a healthy respect for the power of wind, currents and an understanding of cloud formations.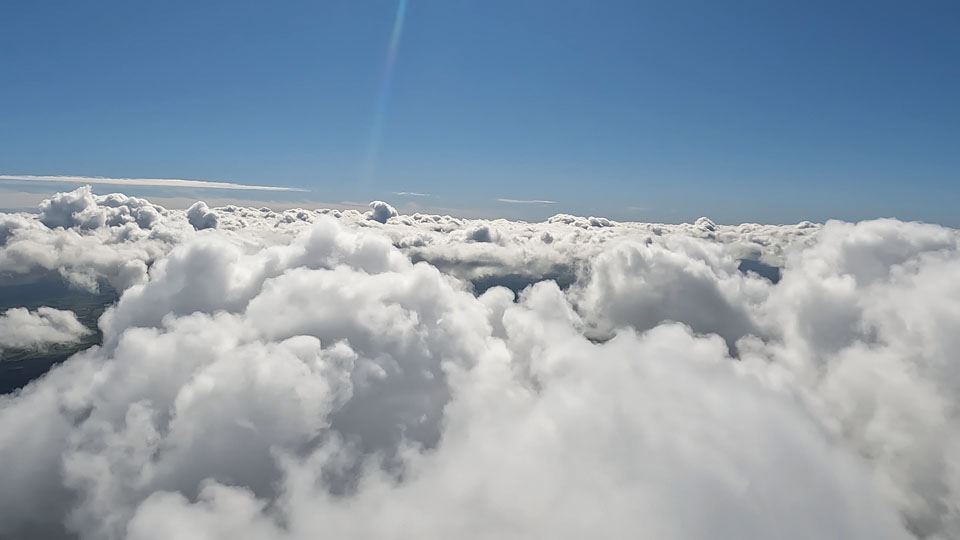 We all spent time glued to YouTube during lockdown, and there I found a video by paramotor vlogger Tucker Gott, showing this fantastic way of taking to the skies. I was hooked and two weeks later found myself at Davidstow Airfield, being trained by Oscar Haynes, a 19-year-old master of this unusual sport.
Paramotoring is the gentle art of paragliding but with the aid of a 2-stroke petrol (or electric) engine strapped to your back for propulsion. To stay aloft, traditional paragliding relies on wind to provide lift from geographical features, or rising air from thermals and to a degree your route is dictated. Paramotoring is an altogether different and more versatile affair. The engine provides forward thrust and is preferable when there is little or no wind or rising air from thermals. Because you are propelled into the skies you have the freedom (wind allowing) to choose your route and to take off and land at the place of your choosing in a controlled manner.
My first solo flight under Oscar's guidance was, to be frank, a thoroughly terrifying experience. The wing rises and fills as you run across the field and as you add power and more speed you are ultimately lifted into the sky. Soon you are looking down as the earth disappears beneath your feet and you sit in your seat hanging from skinny little strings beneath the wing, feeling completely euphoric! It is amazing!
After this utterly alarming yet exhilarating experience, I was not sure that my nerves would allow a second flight, yet the thrill of being aloft had soon relieved me of around £12,500 and I was now the proud owner of all the required kit to fly to my heart's content. Engine, wing and reserve parachute, all of which fit snugly in the back of my tru sty Yaris. I was ready to go anywhere!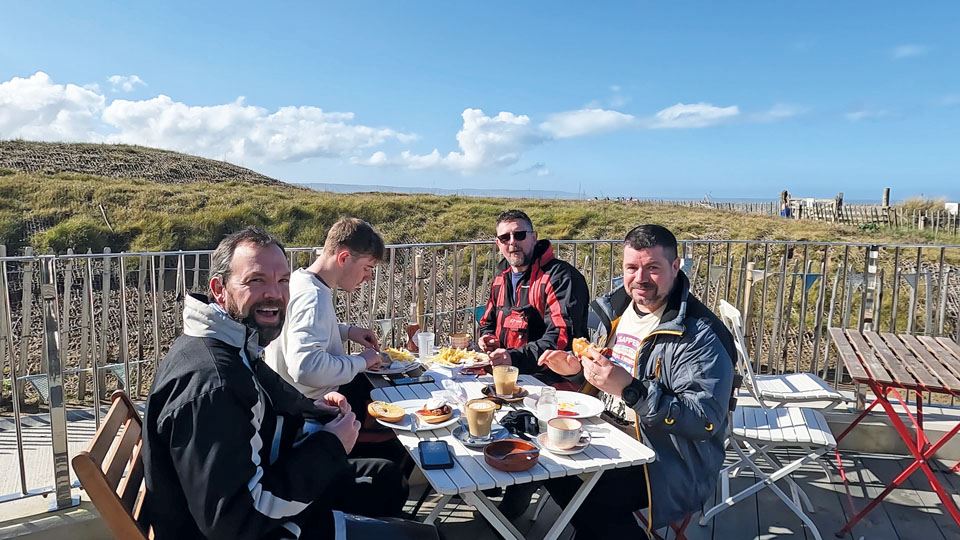 BREAKFAST WITH THE TEAM
Absolutely not a solitary sport, I normally fly with friends. Having checked weather conditions carefully, we often arrange to fly to an agreed destination, land and when ready, return to the field flying together, experiencing this amazing sport as a team.
In the winter when the sun is lower in the sky, flying is possible in good weather conditions throughout the shorter daylight hours. In the summer however, and particularly in the spring, paramotoring is best early morning and late afternoon. Aggressive thermals in the middle of the day can be dangerous for the relatively inexperienced man, strapped to a garden chair, strung beneath a tablecloth who can be tossed about like a rag doll, potentially suffering a collapse, at which point he rapidly returns to earth. A reserve parachute is of course part of the package but this way of returning to Planet Earth is best avoided and an extremely rare event in paramotoring circles. Mostly, flying in mid-day summer conditions is just thoroughly unpleasant, akin to sailing in bad weather.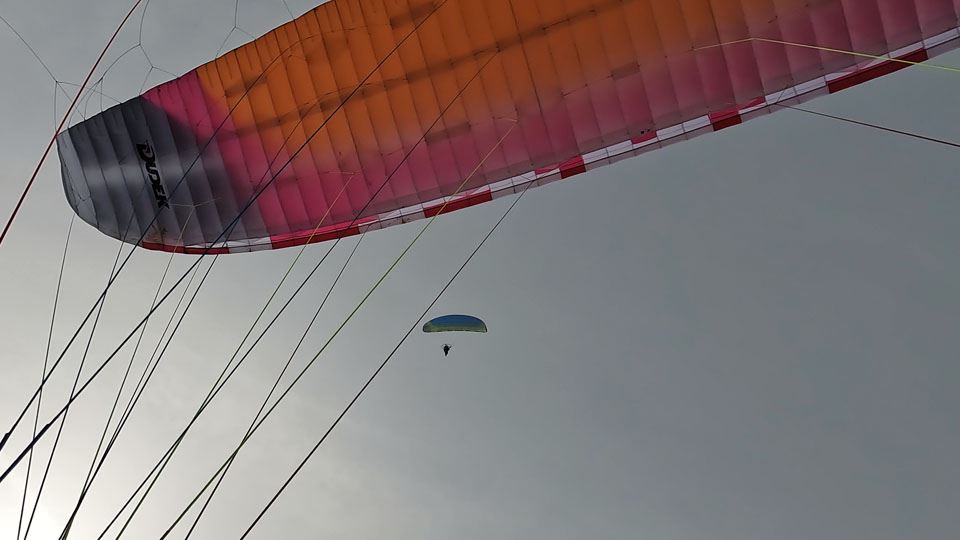 Normally a reserve is deployed about once a year in total amongst all UK pilots and there have been very few fatalities. The reality is that the most dangerous part of an average pilot's day is typically the drive to and from the air field, but nonetheless careful attention to weather and thermic conditions is imperative.
The engine is petrol driven and with a fuel burn of 4 litres an hour I have a safe run time of about 3.5 to 4 hours with a 17-litre tank. Electric motors are great and relatively quiet but their run time is much less, giving only around an hour in the air before the pilot has to return to the field.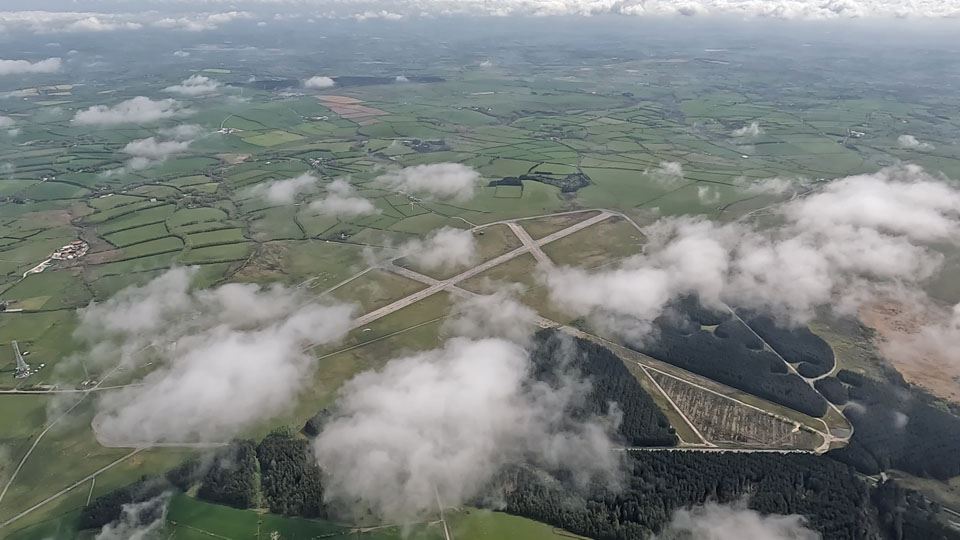 DAVIDSTOW FROM 2500 FT
With my less advanced "learner" wing, I fly between 25 and 30 miles an hour and have so far climbed to just over 7,000 feet. Having completed 105 fights, I still consider myself a relative novice. Progressing into the sport will eventually see me upgrade equipment to faster or more agile wings depending on the discipline, cross country or aerobatics. Wings are now available which fly up to 55/60 mph but for now I am happ y to continue my progression on this relatively safe wing.
There are various events pilots can attend. I have recently become interested in entering the Icarus, a race where paramotors compete to be the fastest over a 220-mile course, which means landing and refuelling a number of times during the race as well as a night under canvas. There is also a non-competitive "adventure" class, perhaps better suited to my experience at this stage.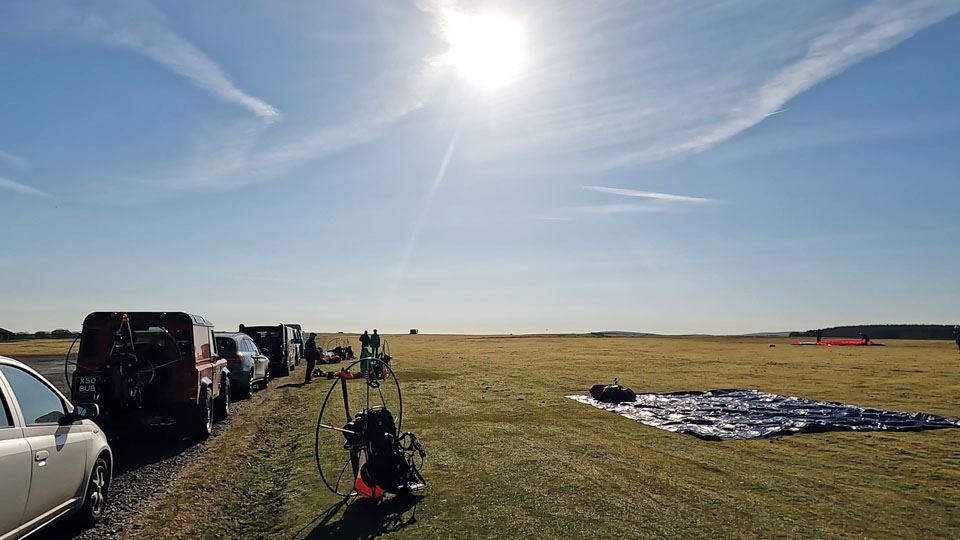 MORNING START AT DAVIDSTOW
The glory of climbing aloft to see houses, cars and landscape shrink beneath you, flying over the patchwork quilt that is the West Country in the UK is already pretty special. Getting up at 04:00 to get to the airfield at sun rise to fly with friends to a café on a beach for breakfast and heading home before the summer thermals kick in, is difficult to beat.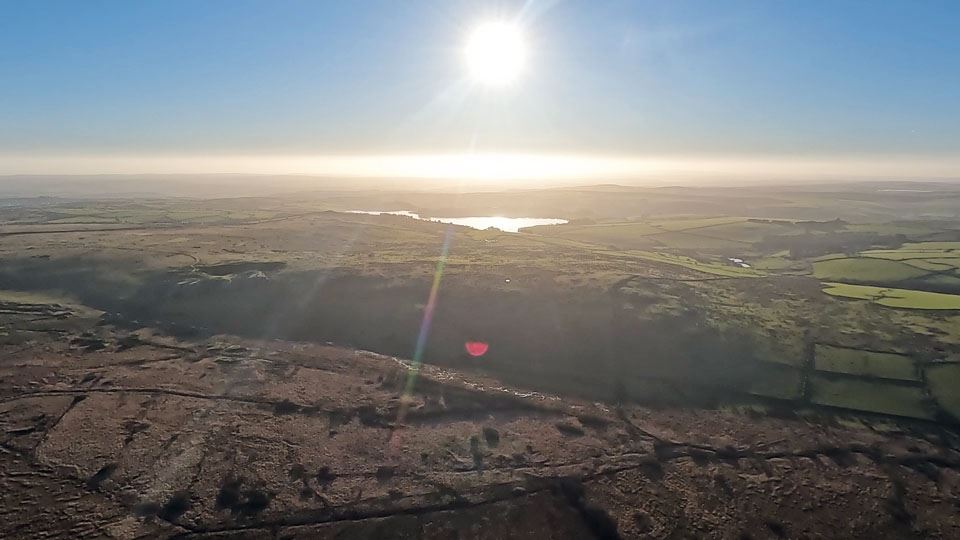 SUNSET OVER THE MOOR
The parallels with sailing are clear, such as the imperative to be very careful to maintain and service your kit. Leaving a spark plug cap not properly secured for example, is not a good look, one which I have experienced, gliding back to earth from 2,500 feet to put my house back in order. The lines need to be checked frequently, just like standing and running rigging on a yacht, not taking unnecessary risks must become second nature when putting to sea and air alike. Navigation is hardly high-tech, an App called "Fly Sky Hy" purchased for the princely sum of £8.00 gets me around just fine and with no elaborate instrumentation required.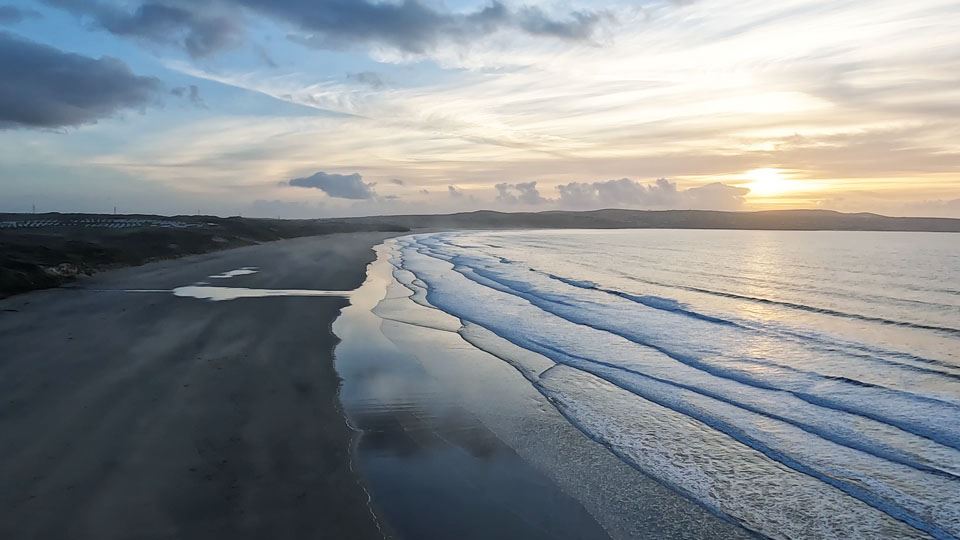 GWITHIAN BEACH
This year I will be attending a few paramotor Fly-In Events. My trusty Yaris and I will travel with tent, to the airfields where we will eat hog roast, chat about flights both past and future and together, we will take to the sky before landing for a night under canvas and more of the same tomorrow, para-cruising amongst the clouds!
LANDING OUT
Flight is an extraordinary thing, seeing the ground disappear beneath you, reaching for the clouds, flying high above the earth, looking down on the world below. It's incredible to be able to experience all of this for the cost of a reasonably priced car and of course it also all fits into the back of my reasonably priced car, I thoroughly recommend it.
Read Another Article
Download The Berthon Book 2022-2023 XVIII (11.2MB)