My garden shed is bathed in summer sunshine (certainly never guaranteed in the UK but wonderful when it happens) as I write the Review of the Market for the Berthon Book for the eighteenth time. We have been at this now for getting on for 2 decades….! Of all our direct publications I have to admit that it is my favourite. It features the Berthon Fleet both new and preowned, jostling for position besides some incredible articles by colleagues, clients and friends of Berthon. They are all on subjects that fascinate us, and which we hope, will interest you. What's not to like!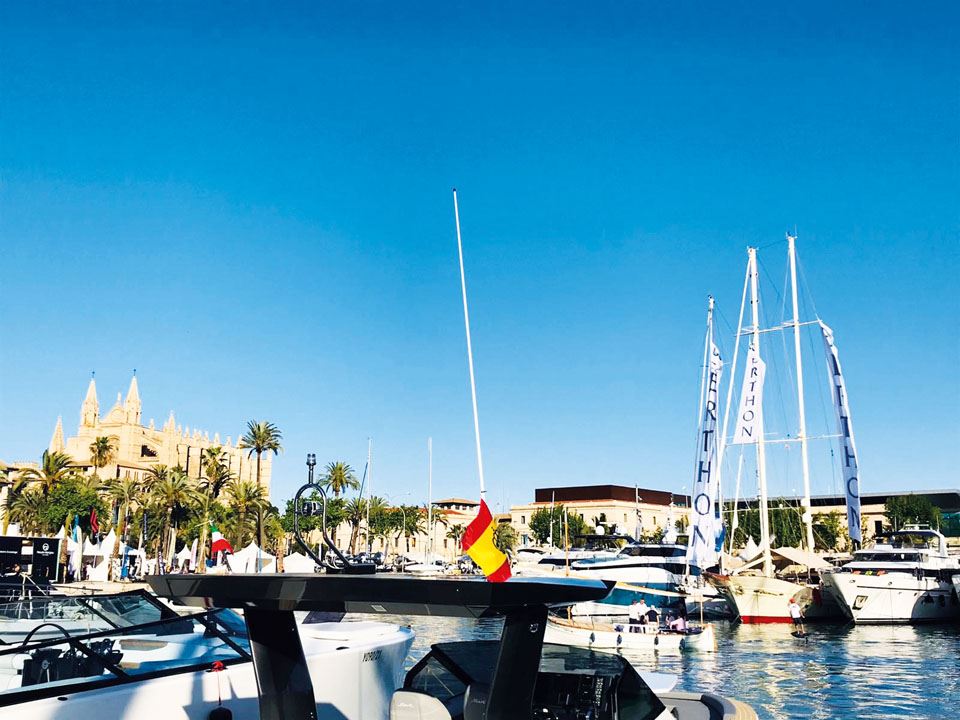 PALMA – SUPERYACHT VILLAGE AND INTERNATIONAL BOAT SHOW
Living in interesting times has become the new normal, the last years have seen Brexit (now a fading memory), Covid-19 – which is far from dead and buried, and now a war in Europe of a scale and ferocity that would have been unthinkable a few short years ago. This has exacerbated supply chain issues, hiked the cost of fuel and left us teetering on the brink of recession. Much else has changed and all this plays out against a back drop of the imperative for the human race to do more urgently to be kind to the planet.
As the hammer falls on each crisis, the Sales Group's little ship has shortened sail, and cruised on. The uncertainty of living in the 2020s has made nearly all of us reassess life and look at what is important. And one of the things that is important is spending quality time with family and friends and living for the day. For us this has translated into an extraordinary level of interest in yacht ownership, both sail and power, and as Covid recedes, the race boat market is also recovering well.
Our front cover shows the dolphins at Lepe just outside Southampton Water, on the Solent. They were constructed as pier heads to aid the embarkation of troops and equipment destined for the Normandy Beaches and the D-Day landings of 1944. Apart from being an amazing shot taken by in-house photographer Harry Shutler, they are a reminder of another dark time in the history of our planet and our ability to overcome, keep calm and carry on. This machinery of another war is now being reclaimed by the natural environment, and where the military were once stationed, novice sailors of all ages now gather to learn water sports of all types in a world where these relics are simply old and rotting bits of metal and wood.
2022 has been another great year for the Sales Group and all 5 offices have hummed with deals and activity. Living with Covid has meant less in the way of masks and restrictions, and more freedom to visit yachts and enjoy the yachting life with the Southern Hemisphere once again open to yachtsmen and rallies of all shapes and sizes filling up fast. Of course, air travel still has limitations and which of us have not experienced the frustration of delayed or cancelled flights this year! Testing positive and the resultant isolation is another boring part of everyday life. That said, things this year have been immeasurably better than 2021.
One of the major features of 2022 has been the lack of yachts. The brokerage market is rather like a bucket with a big leak and a very small hose filling it up! An enormous number of yachts were sold in the last 18 months and there simply aren't enough coming to the market to fill the gap.
On new yachts, as with all things, strained supply chains and inflationary pressures have created problems for yacht builders and delivery times are now around 18 months away. As this goes on, the normal cycle of selling your preowned yacht to take delivery of the new one, is totally out of kilter. Soon we will start to see a disconnect between new yacht prices and the brokerage market price, so don't expect yacht prices to fall any time soon.
We are lucky to continue to represent some extraordinary brands. On motor yachts we sell Pearl Yachts in the UK and France. The launch of the Pearl 72 this year provides yet another award winning flybridge yacht which is turning heads and selling quickly internationally with her Kelly Hoppen interior and incredibly clever use of space inside and out. She joins the 62, 80 and 95. Look out for our new Pearl/Berthon office in Swanwick on the Hamble, which we opened this summer. We also continue to work with Iguana Yachts – simply the last word in amphibious boats for leisure and now commercial use too.
In the USA Sealine is a great yacht for our East Coast waters and they fit snuggly with the Moody sailing yacht offering that we have in the area, which is perfect for Martha's Vineyard to the Caribbean.
In the Balearics we sell Marex Boats. Offering superb engineering and build and clever interiors which are fantastic for cruising these beautiful islands.
This year we said goodbye to Windy Boats of Sweden after 27 great years. A mutual decision as our business models had grown apart. However we continue to be the go to people for Windy brokerage boats and to support our many Windy owners as we have always done.
Working with Solaris Yachts in Italy and their crisp, efficient and very cool sailing yachts from the board of Soto Acebal, has been very exciting. The range is evolving quickly as is our relationship with them and we now represent them in the UK, on the East Coast of the USA, in Finland and Sweden. With a number of Solaris yachts in build including the all new Solaris 74, we are looking forward to seeing her launch very soon. Their concept of easy to handle, fast, comfortable yachts that look good from every angle works brilliantly.
In the USA, the Moody range have proved the weapon of choice for many East Coast sailors with their clever design, lovely interiors and easy handling. Our Newport office have delivered a fleet of them this year. Of course our commitment to the amazing Rustler shipyard for the American market sees more of these lovely hand crafted and captivatingly pretty yachts reaching these shores.
The full Berthon Team has remained in place this year and we have exploited our local broker offering very successfully. Having offices over 2 continents we recognise the convenience and confidence boosting aspect of being able to speak to a broker in your own time zone and language about a yacht that that you are interested in buying in another country. Because we work as a team, we are able to deliver on this and to provide a local service to our client base. We have worked together for years and our common standards in terms of assessment of condition and suitability for a specific client, means that the broker local to the yacht is able to effectively brief your Berthon broker so that you can assess the good, not so good or maybe even the quite grotty.
In the UK we have strengthened the team this year, adding Harry Lightfoot to our sailing yacht division. He came to us from Discovery and his knowledge of the brand including of course Southerly has enabled us to increase our experience base. Sophie Kemp, our lovely sailing yacht broker on maternity leave, will return with a new, very junior yacht broker in 2023.
The Côte d'Azur continues to sparkle and our office in Mandelieu after a spring update, is perfectly situated and effectively run by Bruno Kairet and Isabelle Skaf. They are the go to people for local knowledge of this great area as well as for the purchase of Pearl motoryachts. We also run an active brokerage in the South of France, well supported by our HQ in Lymington.
In Sweden, the business has expanded this year and the launch of a new Berthon Scandinavia website in the spring provides better delivery of information in the local market available in Swedish and English. From our base on the island of Orust the Berthon Scandinavia team are the acknowledged experts about the brokerage sales of all things Swedish and this has enabled us to expand our listings base and client base for this office internationally.
Berthon USA saw a fifth broker join the ranks this spring. Peter Houghton originally from the UK has been a successful yacht captain and has now joined us ashore to help to expand the business further. This office also had a new website this year to increase visibility and reach in the USA. The market has been extraordinarily busy and we watch carefully the market trends that we are seeing in the Rhode Island office as they invariably roll out across the international markets soon afterwards. It has been another strong year with the only limitation being the availability of yachts both new and pre-owned.
The Mediterranean is fuller than we have seen for years – 2021 was a huge year and 2022 has continued on this theme. With it, our service operation at Berthon Spain continues to thrive and grow strongly. The decision to invest in a 2,0000 sqm facility on the island (taken in the depths of the Covid crisis) has proven to be the right one as we now have the space and capability to employ and support skilled craftsmen and technicians to maintain and refit the Berthon Spain fleet. We are now also well known for our engineering skills in the superyacht community in Palma. This business is flying as is the sales business operating from our office opposite the Club de Mar. The Palma Superyacht Village and International Boat Show was a superb event this year, with Covid restrictions relaxed and the normal outstanding Palma weather. With an international crew from our UK, USA and Spanish offices it was a great early season event that saw the best of the Mediterranean brokerage fleet both sail and power gathered in one place for 4 glorious days.
Getting the marketing right for us is a key component of what we do. Granular yacht particulars are a Berthon trademark and our house publications like this are cornerstones of our offering. We are all boat mad and this means that we try to get beneath the skin to understand the yachts whose sale is entrusted to us. However, the market is moving and we believe that imagery, video and social interaction are the key to success for us going forward. Our .com continues to be actively optimised and of course we have launched 2 new websites this year. We are also working hard on our video offering with masses of new kit for our videographer and new and better content. Please visit our YouTube channel and see what we have been up to. This has been coupled with a total rework of our social media offering to increase our reach.
Delivering good and accurate information and enough of it, is important in a world where time remains at a premium and where Messrs Easy Jet and Ryan Air are less frequent and reliable with their schedules. Our biggest lesson of lockdown was the need to show as much as possible and to make it easy for yacht buyers to identify their new yacht from the Berthon information and to know that a visit to the yacht would show live what the information and imagery showed on the screen.
I hesitate to mention VAT as of course this subject ebbs and flows, but it now seems to have reached an uneasy equilibrium with understanding from HMRC for UK yachtsmen and some practical solutions in Europe. It continues to be a challenge to understand the local and international rules but we now at least have a basis from which to work, and the UK and European fleets are settling in their territories and the status quo is now in the main, understood.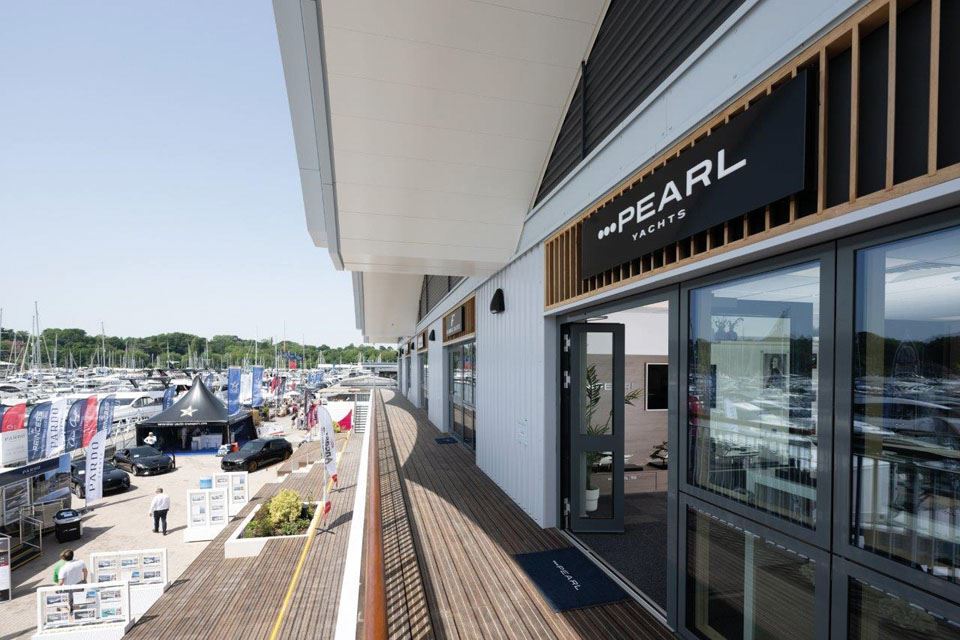 PEARL / BERTHON OFFICE – SWANWICK ON THE HAMBLE
As you turn the page to much more exciting and interesting things, and dive into the lovely articles written for us by our wonderful contributors, we hope that you will enjoy the esoteric subjects and great imagery, much of which this year, has been gathered live. Likewise, the Berthon fleet is looking very trim and we are so grateful to be trusted with the sale of such a great collection of new and pre owned yachts. We hope that you will want to know more about some of them and you can visit many of them via video walk through at berthoninternational.com from the comfort of your study.
I very much hope that you will enjoy our eighteenth book as much as we have enjoyed preparing it for you. Fair winds and good sailing.
Read Another Article
Download The Berthon Book 2022-2023 XVIII (11.2MB)