Elaine Bunting reflects on the life and times of a Marine Journalist, elainebunting@me.com
A pot of tartan paint. The fog locker key. These were items a new apprentice or cadet would be asked to go and fetch. The captain might say the second engineer had the key to the fog locker, who in turn suggested it was with the chief engineer, who said no, try the chippy.
By the time the new boy returned emptyhanded and shamefaced, it had given the crew a laugh at his expense. It was a rite of passage that served as a reminder that, as yet, you knew the sum of less than nothing.
When I joined Yachting World as an editorial assistant in 1990, I wasn't given tripwire assignments but an assortment of very odd jobs. My first was to go to London Zoo to try out a new pressure washer and remove guano from the penguin enclosure.
Word must have come back I'd done OK, because soon after I was invited on one of the magazine's One-of-a-Kind rallies. This was an annual event which brought together a number of similar-sized new yachts for four days of comparative tests and trials starting from the Solent. Along with a group of readers, prospective buyers and yacht agents, we'd sail east to Chichester Harbour or west to Poole, race each other, make dinner and stay on board at anchor.
It was an ideal way to conclude which yachts were comfortable to live on, or fast, or easily handled, or seakindly. It was also a ridiculous amount of fun, especially for a week 'in the office'. My job was to write about the galleys. I can't think why, because although I'd had summer jobs as a sailing instructor since my teens, in those days I wasn't much of a cook.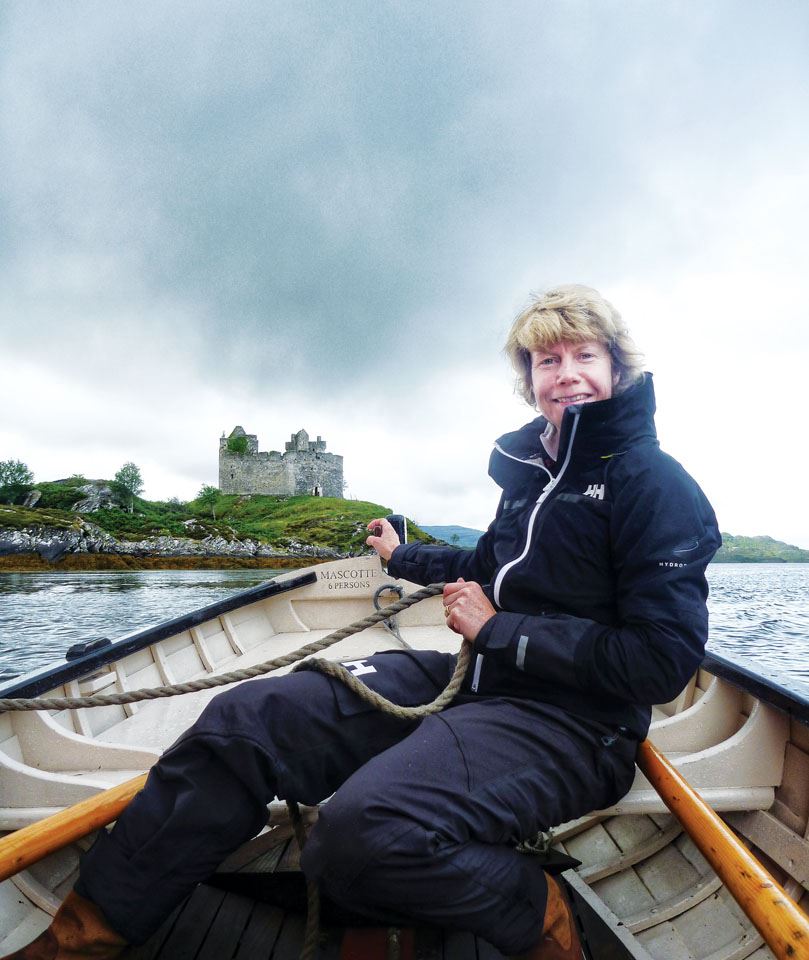 CASTLE TIORAM, LOCH MOIDART, SCOTLAND
Over time the One-of-a-Kind rallies fizzled out. Boats weren't always so readily available, builders were less keen on these direct comparisons, and we… well, there were fewer staffers as the years flew by, being kept busier. The so-called 'new technology' that had sent Fleet Street culture into terminal meltdown put more of the publishing workflow directly in our own hands.
Nevertheless, a year or two later when I met my husband-to-be, he chuckled mischievously and noted: "That's not a job, that's a hobby!"
Different Times
From the eyrie of middle age, the past seems at the same time close and hilariously far away. How different the sailing world was. (Remember, only 1990!) People wore blazers and club ties to the boat show. The topic of flag etiquette could be relied on to produce a blizzard of readers' letters: ensigns and the use thereof; position of a club burgee; hierarchy of courtesy flags. All were incendiary hot-buttons.
White foul weather gear was dead cool. Rothmans was a big race sponsor. Westerly was still (just) building bilge keelers, though it had launched a new model, the Ed Dubois-designed Oceanlord. It was the talk of the show, with a master cabin so commodious an experienced colleague dubbed it 'the fornicatorium'.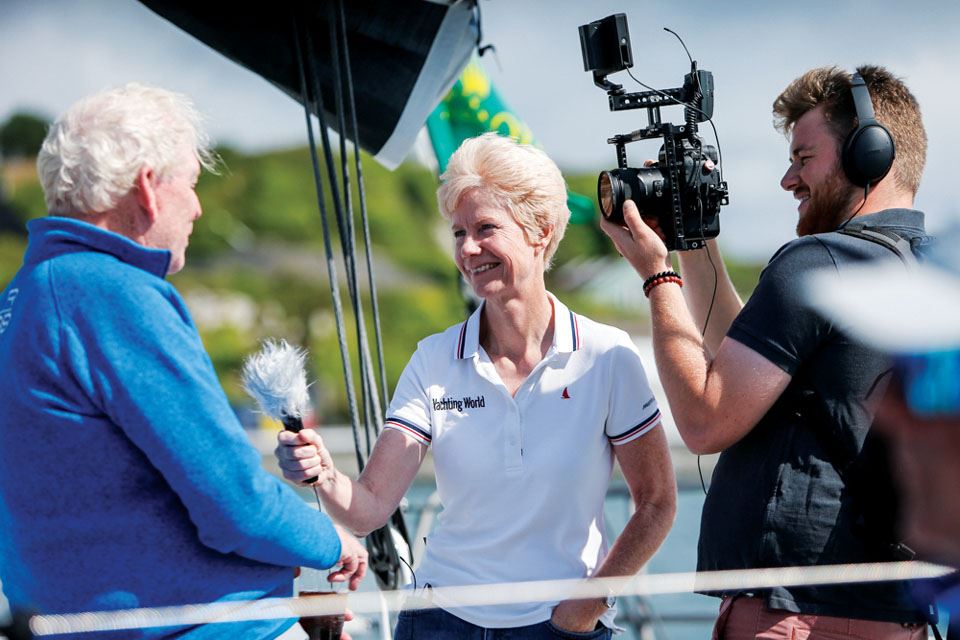 INTERVIEWING DAVID GEORGE ON RAMBLER 88, FASTNET RACE 2019
A change was on the way. My generation, Generation X, was about to reach its pomp. We had armfuls of hobbies and interests, and an expectation of travel and more distant horizons. Simultaneously, technology was changing the experience of every single business. Do you remember sending your first email? I do. It was in 1992. Soon, as a result, evenings that had been spent going out to dinner were occupied rootling around behind a hotel bed searching for the phone socket and listening to the repeat-fail 'handshake' of a CompuServe dial-up.
Communications and computing power has continuously changed boating almost entirely for the better. It is much safer. For example, take navigation or weather forecasts. Forecasts today are as accurate over four days as one-day forecasts were back in 1990.
Design software has helped fashion boats that are faster, sleeker and with incomparably more volume. Equipment is better designed. The knowledge needed to get a leg-up into the sport is far more equitably and widely available than in those heady, profitable days when chart, book and magazine publishers controlled the means of distribution.
As I write for a living rather than sail for it, I don't claim to be an expert, but I have sailed with many brilliant sailors and some true heroes. I've also experienced the opposite, though best I say no more. I'll leave it at explosively short fuses, ridiculous disputes over minor irritants far out at sea, people who've skipped medication or been mainly drunk. Not fun.
Some people exceed their gilded reputations. Pete Goss, for example. Mike Golding. Skip Novak. Dee Caffari. My hero of all time, Loïck Peyron. Leadership is a word overused in business; the qualities of a true leader are actually very rare. You do see it in boating.
Live video and audio have also allowed us to witness what this looks like in the context of formerly secretive America's Cup racing. Ben Ainslie's performance this year was a gripping study in self disciplined leadership. Jimmy Spithill is hypnotic.
On a less stratospheric level, there is a huge amount to be learned from sailing with club racers and family cruising sailors. Cruisers bring all sorts of accomplishments from different areas of life and are impressively resourceful. I have learned different ways of going about things and approaching problems from people I've met along the way, and been given lots of good advice.
Strong Spirits
Although sailing is seen as glamorous, which it is, some of my strongest memories are anything but. Possibly the strangest party I will ever go to was one New Year's Eve in a Russian post-Soviet scientific base in King George Island in the Antarctic. We'd sailed there from Ushuaia. Our hosts came to pick us up in a digger and we all travelled there in the bucket.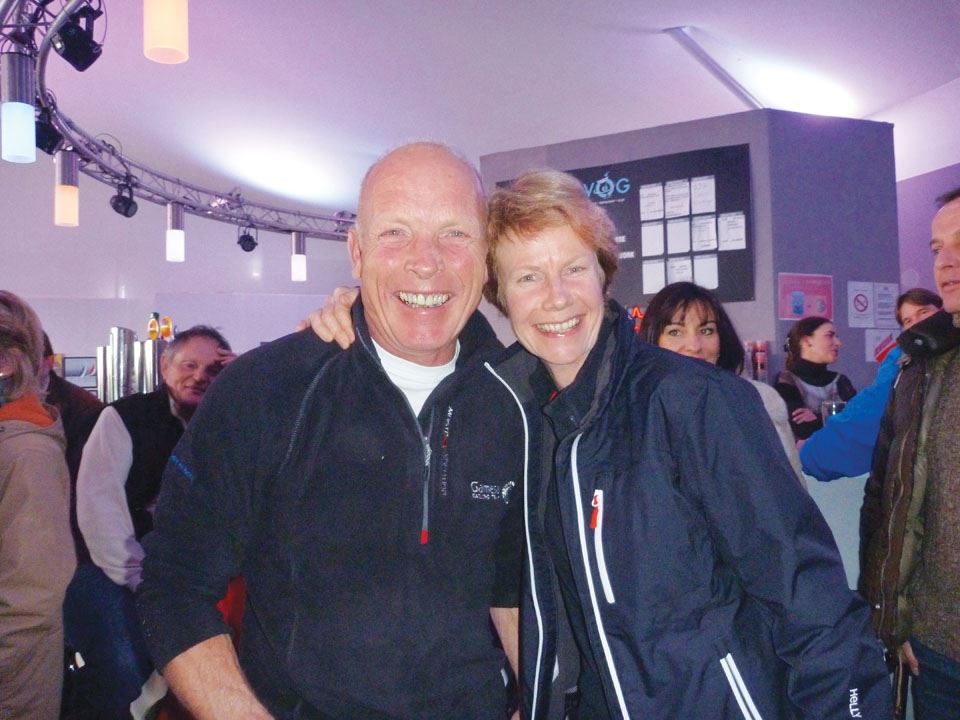 WITH MIKE GOLDING, VENDEE GLOBE 2013
Our watermaker had broken a week or two earlier, so everyone's hair was stiff as fibre mat with an innocent whiff of Johnson's baby wipes. The Russians were either too polite to mention it or just too merry from their home-distilled vodka. After dinner, a man dressed as Santa distributed chocolate and more bottles of crystal firewater, and at midnight I was invited to do the honour of firing a pistol over the roof.
We had an 18-year-old nipper with us and when it came time to leave he was still going strong, so we said we'd be back in the morning. During the night a powerful storm blew up and it was two days before it was safe to land the dinghy. Sam – let's call him that – was ready and waiting after his nights laid out on the only spare pit, an operating table in the medical centre. He was still a greasy shade of white. I bet he drinks gin now.
A yachting journalist's job can, and has, encompassed sailing across the Pacific Ocean, racing a J Class, flying on the world's fastest foiling multihulls and watching wildlife in Alaska. But it has also involved being chased by pirates in the Red Sea, pursued by a whale in mid- Atlantic, being de-masted (twice) and, hubristically, getting into innumerable small and embarrassing scrapes.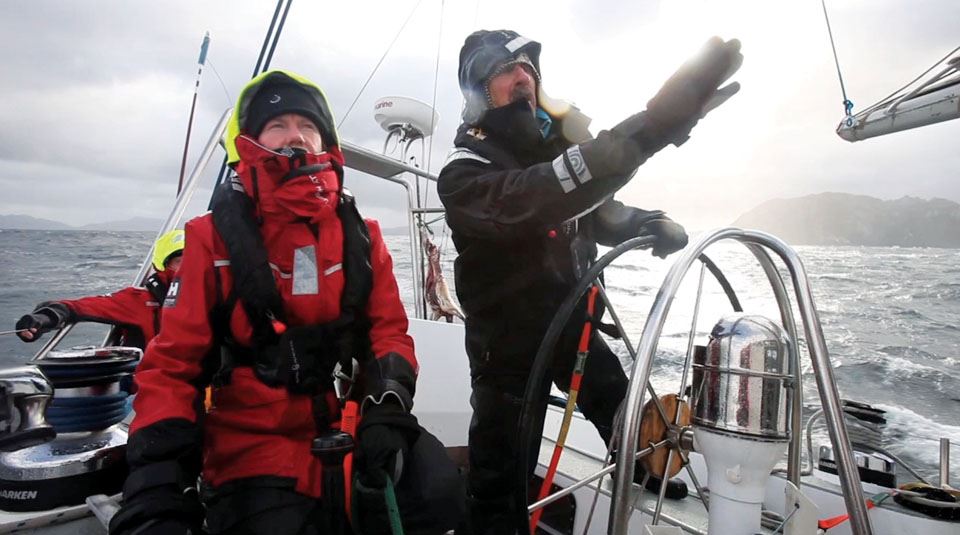 SAILING WITH SKIP NOVAK ON PELAGIC, CAPE HORN
In the process, I have lost countless meals miserably over the side and spent days of my life on that terrible white telephone to god. I once shared a watch on passage from Sri Lanka to Djibouti with Rick Tomlinson, the renowned yachting photographer and ocean racer, and I can still picture him looking grimly at his lunch before lobbing it overboard. "I'll just cut out the middle man," he said.
I loved that, and it's a line I've had cause to use scores of times since. Because sometimes we all do suffer for the job.
Read Another Article
Download The Berthon Book 2021-2022 XVII (12.4MB)