By Brian May, Berthon Boat Company, Images © Berthon Archives, www.berthon.co.uk
It was back in 1933, when my great grandfather HG (Harry) May asked his naval architect, Rodney Paul, to design the first Gauntlet. This was the design brief – "The concept was to be a sea-kindly craft with moderate over-hangs and draught, a fairly heavy displacement, and an easily handled sail plan adept to comfortably carry four to five people. A boat with good auxiliary power, capable of running through foul tides, and suitable for both cruising and offshore racing".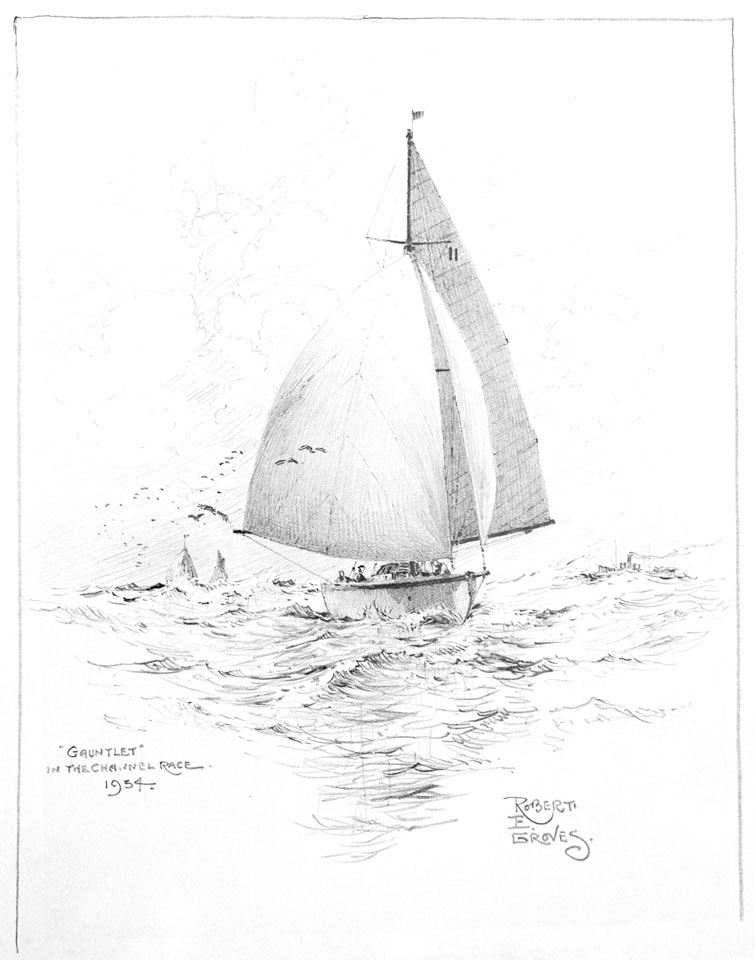 "GAUNTLET" IN THE CHANNEL RACE 1934, BY A LOCAL ILLUSTRATOR CALLED ROBERT. E. GROVES
To my great grandfather's immense irritation, his client, a Mr Berge, had second thoughts after inspecting the design, and approached a rival shipyard in the West Country to request an alternative design based on the exact same requirements. Having compared the two designs, Mr Berge, commissioned the other shipyard, Phillips of Dartmouth to build his dream boat.
Berthon legend has it that the origin of the class name 'Gauntlet' was Harry's response to this commercial set back. Frustrated, and totally sure that his design was superior, in his words, he 'threw down the gauntlet' and Berthon built his design. Once GAUNTLET was afloat, he challenged Mr Berge to a race. His confidence in GAUNTLET (36ft 9ins LOA, 30ft. 6 ins. LWL, 12-tons) with her canoe stern design and sturdy build was fully vindicated, as she proved considerably faster, and she became the first of a production line of a series of variously sized Gaunlets to be built at Berthon (see list adjacent). And so, the Gauntlet legend was born with a starting price of 1,000 guineas (£1,050).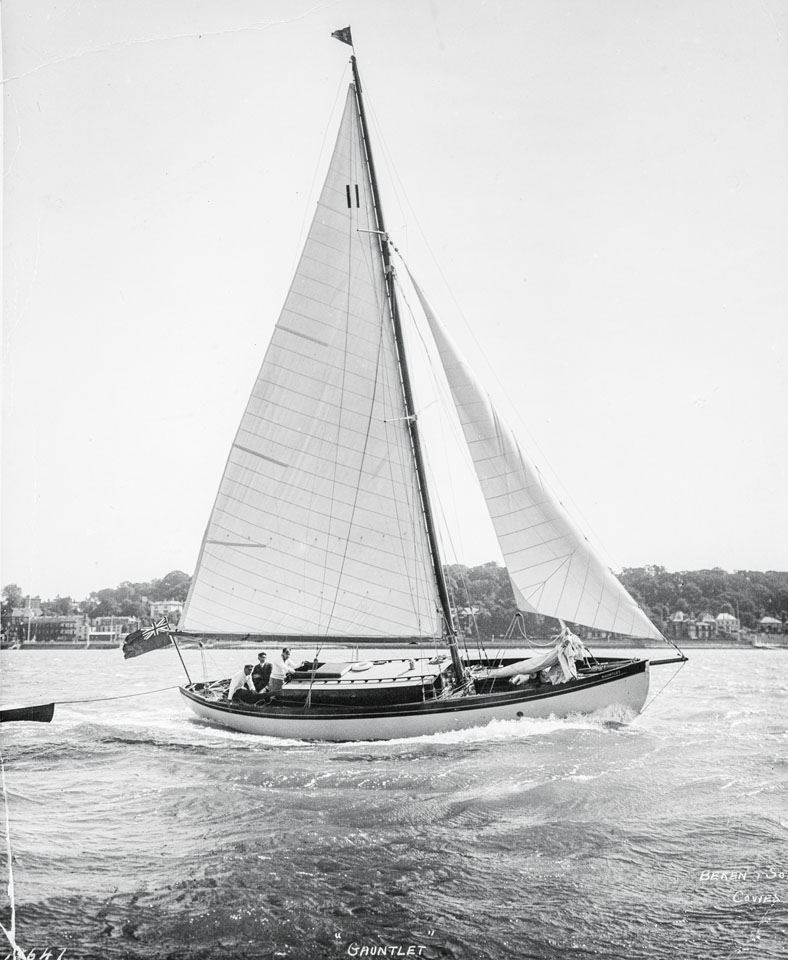 "GAUNTLET" 1934, TAKEN BY BEKEN OF COWES
The challenge, work, and time had paid off, not just personally but commercially, with 26 Gauntlets built before the war. Sizes ranged from an 8 ton, pertinently named MITTEN by Harry with a touch of humour (before selling her to Hon Clive Pearson after Cowes Week) to the 26 ton flagship of the fleet.
The planking was originally pitch pine upon grown oak frames, with floors and hanging knees in galvanised steel. A keel of English elm with oak stem and sternposts. The deck, coachroof, hatches, bulwarks and cockpit were teak with mahogany below. Fastenings were all copper or brass with chain plates and all deck fittings in gunmetal steel – no doubt to reduce corrosion. However, it was not known then that dissimilar metals should not be mixed! Gauntlets also had a sizable bilge stringer, and the lower portion of the stem carried well aft over the ballast keel to incorporate the mast step, preventing the garboard strakes from working under mast compression. The addition of an aft galley with a Taylor's Para- Fin cooker and Electrolux refrigerator provided some comfort when cruising; and a forward "patented" toilet was also popular – especially amongst the sea faring women.
Harry was a sailing fanatic, with great passion and enthusiasm for the sport; and he always endeavoured to take a Gauntlet to Cowes Week to race. He was a very disappointed man if he returned from Cowes still owning her!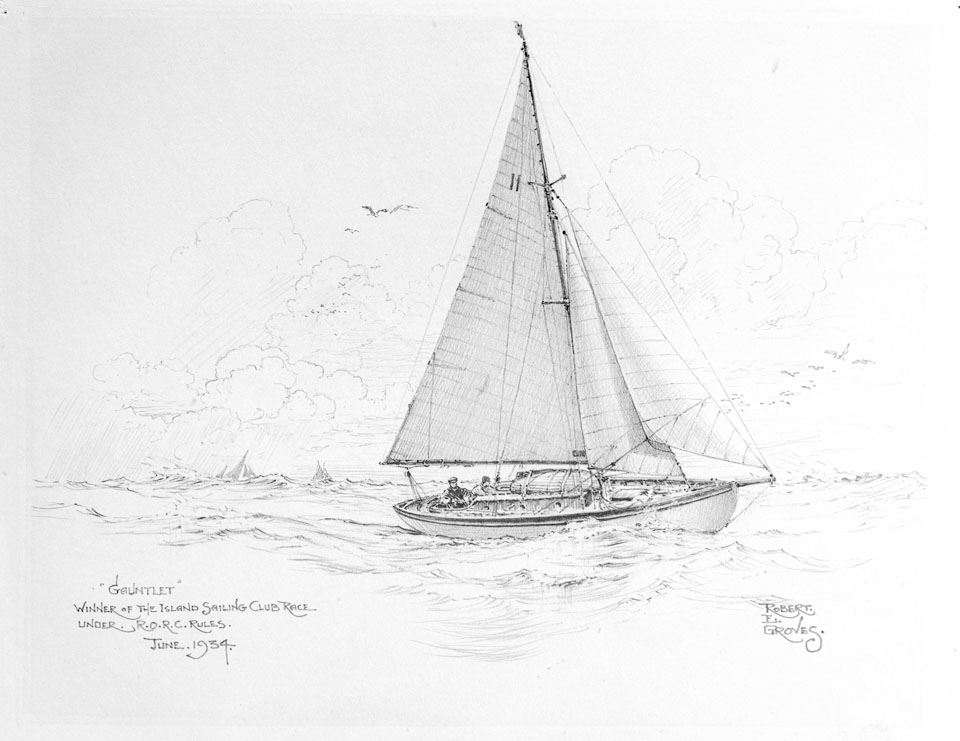 "GAUNTLET" WINNER OF THE ISLAND SAILING CLUB RACE, JUNE 1934
However, one early summer a prospective buyer applied so much pressure to purchase Harry's boat for the upcoming regatta, that he was 'forced' to sell his Cowes Week steed shortly before launch – for a decent premium, of course! This might have been a disaster for the Cowes veteran had it not been for the unsung, exceptional efforts of the Berthon Shipwright team who managed to build another Gauntlet in time for Cowes.
Harry beat his recent "demanding" client with ease!
Gauntlets lived up to their original promise of performing well on racing circuits. Many owners took part, and in fact won numerous Royal Ocean Racing Club events. Perhaps the best known was the 12 ton GREENGAGE, built in 1935, victorious in the Channel Race that year. She was not on her own, the series performed very well, particularly in heavier weather with their sea kindliness and sail-carrying power; the latter having been designed and stitched by Harry's fellow tradesman sailmaker, Ratsey & Lapthorne.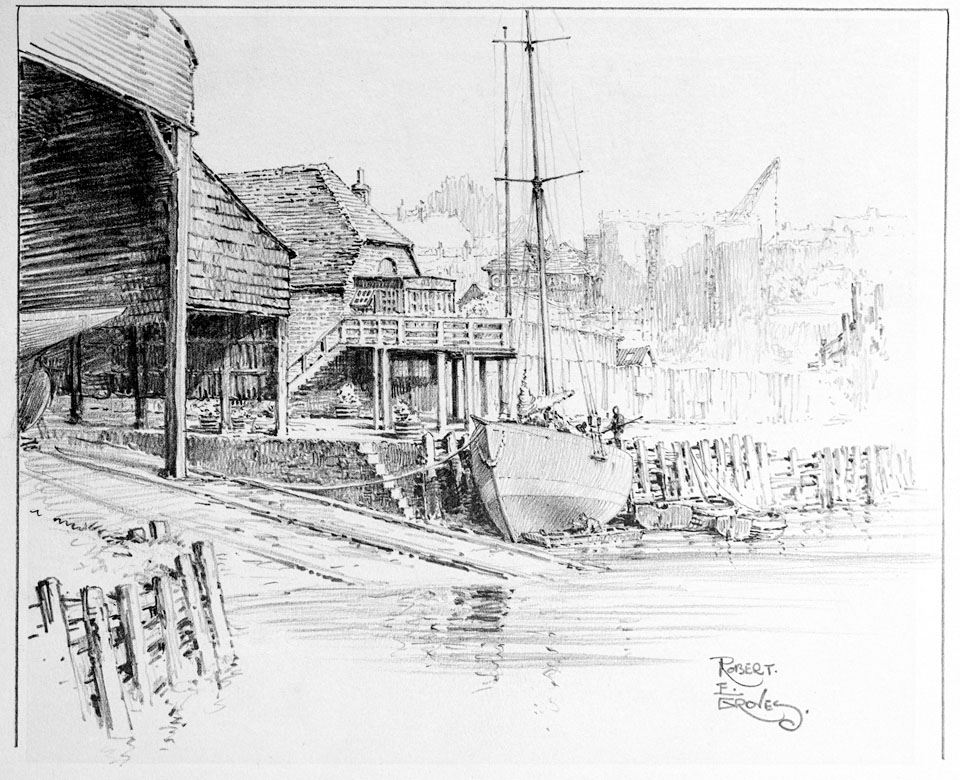 GAUNTLET BERTHED AT SHIPYARD HOUSE AT NORTH END OF BERTHON BOAT CO LTD, 1934
Gauntlets have since sailed the world with boats currently in locations ranging form the UK and Mediterranean to Australia and the Caribbean. HEATHER 12 ton and MITTEN 8 ton, both of which were refitted at Berthon this century, are regularly sailed in Sicily and Elba respectively.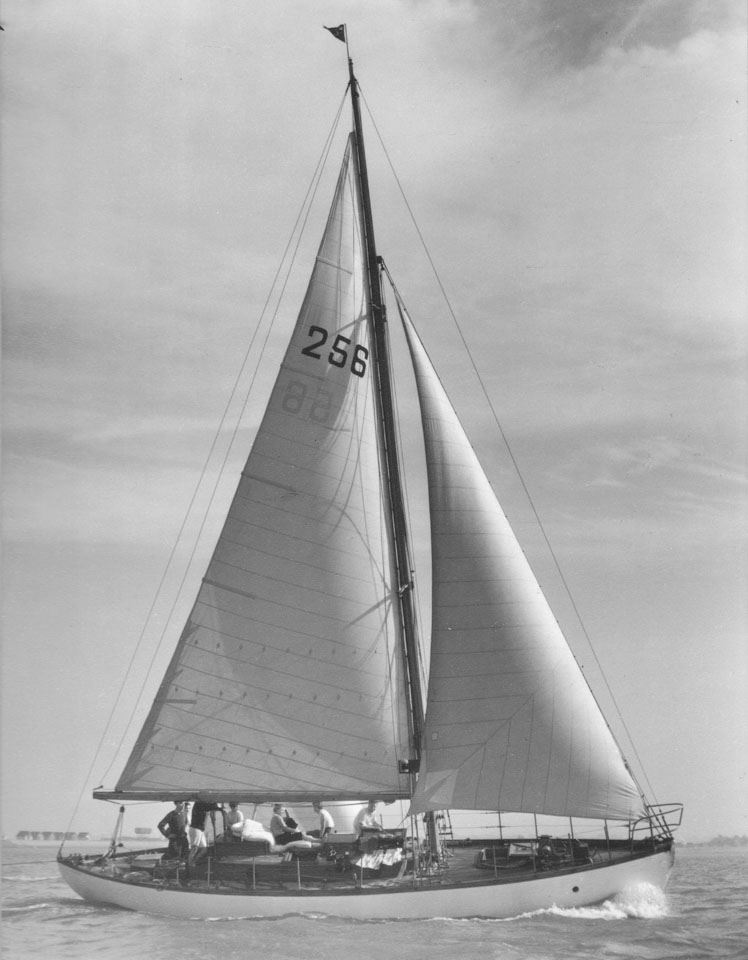 SYRINX, 1958 LEAVING BRIGHTLINGSEA. TAKEN BY F.J. ARMES
In 1936, 9 Gauntlets launched. 5 x 12 ton, 2 x 17 ton, a 24 ton, and a 26 ton with the larger boats sprouting slightly longer overhangs. One of these, SYRINX (17 ton) was commissioned by Hon. WHR Iliffe* – owner of IPC, the printing/press/media company (see Groves pencil drawing below and Beken photo adjacent). The list of early owners shows that many lived locally, and were members of Solent yacht clubs, including The Royal Lymington which celebrates its 100th anniversary this year. Family descendants of the original Gauntlet owners sail out of Berthon Marina today.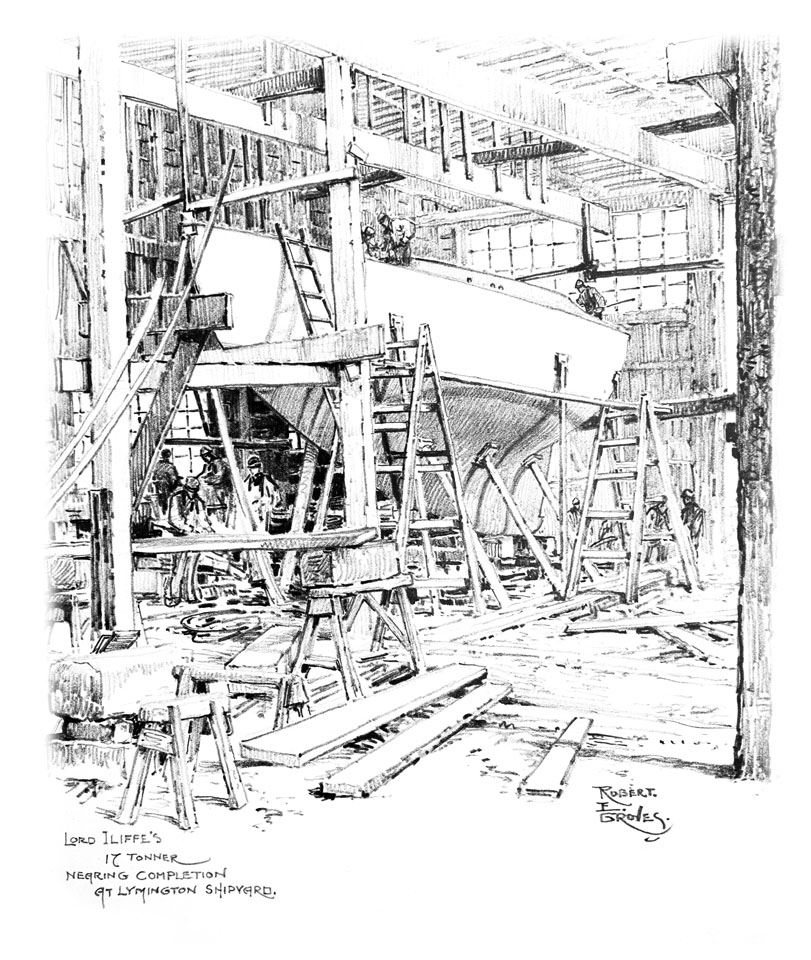 HON. W H R ILIFFE'S 17 TONNER NEARING COMPLETION AT LYMINGTON SHIPYARD, 1936
SYRINX had teak planking but her sistership COCH-Y-BONDHU, built for Harry, used the lighter less expensive pitch pine and her decks were "flush" as shown in the left hand photo and drawings underneath. The after cabin was isolated and a midship entrance for offshore worked well with a lobby where oilskins may be "doffed".
During the War years, leisure boating was forbidden, with many boats laid up and the skilled craftsmen at Berthon were put to work building various craft for the war effort (60'-72' HTMLs, MGBs, MTBs, MFVs for undercover work in the Mediterranean, Caribbean).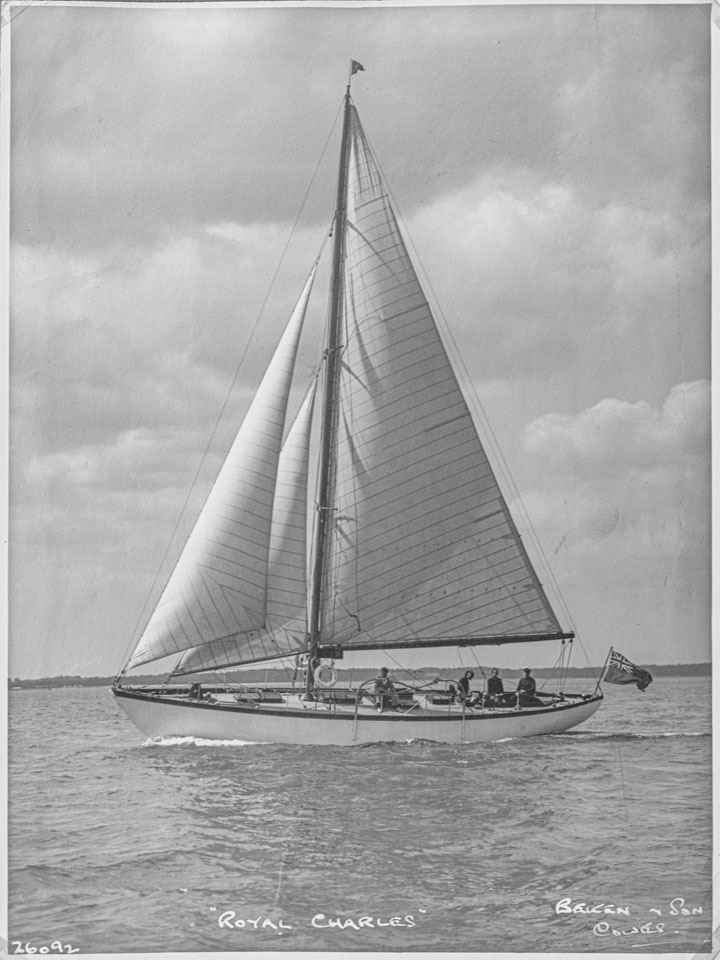 COCH-Y-BUNDHU (17TON) 1936 FOR HARRY MAY; FIRST FLUSH DECK FOR A RACER/CRUISER, TAKEN BY BEKEN OF COWES
Major W Martineau MC (RCC & Commodore of Royal Lymington Yacht Club, 1954) was the first to order a Gauntlet after the war. SALUKI (14 ton) was launched in 1946, the first of the last 12 new Gauntlets. The same year Harry (nicknamed Puffer for his chain smoking habit), long considered to be "trade" was invited to join the RLymYC just as his health was failing. This was either because of his contribution to the war effort or maybe that class differences had diminished as a result of the war. Maybe both? Either way, my father was also great friends with the Major, and I remember visiting the latter in Platoff House, near the Chequers Pub. It is likely he who "broke the chain".
In the early 1950s, labour and building costs had increased sharply and clients preferred something that was unique and with a more personal touch. This desire proved to be the downfall of the Gauntlet, with the last of the series an 8 ton, constructed in 1951 for Maj J Wilkinson.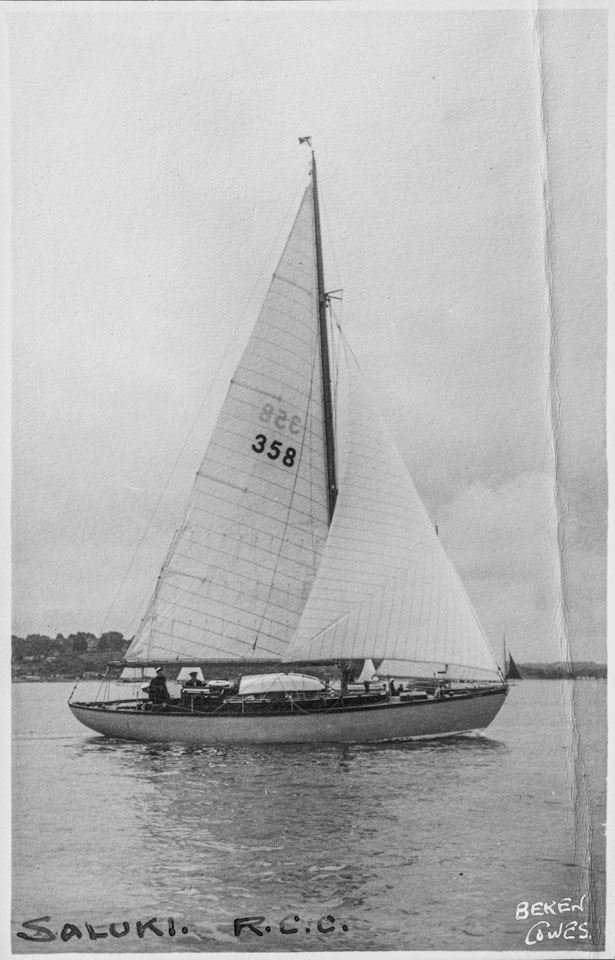 SALUKI R.C.C., TAKEN BY BEKEN OF COWES
Down but not out, the Gauntlet class continued to find favour within the yachting community, and rightfully so. Harry's GAUNTLET was sold by her second owner, Lord Pentland, for £1,295 to the Admiralty in 1938, for use by the Royal Naval Engineering College. During WW2 she was decommissioned at Plymouth Hooe with her mast stored at Oreston South Dock. The rig was blitzed during the war and new one ordered from Berthon in 1946. Back afloat, during the 1949 Channel Race she blew out both spinnaker and genoa. Having analysed her performance, her low rating was due to her high freeboard and small total sail area, so she sailed well to her rating in heavy weather but fell short in light. She was relatively stiff but carried a lot of weather helm both up and down wind. So in 1950, the RNA converted the rig to masthead and cut the mainsail; the bumkin was lost and twin runners added to the quarters allowing the shortened boom to go forward without unhitching the wire for easier tacking and gybing. Twin mainsheets improved control of the boom with the leeward sheet acting as a downhaul. She sailed closer to the wind, was more balanced and less effort for helmsman and crew, and no doubt drier!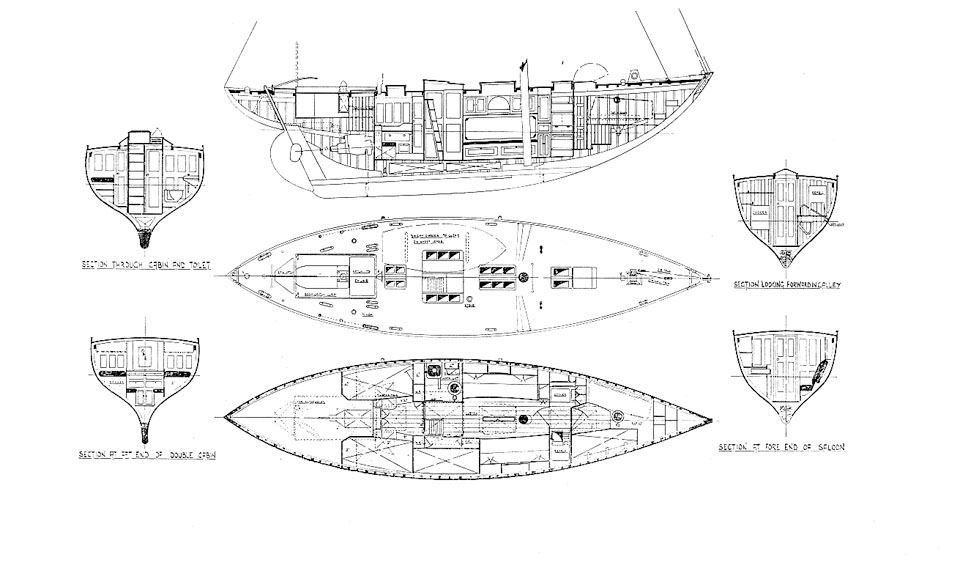 COCH-Y-BONDHU'S "FLUSH" DECK AND INTERIOR LAYOUT PLANS
In 1954 she came 3rd in the La Rochelle – Benodet race and 1st in the RORC Brixham to Belle Isle race. However, that year saw her making water and Berthon recommended that additional stiffening be fitted in way of the mast, and garboard seams recaulked, following which, she was to remain tight for another 20 years.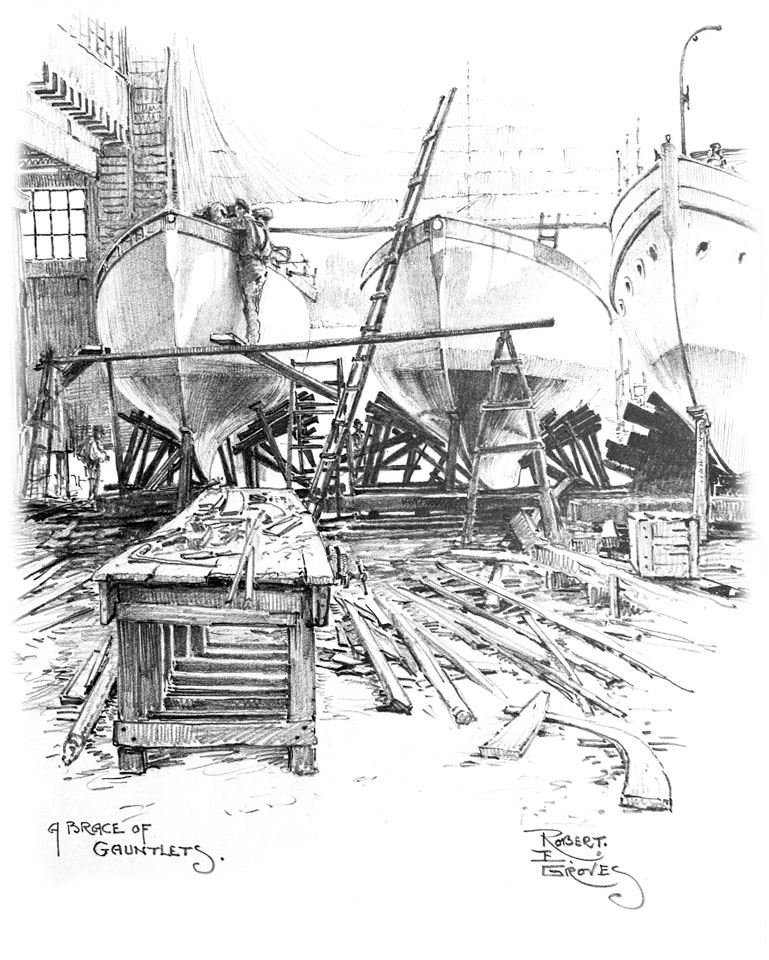 A BRACE OF GAUNTLETS AT LYMINGTON SHIPYARD
In 1964, her refit included a re-design of the interior layout before she raced in the Fastnet fleet during which she was "lost" for three days; the log book written by a female chef stated no amps, no fresh water, tea made with tonic water!! 1973 had her winning the Plymouth – St Malo Race skippered by Lt Cdr Duncan Ferguson. She was kept until 1978 and then sold to RNA members, Cdr Peter Maddock RD RNR and his wife, Lesley.
MODEL GAUNTLET BY MALLETS OF BRISTOL – BRAMBLING (LAUNCHED AS SUSSEX MAID) 1935
Evidently, the rise and fall of the Gauntlet was only a single chapter in their remarkable history. Berthon moved on to building more bespoke yachts in wood and then fibreglass, aluminium, and latterly the composite RNLI lifeboats; GEMINI RIBs for commercial (Jersey Search and Rescue) and leisure use. Refit, repair and maintenance remaining the core, Berthon continues to diversify, evolving with the times, constantly looking forward to what lies next for the marine industry. Meanwhile, Gauntlets continue to be cruised, loved, repaired, restored, and above all admired, as the first production class of large leisure sailing yachts on the planet.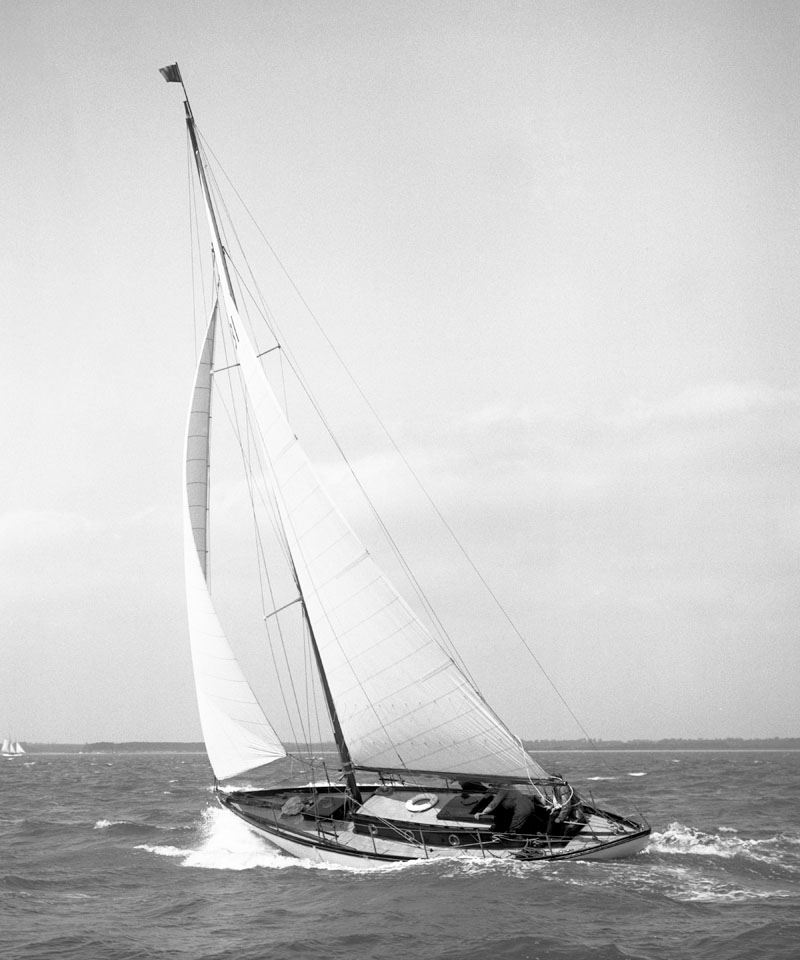 MITTEN (1938)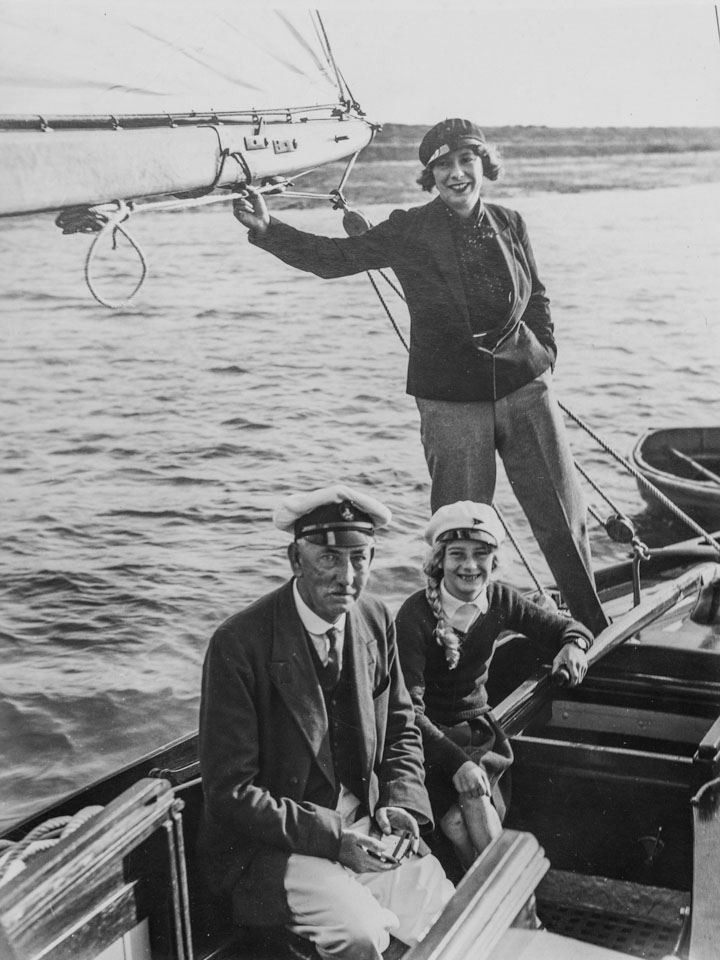 HARRY MAY (NOTE SILVER CIGARETTE CASE, OPEN IN HANDS!), "WHITE ANNIE" AND HER MOTHER JOYCE NORRINGTON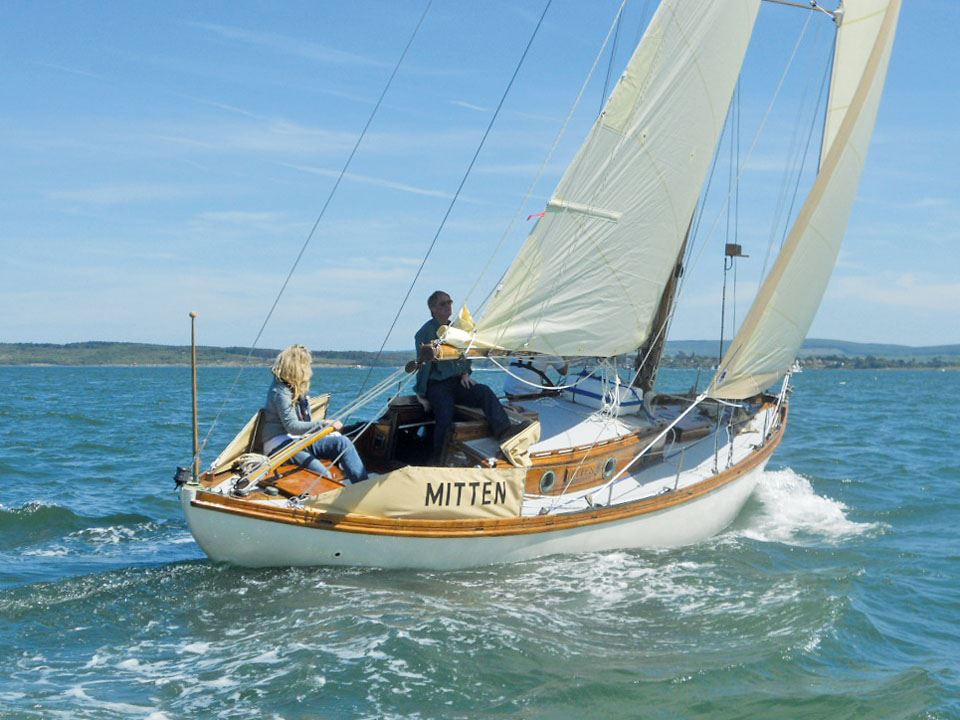 MITTEN (2010/11)
Read Another Article
Download The Berthon Book 2022-2023 XVIII (11.2MB)