By Garry Eveleigh, Photography © Mark Young, www.theguninn.co.uk
Keyhaven has always held a very special place in my heart. At the age of just 9 years old, my big brother, aged 11, and I rowed our 8' dinghy from its mooring in Maiden Dock in Oxey Lake near Lymington. We were bound for Keyhaven via the saltgrass marshes that covered a much larger expanse than they do today. In those days, our only navigational skill was to know to stay in sight of the old sea wall that ran between Lymington and Keyhaven to the west. Using one oar each, we set sail! We navigated our way past favourite fishing spots through the maze of creeks and inlets to reach our final destination – Keyhaven. It was only a mile or so but, when you' re 4' nothing, it was quite an epic journey.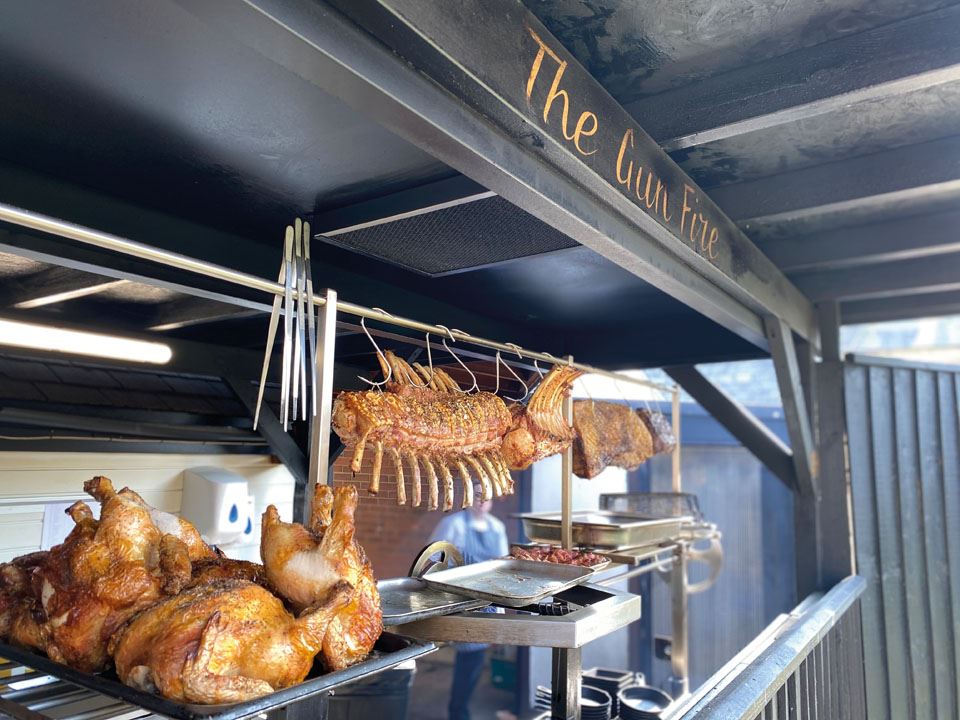 As we rowed into Keyhaven, we put ashore next to a pontoon used by the then ferryman, Ernie Meffen, a round man with a red face. Ernie was dressed in his ferryman's attire – dark blue trousers and a hand knitted polo neck sweater. His captain's hat – white top with black shiny peak, with embossed anchor and rope badge – was proof that he was captain of the ship.
We asked Ernie where we could possibly moor our little dinghy. Ernie simply waved his arm in a gesture and said "Just tie her up on the wall over there boys". That was our new mooring in Keyhaven sorted. This all took place in the spring of 1963 and that's how things happened in those bygone years … happy days.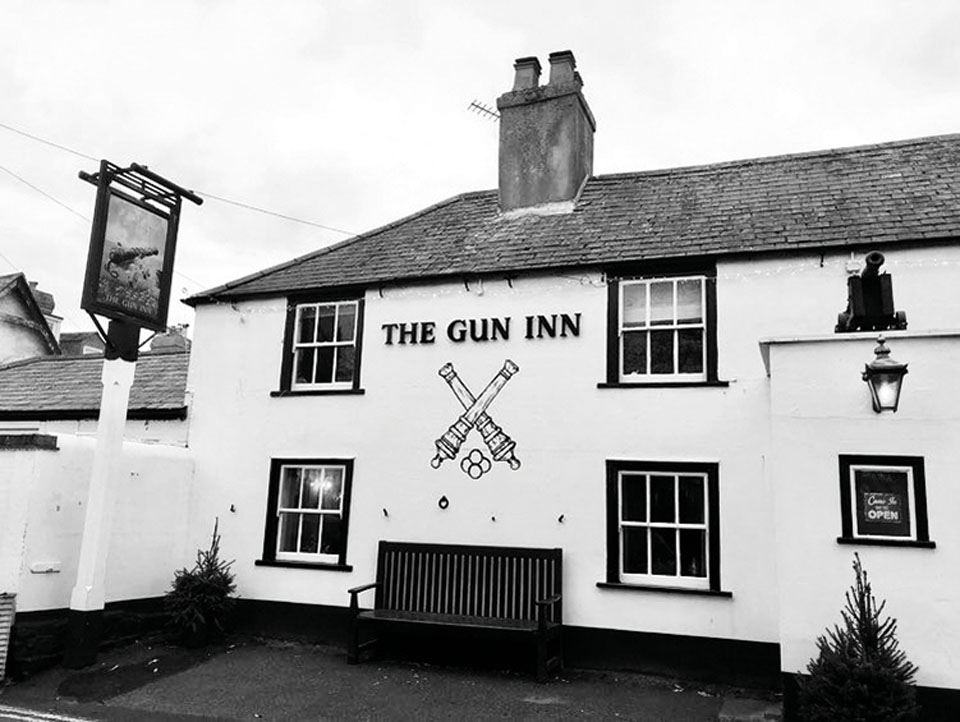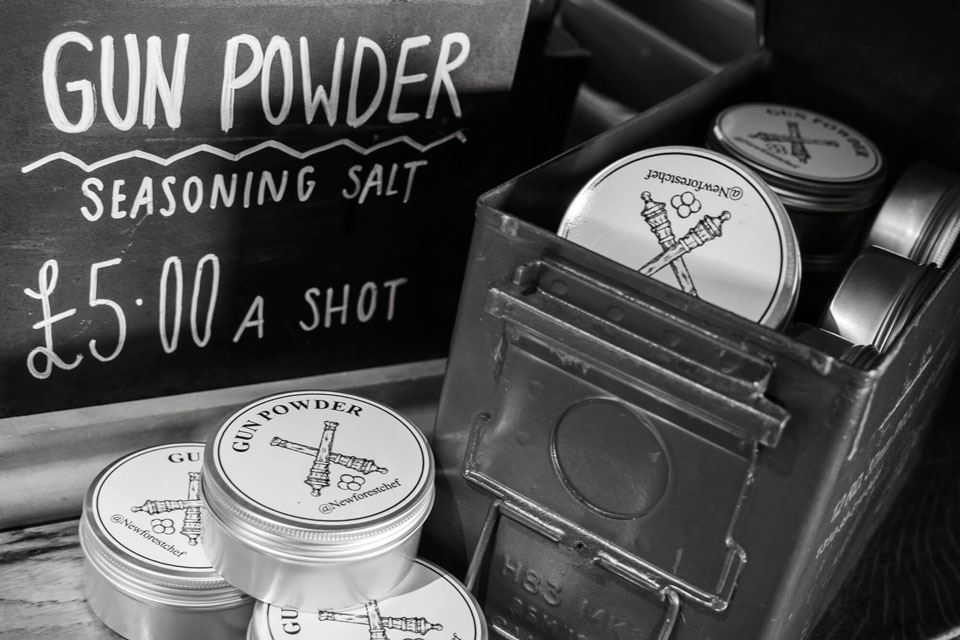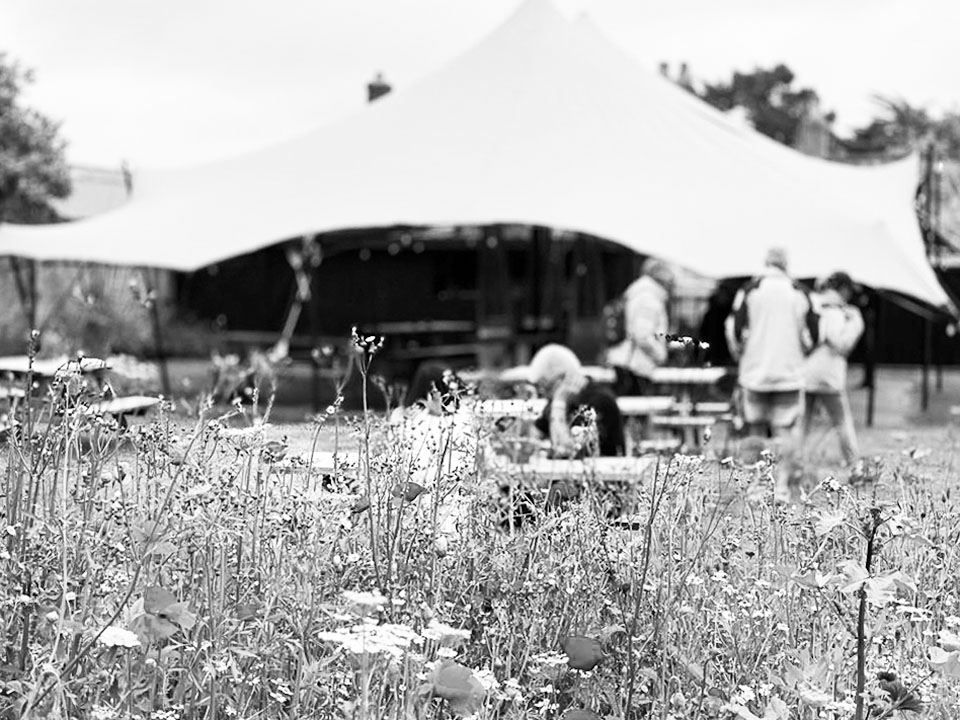 Six decades later and now a local resident, I was very excited to learn that The Gun Inn at Keyhaven had changed hands. The new owners had p lans to undertake some sympathetic and very tasteful refurbishments. They have an amazing team; the kitchen is headed by Chef Mark Young. He and his fellow chefs are all very enthusiastic with a penchant for local fresh ingredients. It was early spring which means "green stuff galore". An hour's stroll with my dogs and within ½ mile radius of The Gun Inn, my trusty trug was full to overflowing.
Although I had decided to sort of retire, picking wild, edible ingredients for the very keen kitchen crew isn't exactly work – it's just fun!!
Mark was a very happy man!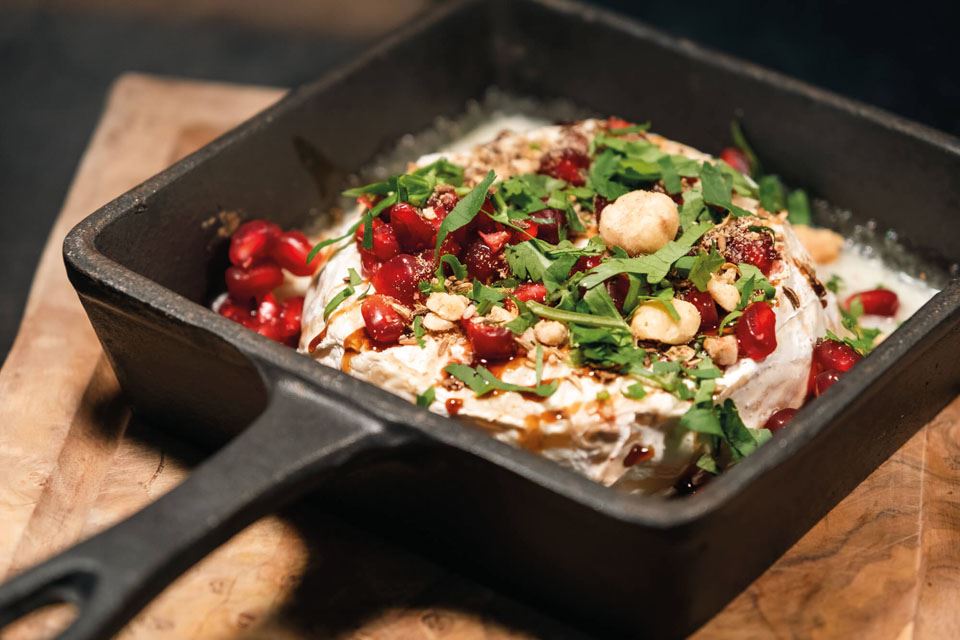 BOOK & BUCKET BAKED BRIE WITH POMEGRANATE AND DUKKAH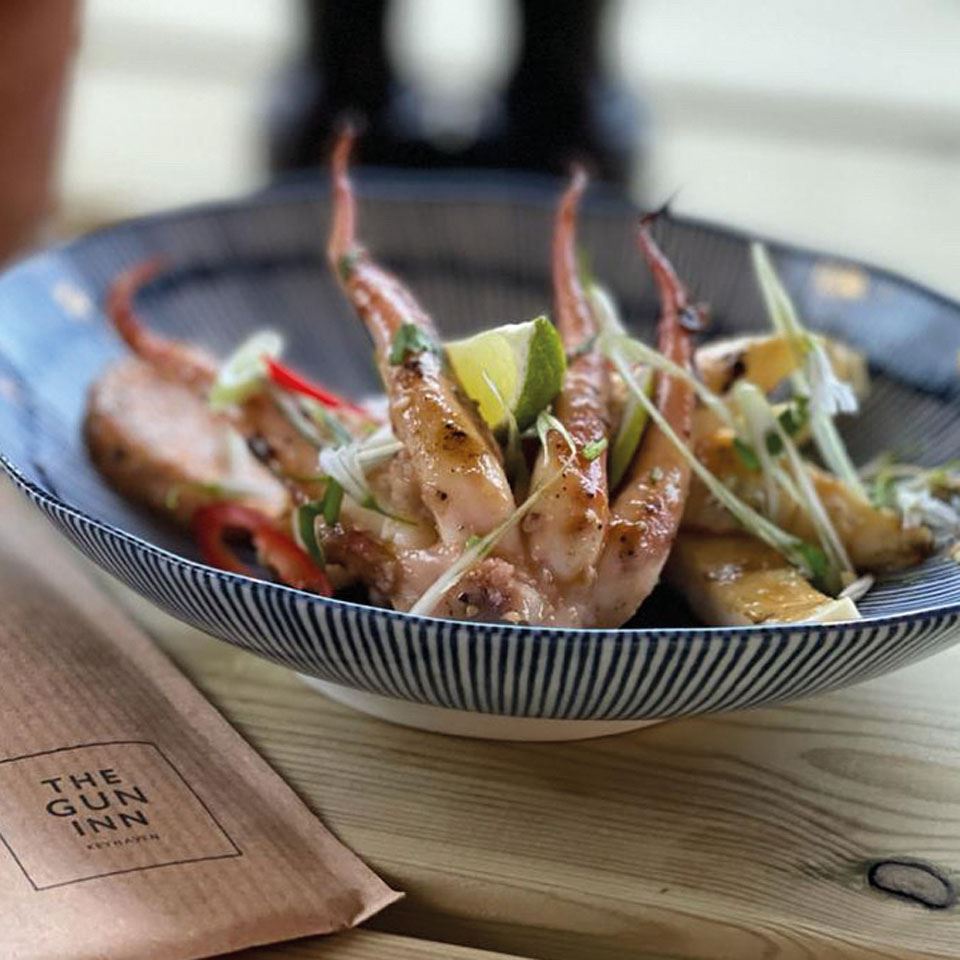 CHAR-GRILLED CUTTLEFISH
Chef Mark Young's Story
I was born and raised on a farm with a guest house near Blackgang, Isle of Wight. Our farm provided all of our fresh produce and a steady supply of game; my Uncle caught the fish. Having the good fortune of such an idyllic upbringing, and no particular desire to be a farmer, nudged me in the direction of studying at the Isle of Wight College to become a chef. At the age of nineteen, I left my first chef's position at a local pub and joined Cunard Cruises as a Commis Chef.
After being at sea for three years, I returned to the Island and gained land based experience working in various pubs, hotels, and restaurants. In 2004, my partner and I took over the catering at Bembridge Sailing Club. After three seasons, I also took the helm of St Helen's Restaurant where we achieved multiple awards and accolades including 2 AA Rosettes for culinary excellence.
Fast forward to 2010. I packed my knives and headed to Oxfordshire to take up the role of Executive Head for Accent Catering. I missed the sea more than anything whilst living in Thame (which incidentally is the furthest point from any coast in the UK!) so I decided to head back down South, where my culinary heart lies.
In early 2017, I was offered the position as Head Chef at The Bell Inn, Bramshaw, in the heart of the beautiful New Forest. Within eleven months, we had built a superb team of chefs that showcased the best produce that the area could offer; we were awarded 2 AA Rosettes. I spent my days off researching new suppliers and producers, always looking for little, and undiscovered, hidden gems across the Forest. During my time at The Bell Inn, I chose to make my home in the stunning seaside village of Milford on Sea.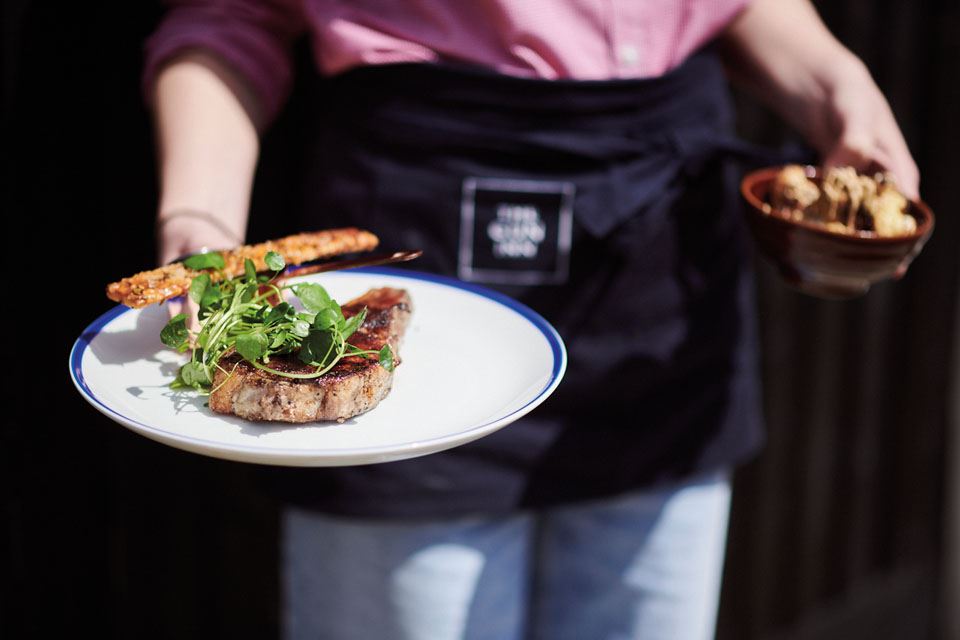 BLACKWATER FARM OLD SPOT PORK CHOP WITH BURNT APPLE PURÉE AND CRACKLING
Then – March 2020 Lockdown; my world, like so many others, was turned on its head. The decision was made to close The Bell Inn and the kitchen was shut in June 2020 casting us all into redundancy. My brigade and I, like everyone in hospitality, felt at sea without a boat.
After a couple of months in lockdown, with the coffers draining and a burning desire to get back into a kitchen and do what I love, I was reluctantly persuaded to help my neighbour, Rich, with his house renovation. Turned out, this was to be one of the best decisions of my career.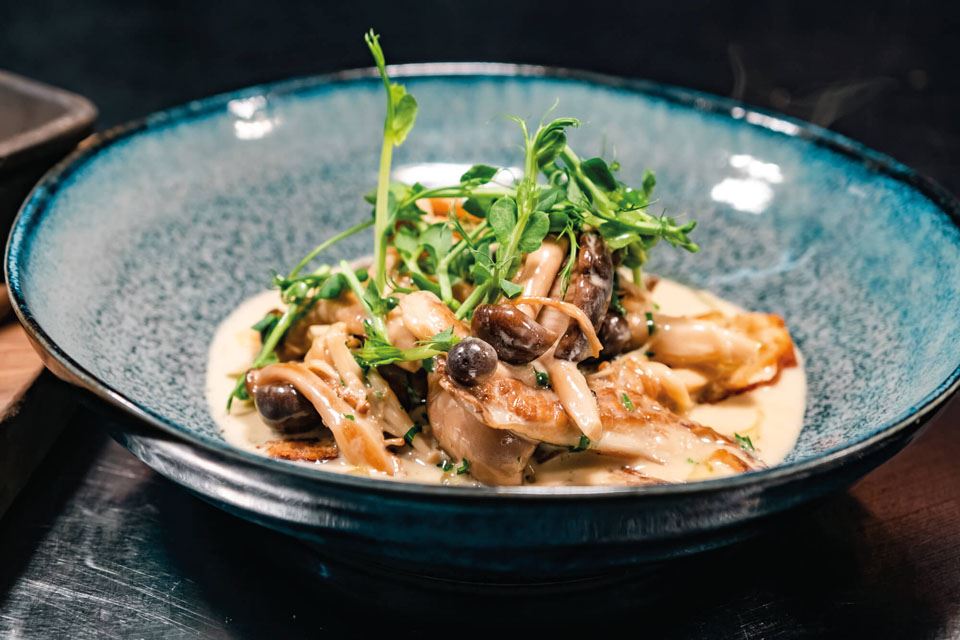 MUSHROOMS WITH SOURDOUGH TOAST
Rich had recently bumped into Kitty and her husband, Chris Cecil-Wright. After many years waiting for The Gun Inn to become available to purchase, excitedly, they had acquired it. They mentioned that they were still looking for a Head Chef. Rich replied: "I think he might be working on my roof"!
The rest, as they say, is history!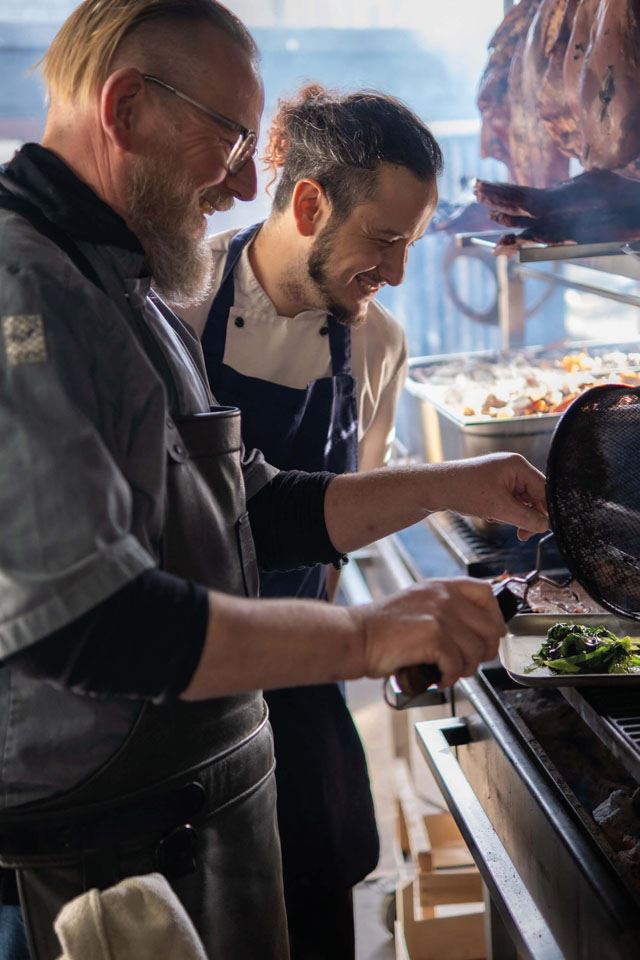 MARK AND SONEL AT WORK
January 2021, I joined the refurb team at the Gun as Head Chef, tasked with redesigning and rebuilding the kitchens, and creating new menus. We installed a 3m long Argentine grill. This would become the heart of what we do in the kitchen at The Gun – cooking on charcoal and wood seemed poetically right. I used the lockdown time to reconnect with old suppliers and producers like Sue and Mike of Blackwater Farm Pork and made new alliances with the likes of Bart from New Forest Fish and Shellfish. We also started to build a team of chefs to deliver the vision that was forming. First, came my sidekick, Sonel; he's the Sous Chef of all sous chefs passionate and dedicated. Then came Marc, Sean, Lindsey, Jason; the list of talent is still growing.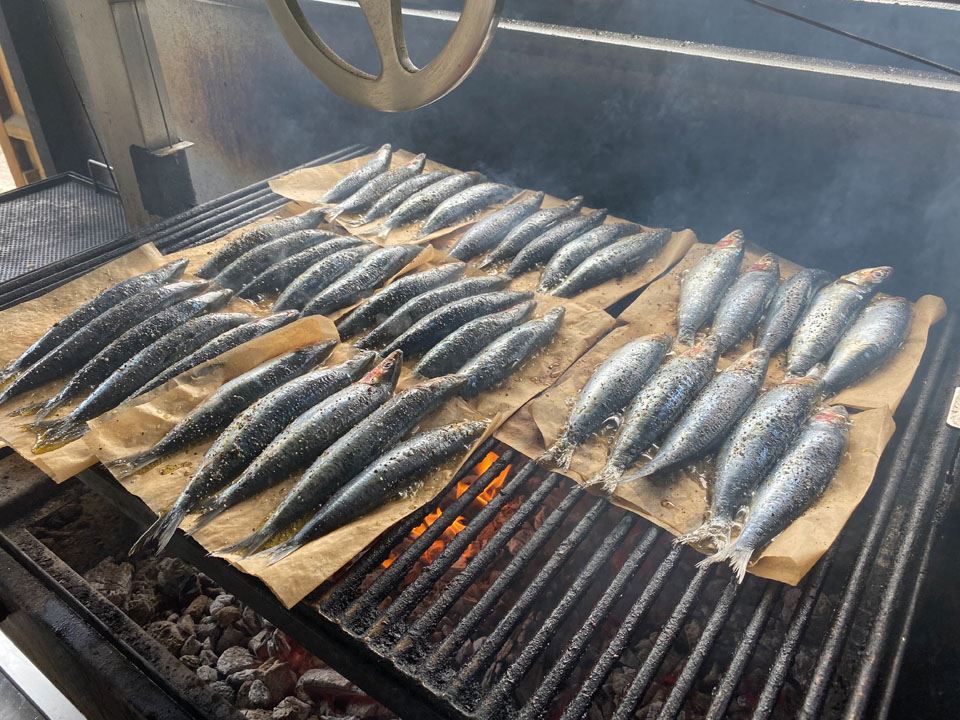 SARDINES ON THE GRILL
One day in early spring of 2021, a local chap rocked up with a basket overflowing with wild, edible, foraged plants. "Are you Mark the Chef?" he asked. "I'm Garry."
It's not every day you meet someone with such passion for delicious, wild ingredients. We've been working together for just over a year now, every week he blows in with something new and interesting for us to use in the kitchen. Garry picks seasonal ingredients including such delicacies as mushrooms, sea beets, samphire and three cornered garlic to name just a few. He is very at home sharing his foraging skills with anyone that shows enthusiasm.
The Gun Inn ……… What a team!!!!!!!!!!!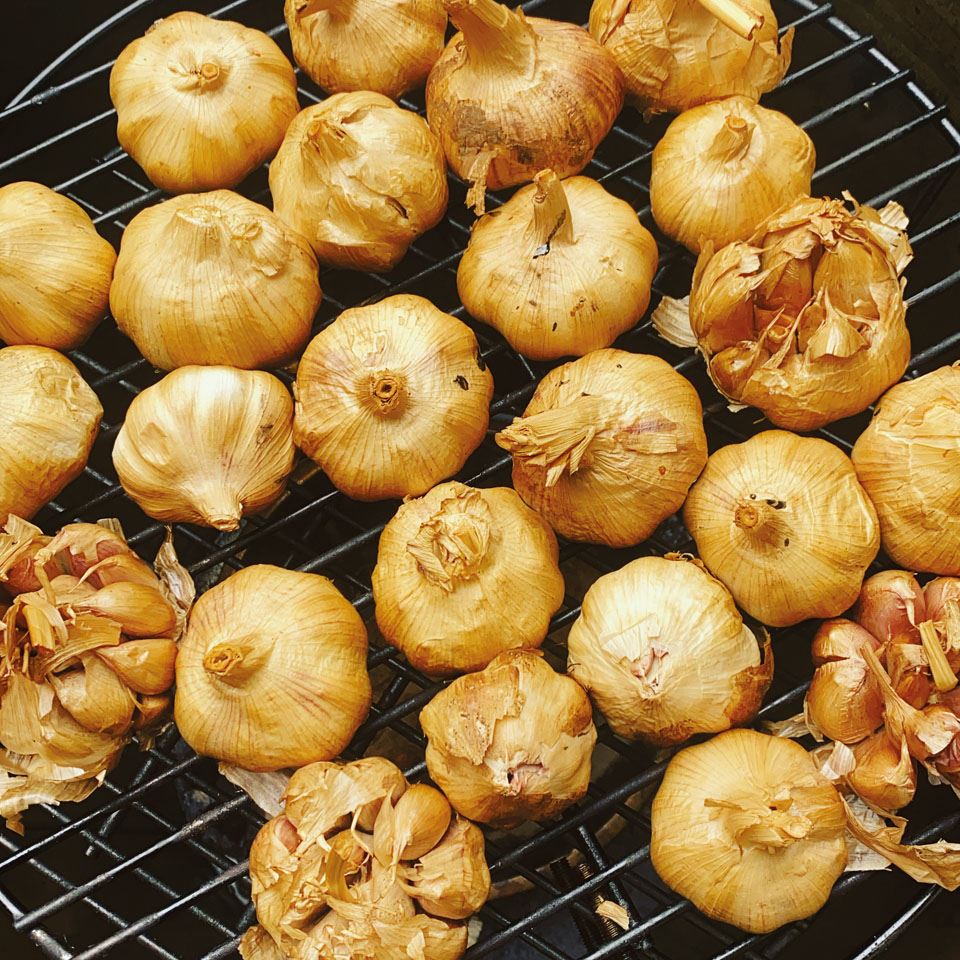 HOT SMOKING GARLIC OVER APPLEWOOD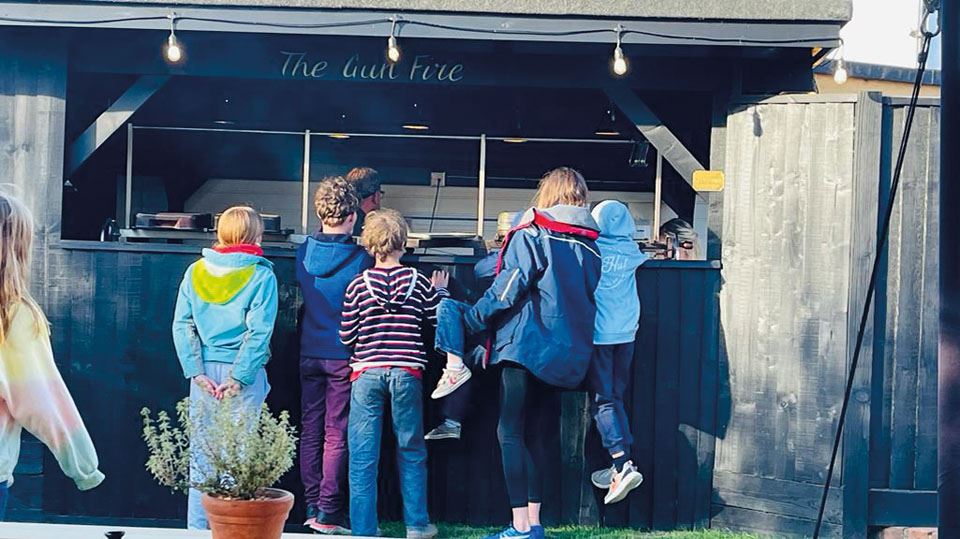 NEXT GENERATION OF FIRE COOKS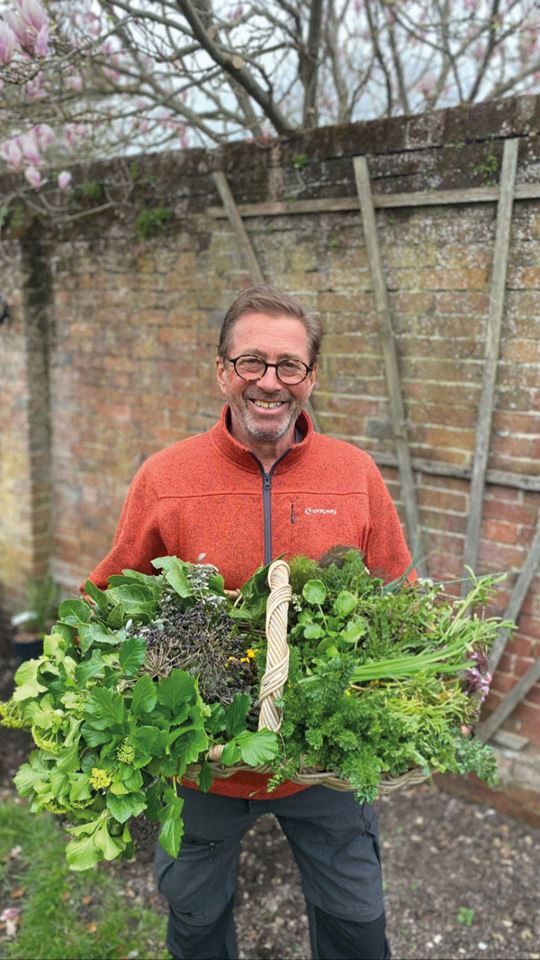 GARRY WITH A FULL BASKET
Read Another Article
Download The Berthon Book 2022-2023 XVIII (11.2MB)