By Sue Grant
When I was sitting in my garden shed writing the 2020 Berthon forecast, there was chatter, press and some evidence of the COVID-19 virus. At the beginning of the year I had visited the Philippines very close to the seat of this world inferno and was vaguely surprised to be asked to wear a mask at the airport. At that time it seemed like a local difficulty that would be behind us sometime very soon and there was certainly no inkling of what was to come and that which is still very present. Our Berthon forecasting skills are obviously limited as we really didn't see that one coming….but then we were certainly not alone.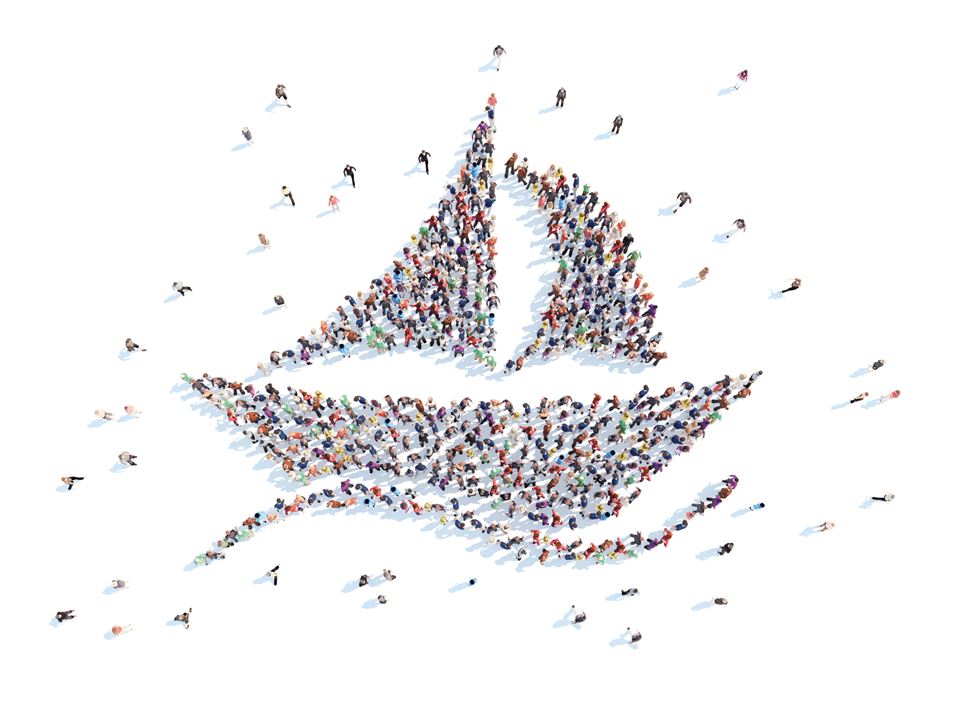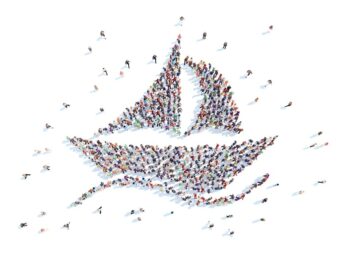 This glaring omission aside, there was much that the 2020 forecast got right. We opined that like all the best agreements, a deal would be struck between the UK and the EU based on mutual unhappiness on both sides with plenty of friction and ongoing hassle.
We also felt that Mr Trump would continue to figure large in life, but of course no one could have predicted what came after the grumpy election result which has shattered the illusion of the invulnerability of democracy in a nation who made the system its own. For all the tribulations, the yacht market was again, despite all, driven by the USA market which was and continues to be massively strong, as Americans strive to find a safe (and fun) place to spend time with family and friends. The yacht market has defied gravity in all areas of the planet, and nowhere has this been so evident as in the United States.
Undeniably we may have underestimated the difficulties of unravelling the EU/ UK VAT situation for yachts and this continues to be a gaping wound full of contradictions which will take years rather than months to iron out, as both sides compete to collect revenue. However, departure from the open market does give UK yachtsmen the ability to yacht in Europe from 1st January at a 20% discount over their European friends, but with the Schengen time restrictions being the unfortunate twist in the tail. Will they really export you for the overstay, or attemtpt to tax your earnings as if you lived there? If cruising from country to country, in which will the tax be due?
Our predictions for Berthon Scandinavia, our newest office, proved correct with the splendid first year result, although it must be said that at the height of the first lockdown it certainly did not seem as if this could be the case, as international yacht sales became a real problem for this office.
Throw in FPB which continues to thrill both their owners and the yachting world, with Steve and Linda Dashew's FPB 78 selling to a European family towards the end of the year, and sales movement in the fleet continuing throughout the year.
Our predictions of super yacht regattas and much performance sailing, was very nearly totally wrong with barely a few events occurring, but this has produced more interest in performance cruising yachts which is a market that continues to grow with innovative and exciting designs, as builders use the best of modern race technology to deliver fast, strong and easily sailed yachts that can be enjoyed by families rather than gorillas.
Despite masks, distancing and lockdowns, the previously owned sales of the Discovery brand yachts have been brisk with prices holding, which has been great to see.
And so what of this year? With our glass firmly in the half full position, we predict another good year for yachting and for our industry in 2021, despite the extremely unpromising start. In the UK, in total long lockdown and with Berthon USA, Berthon France, Berthon Spain and Berthon Scandinavia not far behind, it is easy to be downbeat about what this year has to offer. For all the difficulties, tragic loss of life and pain, there is however, a ticket out of this situation in the form of the vaccinations that all nations are now starting to roll out. As these programmes gain momentum, we will see tens if not hundreds of millions of our fellow humans vaccinated against this awful COVID dragon over the coming months.
Despite the economic damage done all around, the equities market remains strong, and people have not spent (when did you last visit a restaurant?) so there is a wall of money ready to be used to reflate the planet's economies and to start the business of living again as soon as it is safe to do so.
We predict that, as with last summer and autumn, people will want to use resource to enable them to get out on the water. Undeniably, there has been a lot talked about the fact that a yacht is an escape capsule, a safe place to isolate away from COVID-19 and hence a way to protect family and friends.
However, we believe that the main driver in the next phase will be the need to spend quality time with your special people, and also to have fun.
Fun motoring or sailing quickly, or maybe not so quickly. Local cruising and just hanging out. Or maybe the chance to stop talking about high latitude or sailing the Pacific or the Southern Ocean but just the chance to actually get out and do it, satisfying the natural need to get away from the restrictions that all nations have imposed on their people in the past 12 months and to be free.
This increased demand will not be hidebound by the current restrictions of movement which have made live viewings, trials and movement of yachts and people so difficult. We do think that some restrictions will be with us for
really some time, but the need to simply stay at home, will be gone. This will hoover up a number of yachts currently on the market.
Even now, shipyards are busy building the yachts that were ordered in the last spike of sales activity from May to December 2020. They, like everyone else, have struggled with Covid restrictions and sickness on site. Therefore, when the next spike comes, the difficulty will be delivery and we predict that for many new yachts, deliveries will be offered as far out as 2023/24.
The brokerage market will have similar pressures. A lot of yachts have now sold, and the world stock of second hand yachts is dwindling. When the pressure comes on again, prices will harden rather than soften as dictated by those good old fashioned laws of supply and demand. If you are looking to bag a real bargain, we suggest that 2021 is simply not your year, so the real decision is whether you want the ability of enjoying being afloat with friends and family.
And as for other predictions. The VAT question will run and run, and we will still be arguing about it and trying to understand the regulations as well as the local interpretation of it well into 2022. It seems unlikely to us that there will be any cosy moratorium of the sort that has been discussed in some circles, where all yachts both European and UK owned are all marked down as VAT paid in both territories if they were VAT paid on the 31st December 2020 at midnight. Essentially, this situation will shake out as people use yachts in Europe and the UK and there will be masses of grey areas. These will only be dealt with properly when these yachts come to the market and a definite status is agreed for each yacht. Even at this point, as the broker 'jam in the middle', we predict that interpretation and local rules, as was always so, will continue to make the establishment of the VAT paid status of yachts, something of a dark art.
RCD is but a minor bump in the road yet we will see most yachts for sale in Europe and UK both European and UK RCD marked. It will become the norm.
It is also our hope rather than a prediction that the polarisation of Brexiteer to Remainer, and UK national to EU national will cease and that together we will find a new harmony now that Brexit is done, and work and play together as fellow yachtsmen and inhabitants of the same, lovely planet.
It is always risky to try to predict the weather, so again we will side step this again, except to say that in the UK at least, there is bound to be plenty of it, and it will continue to be the British nation's conversation subject of choice.
For this year, the biggest growth in our industry will be in bluewater cruising, both sailing and clockwork. We predict that the pandemic will be the driver for people's plans to be brought forward and now will be the right time to start the adventure, bolstered by the flagged change in Capital Gains Tax in the UK that may tempt business owners to sell sooner than they otherwise planned. The explorer yacht concept for which FPB is we believe, still the pinnacle, will be a serious growth area and we expect to see more yachts like FPB and fewer iterations of a standard flybridge power boat with some different coloured go faster stripes.
As mentioned earlier, bluewater cruising yachts are selling like hot cakes. The order book at Oyster is full to bursting and other bluewater yacht manufacturers are in the same condition.
We also expect to see more yachts like the Marko Pas Pegasus 50 – of full carbon which is innovative, light and thoroughly liveable with simple systems and the focus on living well rather than the traditional format that has been accepted until now.
We hope to see more of these small yards building yachts of this genre and exploiting modern technology in a new and exciting way.
And what of Berthon? The Sales Group grew during 2020 and we are super proud of our big service and refit shed in Mallorca, and our great sales offices in the UK, Spain, Scandinavia, France, and the USA. We are excited to be able to offer a Mediterranean centre for refit and repair and also a full guardiennage service for those yachting in the lovely Balearics. UK yachts in EU could seek VAT free refits, and if you are off around the world and buy or have an EU yacht, tax free refits in the UK are a good option. Berthon UK has a large Customs Warehouse and expertise in using IPR status.
We predict that for 2021, personal contact will be more important than ever before and whether that is via Teams, WhatsApp and Zoom, wearing a mask with 2 metre distancing or more comfortably having a chat in the cockpit of one of our amazing Berthon fleet members, this pandemic has taught us the value of communication.
Indubitably, along the way there will be plenty of circuits and bumps and COVID is something that we will all have to learn to live with in some degree for several years to come. However, it is always darkest just before the Day dawneth (Thomas Fuller, 1650) and with a new season dawning in the Northern Hemisphere and the promises of shorter days and cool evenings in the Southern, as the world gradually reopens, so will boat shows, rallys, regattas and all the rest. Low key to start with and then later, who knows?
We don't expect to see many boat shows in 2021, although smaller private showings will go ahead and be well attended. We suspect that you should start to populate your diary with boat show entries starting in 2022, but we are hopeful if not confident that the traditional autumn boat shows of Cannes, Annapolis, Southampton and FLIBS will be run in some form in 2021.
And so as we transit through 2021 we do so gingerly but with enthusiasm, with a new website and new facilities in Mallorca, together with a massively enthusiastic team, all working together and very aware that for now we are perilously close to a lee shore. However, that will pass and whilst accurate passage planning remains inexact in these extraordinary times, we will be keeping a firm hand on the wheel and looking forward to working with you to realise your yachting plans, and as ever with this forecast go our best wishes for fair winds and good sailing this year.