AMERICA'S CUP – TEAM INEOS FOILING YACHTS
Photo Credit © INEOS TEAM UK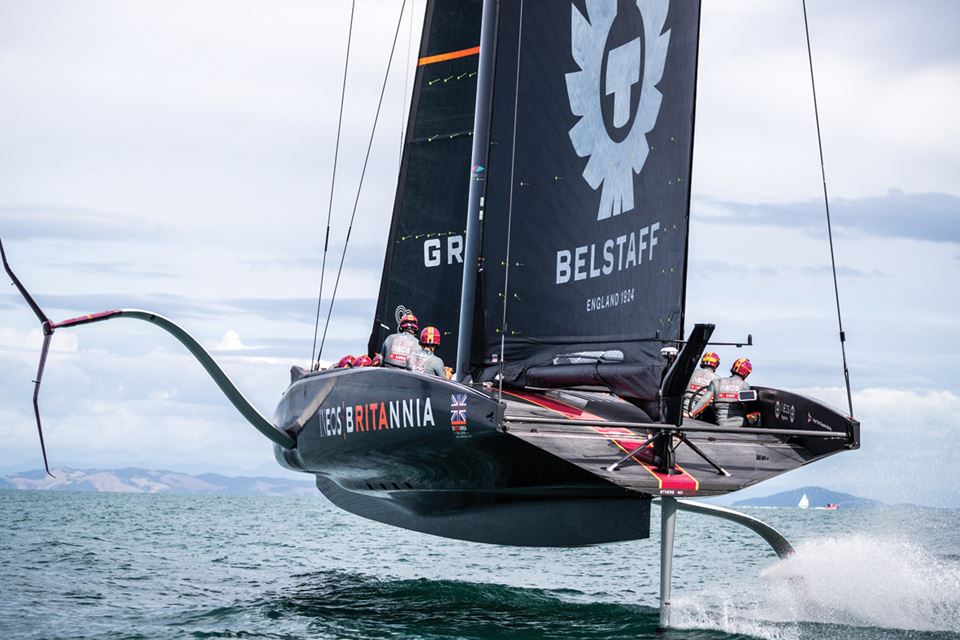 It was first thought that this was impossible. 4 years later the world is enthralled watching vicariously the events unfolding in Auckland. The new AC75 class of foiling yachts have added a new dimension to sailing and stretched engineers' minds. We all hope this is here to stay and keep a weather eye to the future and what kind of technology will filter down to the layman. So cool Philias Fogg may well raise an eyebrow…
---
THE WINDY SLR60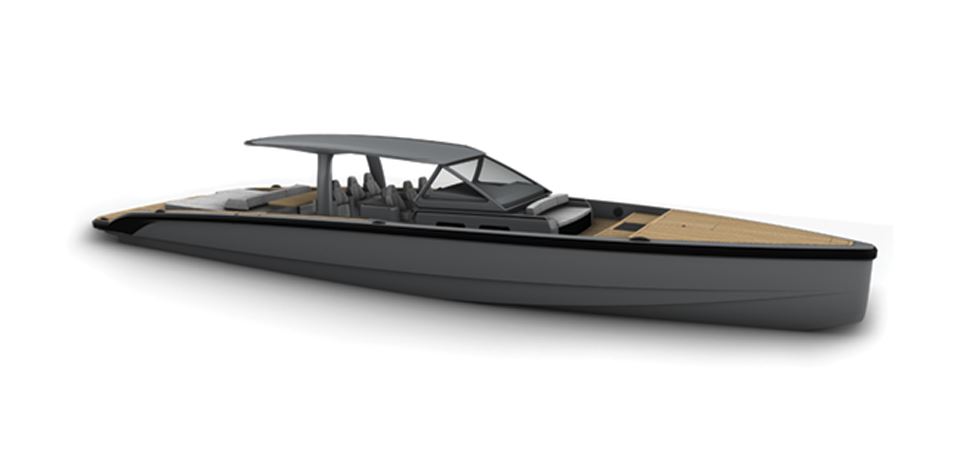 This ice-cool performance superboat is the progeny of Windy Boats and Malcolm McKeon Yacht Design, for an owner requiring high versatility, long range (850Nm @ 25kts), exceptional sea-keeping, crew protection and on-board comfort. Triple inboard IPS engines delivering 44 knots, bespoke Studio Liaigre interior and swept styling with cues from her mothership – this new flagship demonstrates Windy's ability to work on a brief in harmony with the foremost naval architects and design houses. Her central console and full-screen protects 2 rows of guests, with an integrated bar and entertaining zone leading aft onto an expansive sunpad. 2 cabins, facilities and lockers fill her light, exquisitely-crafted innards, ensuring that her rapier looks offer real usability. She has of course a level of engineering and finish that others can only aspire to. We do look forward to the launch of this new chapter for Windy, MMYD and her Owner.
---
SOLARIS 40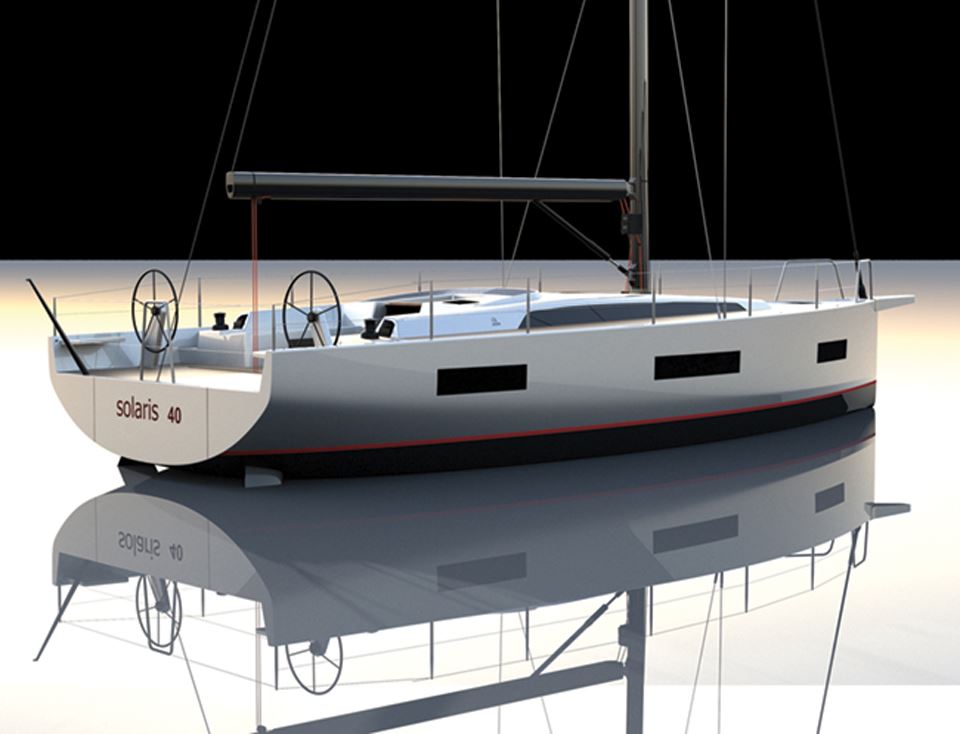 This is the latest new comer to the Solaris range the new 40 and what's not to like! A rakishly good looking yacht with her full width transom, twin wheels set well outboard, dreadnought bow and forward chines delivering performance as good as she looks. Let's not forget the legendry Solaris build both in terms of hull, deck and keel construction and with the yacht's fit out below decks, she offers unparalleled comfort and accommodation for a yacht in this class. The hull windows are a particularly nice feature flooding the interior with light. With hull number one completed and a further four on order the market certainly approves of her beguiling looks.
---
BERTHON SPAIN'S SHED; TRANSFORMING OLD BOATS BACK TO NEW!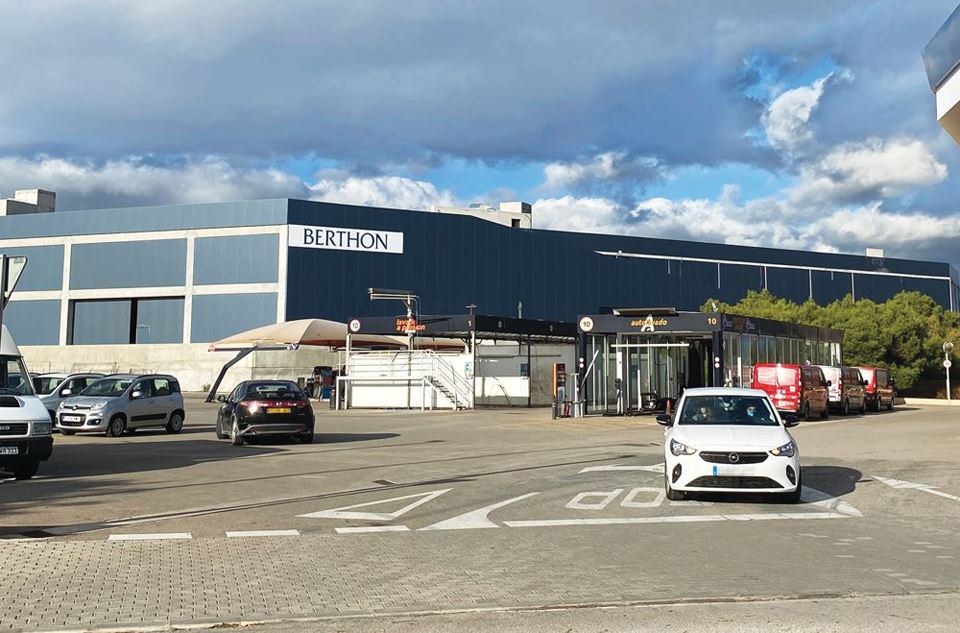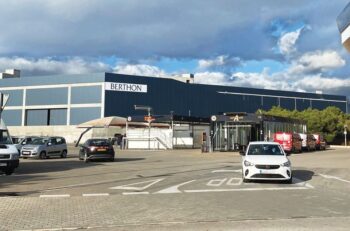 Berthon Spain's new premises located on Son Oms industrial estate has now been finished and is completely purpose built to the specifications we require, housing all our great capabilities under one roof and allowing boats of up to 50 feet to be stored and worked on. This incorporates our team of painters, mechanical engineers, valet crew, project managers, shipwrights and woodworkers. Our custom-made tender racks are capable of storing tenders up to 6 metres and our large boat dollies can take motorboats up to 15 tons and allow us to easily move them around for works. The premises also include our large offices for are support team and managers plus a dedicated area for Westerbeke and other manufacturers' parts. We are now able to offer even more client storage for sails, containers and other items, all of which need dry storage, and close monitoring by our security system.
---
GOLDEN GLOBE & OCEAN GLOBE RACES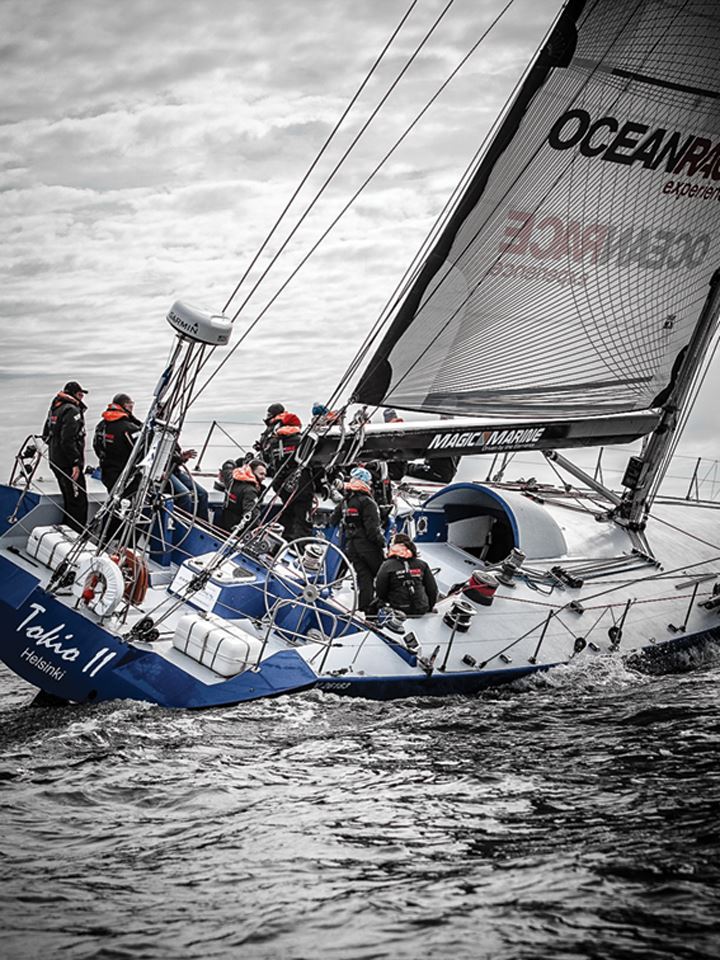 For some, it was the golden age of ocean yacht racing, and it all started in 1973 when the Swan 65 SAYULA won the first Whitbread Round the World Race – she and others used Berthon as a base before and after the race. In 2018, to celebrate the 50th anniversary of this legendary endeavour, the Golden Globe fleet followed in SAYULA's wake taking the route once used by the Clipper Ships and the 1973 Whitbread fleet. Following on from the success of recreating the spirit of the Golden Globe in 2018 with a rerun, the Ocean Globe Race is set to do the same for the Whitbread race. It will start in 2023 and be open to yachts from the race's history. TOKIO II pictured here, qualifies for this epic adventure in the Classic class and could sail with you….
---
THE PEARL 62'S NEW KELLY HOPPEN "LUXURY" INTERIOR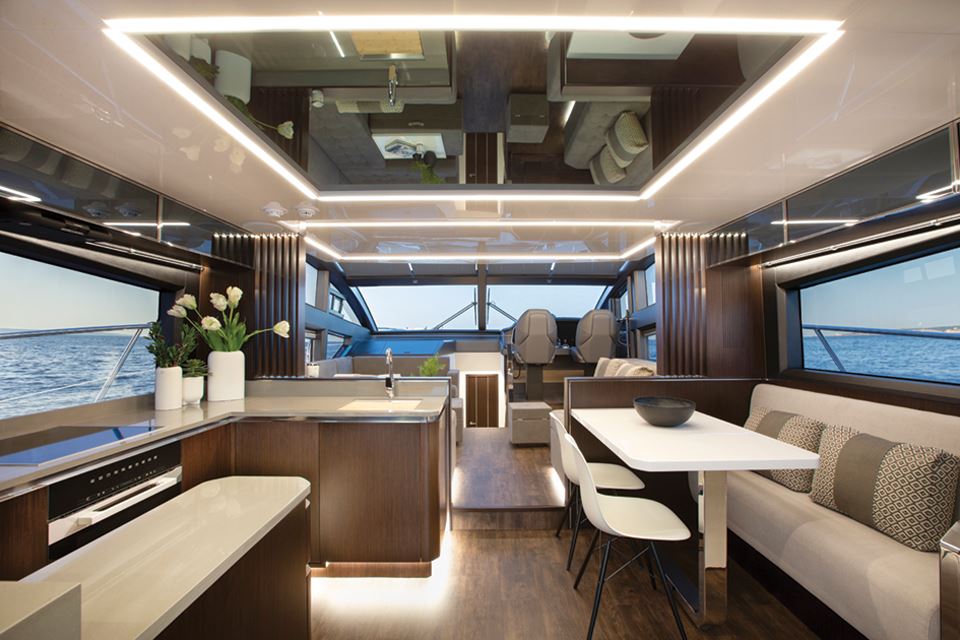 Not content with scooping the prestigious 2021 Motor Boat & Yachting Award for Best Flybridge Over 60' category with their class-leading 62, Pearl Yachts have just released shots of their first yacht at this size finished in the optional "Luxury" finish by Kelly Hoppen. Contrasting rich satinfinish joinery with polished and brushed stainless steel trim, the Luxury option allows another level of customisation to Pearl owners, and sits alongside the lighter "Studio" finish with its relaxed combination of black powder-coated fitting and beach-chic lighter timber joinery. We really like the way that the bed bases appear to float above the cabin floors, with soft diffused lighting from underneath. As with all models in the Pearl range, Hoppen's trademark hushed palettes and crisp interior design touches mark these yachts out, creating a real event every time you step on board – and that is something that we think is pretty cool.
---
ESPEN ØINO ON ZERO-EMISSION MOTOR-YACHTING
Photo Credit © Guillaume Plisson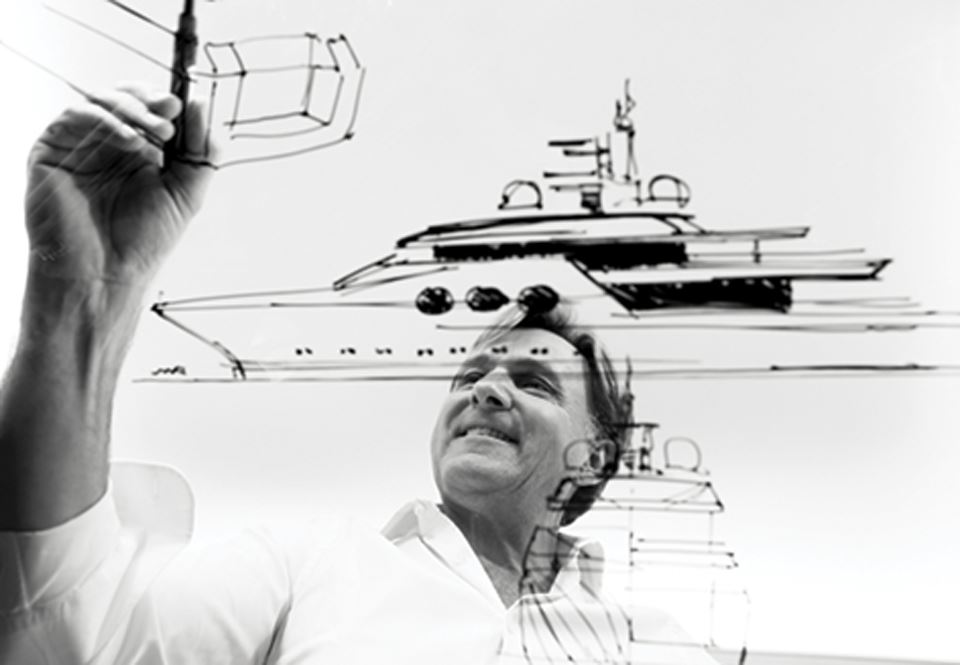 Working towards zero-emission motor-yachting is a super cool and noble aspiration for the future. Berthon's Hugh Rayner recently chatted with Norwegian born yacht designer Espen Øino about it all, asking how his designs were influenced on the race to develop green solutions:
"In many ways we are back to square one when considering the influence of sustainability on naval architecture. Take the use of hydrogen as a future zero-emission fuel; we cannot store this fuel in conventional tanks, so this dictates major changes in the use of hull volume, and in how this space is divided. It will be many years until we reach parity of cost, which today equates to 5 times the price of a conventional energy carrier – so we will have a period of growing into these different technologies. We need to address displacement as a priority to reduce energy consumption and maximise efficiency – overcoming frictional resistance, optimizing waterline and designing slender, slippery shapes. I think we have more to see from multihulls, and a possible return to the idea of the motor-sailer."
With innovative and exciting designers like Espen Øino behind the drawing board for a greener future, we look forward to seeing what the future holds.
---
CHARITY SHIPWRIGHTS & THEIR ARC PROJECT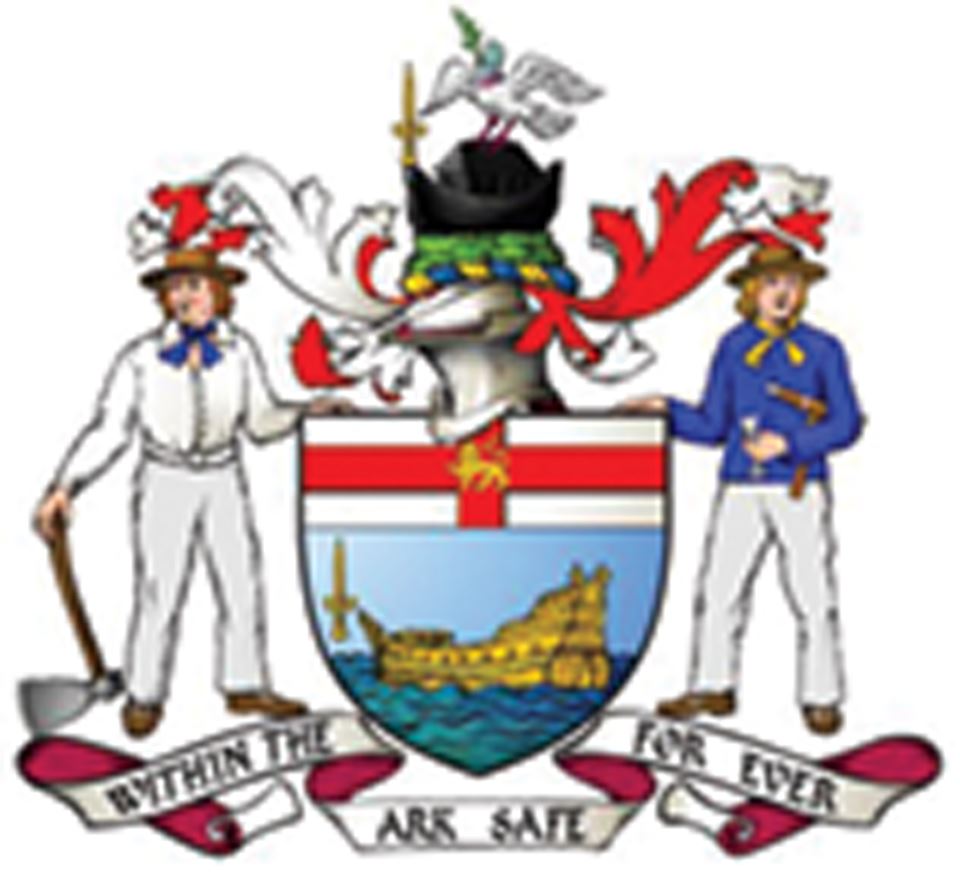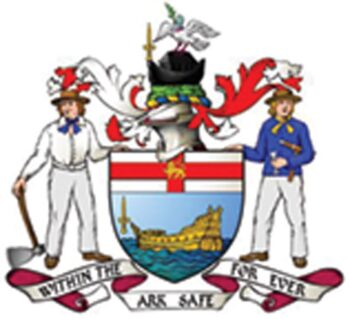 Apprenticeship Scheme formed in 2014 which has funded 113 apprenticeships in the marine industry from Cornwall to Arygll, through the Isle of Man to Teeside with founder-funding from the Lloyds Register Foundation. As with many charitable organisations, funding has become hard to obtain during the pandemic but apprenticeships as a means to further education and acquiring a skill for life still need vital promotion; accordingly, the scheme manager will continue to mentor and guide small marine businesses through the pitfalls and challenges of employing apprentices but sadly without the treasure required to fully fund this effort. Of course you can always help them by offering some treasure of your own if you wish: www.shipwrights.co.uk/shipwrights-apprenticeship-scheme
---
COX POWERTRAIN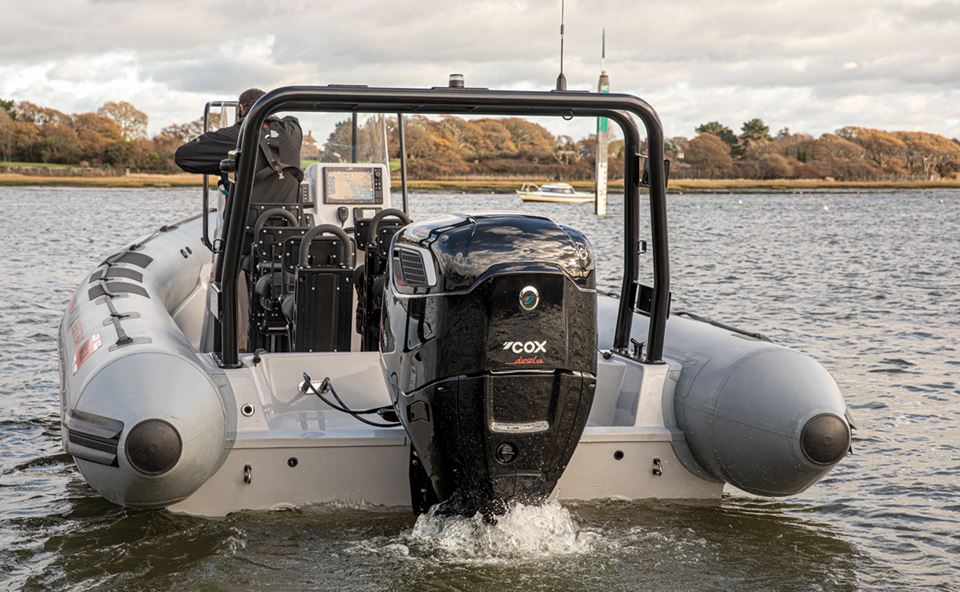 What is cooler than doing your bit for the environment, saving yourself money while buying British! Now you can when purchasing the CXO300hp diesel outboard from Cox Powertrain, distributed in the UK & Ireland by Berthon Power Ltd. Conforming to the highest emission standards, EPA Tier III and RCD2 and benefiting from at least 25% better fuel economy, the CXO300 has been designed and built in the UK and it is the most sophisticated diesel outboard available on the market to date. Longer service intervals and 3x longer life span redefine what is possible when it comes to outboard motoring.