Gosh – where to start – 2021 was a truly strange one as the marine industry came to terms with a very different landscape. Lockdowns with their attendant privations, shifting global travel restrictions, and a challenging freight and supply situation all conspired to create an unsettling new environment.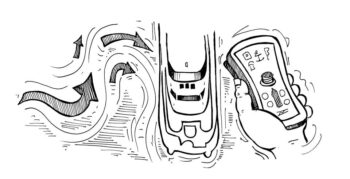 It will be covered elsewhere in this report, but scarcity of engines, lack of stock of electrical components, price rises in raw materials, huge delays on cargo routes, price rises on shipping, and enforced changes to production planning due to staffing shortages have been a monumental mountain for any boat builder to climb. And that's without keeping the doors safely open. Increased focus on sustainability has zeroed in on suppliers. For example, Windy's new options list no longer offers teak as a decking choice. Yacht sales boomed, bringing a whole new audience to enjoy life on the water, filling marinas and pumping new oxygen into our industry.
From a sales perspective, the normal calendar of international boat shows and events was compromised by uncertainty, and we lost Boot Düsseldorf 2021 and 2022 (THE Northern European winter show), which was a major marketing blow for manufacturers and the buying market alike. The UK new yacht scene gravitated to the British Motor Yacht Show in June 2021, the first chance to for many to attend a live event, which was well organised by the team at Premier's Swanwick Marina, with diligent anti-Covid procedures and a healthy, controlled flow of clients over the Pearl 62 during the 9 day run. The show also highlighted the lack of forward availability amongst manufacturers, with lead times generally running into the 2022/23 seasons and clients understanding that the ground had shifted from the days of stock boats and spare capacity. We will attend this boutique salon privé style show in 2022, as a bridge between that start of season and the Southampton 2022 Boat Show.
The next main event that we crossed fingers and toes for was the Cannes Yachting Festival in September. Blessed with superb sunny weather, the show was busy with visiting clients, although noticeably short of Brits (except the Berthon team!).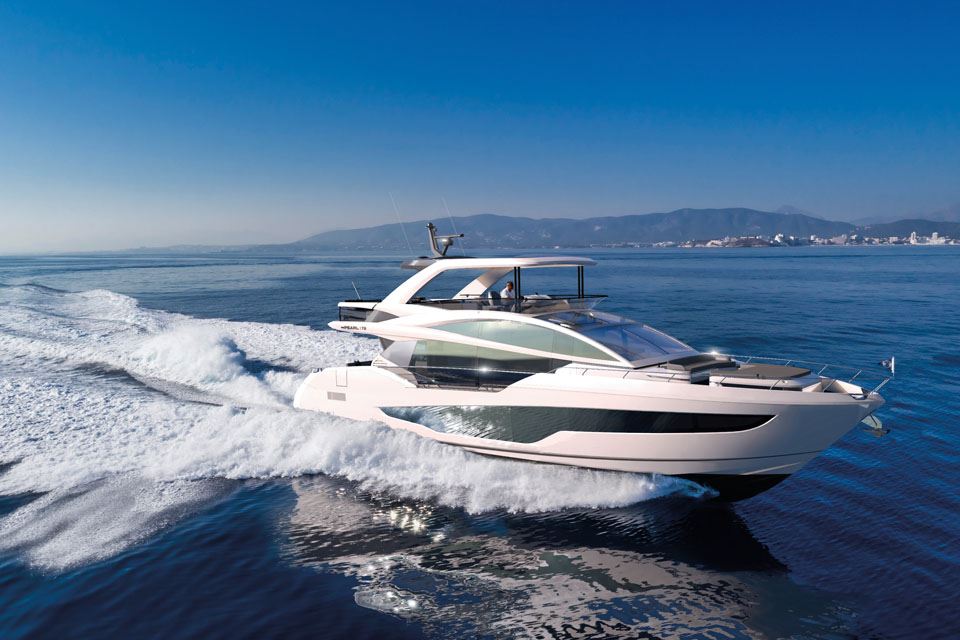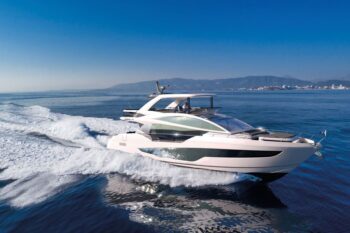 Pearl displayed the entire model range and also at the Fort Lauderdale Show – a true statement of intent. Pearl continues to grow the brand and challenge the market in a highly competitive market place. Pearl Yachts' MD Iain Smallridge and Bill Dixon introduced the all-new Pearl 72, a stunningly fresh design which will debut at Cannes 2022, to a packed tent of international press. Offering a unique twin Master Cabin arrangement, versatile aft double garage/beach club area and exceptional interior design courtesy of Kelly Hoppen, this model affirms Dixon Design's prowess in sculpting volumes around set parameters to maximise on-board space. The 72 is very competitively priced, already sold out off-plan until late 2023, and she reinforces Pearl's hard-earned position as a key player in the flybridge motor-yacht segment – bringing a fresh perspective, innovative layouts and the market-leading 5-Year Pearl Warranty.
The 62 has continued to sell well since her debut in 2020, with two new-builds of this award-winning contemporary mid-cabin cruiser currently on delivery from the Pearl shipyard to new owners in the UK for the 2022 season, and forward production booked out until late 2023. With low volume and high quality remaining fundamental to the Pearl business model, we expect to see limited availability continuing well into 2024, although the shipyard are gearing up to supply each model in slightly higher numbers to cope with the demand that the 62 and 72 launches have created.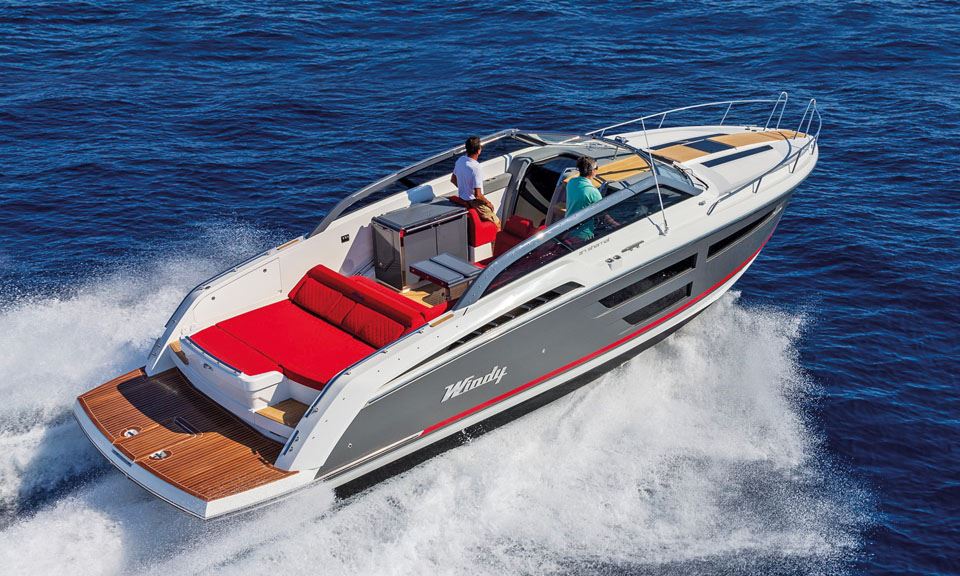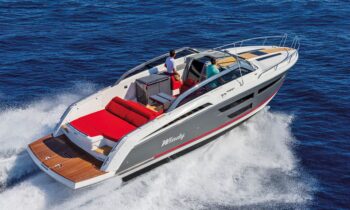 Windy Boats have been as energetic as usual with product development, and the Cannes event showcased Windy's drive in creating two defined ranges in the Sports Cruiser lines (27'-37') and the SR line (26'-60') and indeed the hawkish SR44' graced the cover of Motor Boat and Yachting's Southampton Show edition, trailing a belter of a boat test in positively Bahamanian conditions. We displayed the SR44' at the Southampton show, meeting many Windy owners who had not managed to see the boat during her launch in Düsseldorf, before she then headed off to a new life in the sun of the Red Sea. The Blackhawk consolidated the SR range of fast, open and beautifully-finished boats, offering options for family cruising and larger yacht tender duties alike, and she has done very well, predominantly in the Mediterranean where her open decks and sun-lounging areas are most fitting. The resin infused hull was tweaked during 2021 to accommodate a pair of Mercury's monster new 600hp V12 outboards, streaking away at 51 knots in exceptional quiet, and was launched as the SR44'SX at the Fort Lauderdale show. She's going down a storm with the US market.
With outboard power being a key option for today's performance craft, Windy have re-visited the brilliant 760 walkaround day/weekender, and have released the new SR28'CC – a sleek centre-console cruiser with an overnighting cabin and separate heads – just perfect for exploring Sweden's archipelagos or our Channel coasts. The ability to offer diesel and gasoline options for inboard and outboard set-ups is sure to filter through to other models in the Windy stable, as the efficient power, versatility and ease of maintenance on an outboard rig is plain to see, and that's without the significant increase in available volume on board.
October 1st 2021 was a red letter day in Västervik (Windy's home port), with the launch of the new flagship – the SLR/SR60'. This über chaseboat dressed in cool black garb features a bespoke Studio Liaigre interior, fused with Windy's build know-how and Malcolm McKeon's design flair. With a prodigious range of 850 nautical miles at 25 knots (the SLR having additional tank capacity), this boat offers exceptional performance and efficiency, high levels of customisation, and superyacht levels of finish throughout. The global debut was live-streamed, and attended by captains, agents and guests, eager to see hull #1 – tantalisingly hidden under a giant Sveriges flagga. She is now on duty as tender to her mothership, with hull 2 in production at the Swedish shipyard. The largest Windy built to date, she cements Windy's position as the chaseboat builder with the original SR52' Blackbird. The SLR/SR60 now truly sets the benchmark for the competition.
In summer 2022 we look forward to the new Windy 34' Alizé making her debut at the Cannes Yachting Festival. This is a major moment for Windy – since she will be inheriting the crown of the awesome Khamsin. With two cabins, heads with separate shower, a thumping full-beam cockpit and a broad range of single and twin power options, her athletic lines have been drawn by Espen Øino – we cannot wait to show her to you.
As we head towards the new season, we are confident that this thriving yachting environment, borne out of the pandemic, will drive innovation – with manufacturers actively engaging with client demand for more sustainable boating; from first production, to end of use. The advances in greener propulsion starting to creep into mainstream building, more efficient production techniques, improvement in driver aids (the self docking boat is here, people) and an added emphasis on corporate citizenship can only contribute to broadening the appeal of yachting, and with the days lengthening at last, hopefully this season will be a little more "normal" – whatever that is…
Editor's Note: Hugh is now back at his brokerage yachts desk, which he manages with consummate skill. Rob Steadman is now managing the new motor yacht desk at Berthon UK. – Sue Grant / Editor