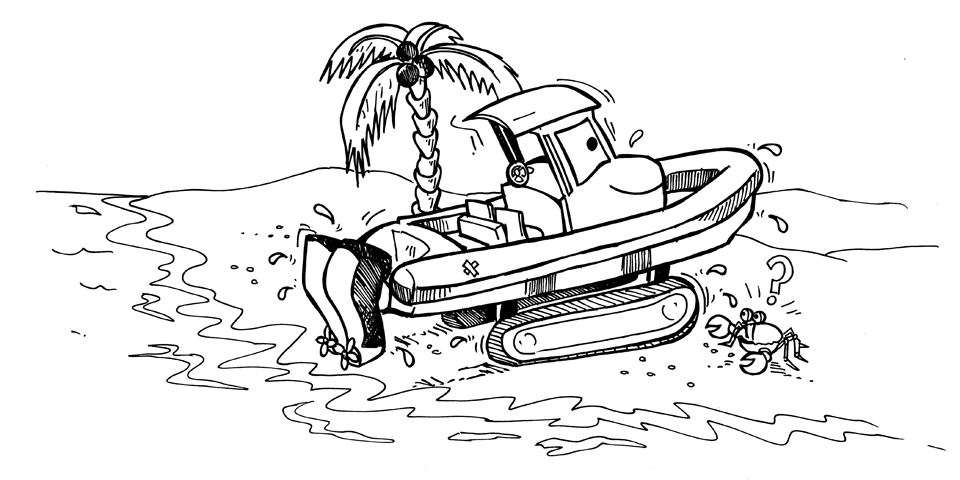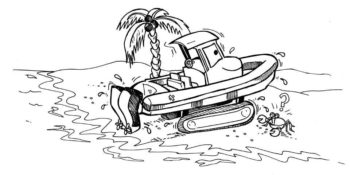 By Robert Steadman
In 2008, Antoine Brugidou the founder of Iguana Yachts, came up with the original idea that tracks would be the most effective way of beating the tide and terrain of the Brittany coastline and he went on to develop a family of amphibious boats that could cope with Brittany, whatever the tidal state. Fast forward to 2019 and Iguana have now sold over 50 boats across 4 continents. They also successfully launched their first RIB X100 model toward the end of the summer of 2019. This was well received by the industry, and more importantly amongst their existing client base. Happily, this has already translated into the first 5 Iguana X100s sales.
The commercial branch of the company "Iguana Pro" also achieved increased sales in 2019 and has now began to make an impact in the worldwide commercial and defence industry, including a recent order for 5 custom Iguanas to a very prominent Navy. Iguana is also in talks with various search and rescue services as they look to expand production from 12 to 24 commercial boats a year.
The Superyacht tender market is of course truly international and competitive. The Iguana, apart from being a great tender, offers a unique and convenient experience for guests, while providing a useful tool for captain and crew. Slowly but surely the message is getting through and today there are 7 Iguana's operating onboard superyachts.
The UK is the second biggest importer of the New Zealand brand Sea Legs. These competent boats rely on wheels rather than tracks and they are extremely well established in the market place. This fact tells you that there is an appetite to have direct access to the water here, which is good news for Iguana.
With any new brand it takes time to break into the market place and Iguana is no exception. The track system, high tech build and the sleek good looks are very different from other boats on the market. An Iguana in the water shows no sign of an ability to drive up a beach (whether sand or pebble) and ploughs her way over mud. The sea keeping is not compromised and the systems are patented and very original.
All this technology and thought comes at a price and we recognize that for some amphibious boat owners, they cannot justify the price on the basis of their level of usage. Iguana will always be a low volume high quality offering and indeed for the 2020 year the production halls are full to bursting and there are no more slots available this year.
Because Iguana is such a unique offering we always work closely with our clients to give them confidence moving forward.
We are pleased to announce that we will be delivering the first Iguana X100 RIB to the UK, for client use in the Solent, in time for the 2020 season.
We have a close working relationship with Iguana and they are a great bunch of people. 2019 was my first year in charge of the Iguana desk (or Berthon Panzer Division as it is affectionately known). It has been a steep learning curve. The boats are easy to use and intuitive but with speeds around 50 knots they still take some getting used to. I have checked out beaches, muddy low tide marks, driven around clients' gardens and spent December in Antigua for the charter show (lucky me!). There we had a ball demonstrating the Iguana to superyacht crews and house owners with water access. I have crossed the Channel by Iguana a few times, roared around in the lovely waters of North Wales demonstrating and much else. It has been amazing.
As far as the boats are concerned I am sold, and if you spend time at the wheel of an Iguana, you will be too. I am looking forward to driving (both afloat and ashore), experiencing and selling Iguanas in 2020.
Do give me a call to find out what all the fuss it about!
Read Another Article
Download Market Report 2020 (2.19MB)