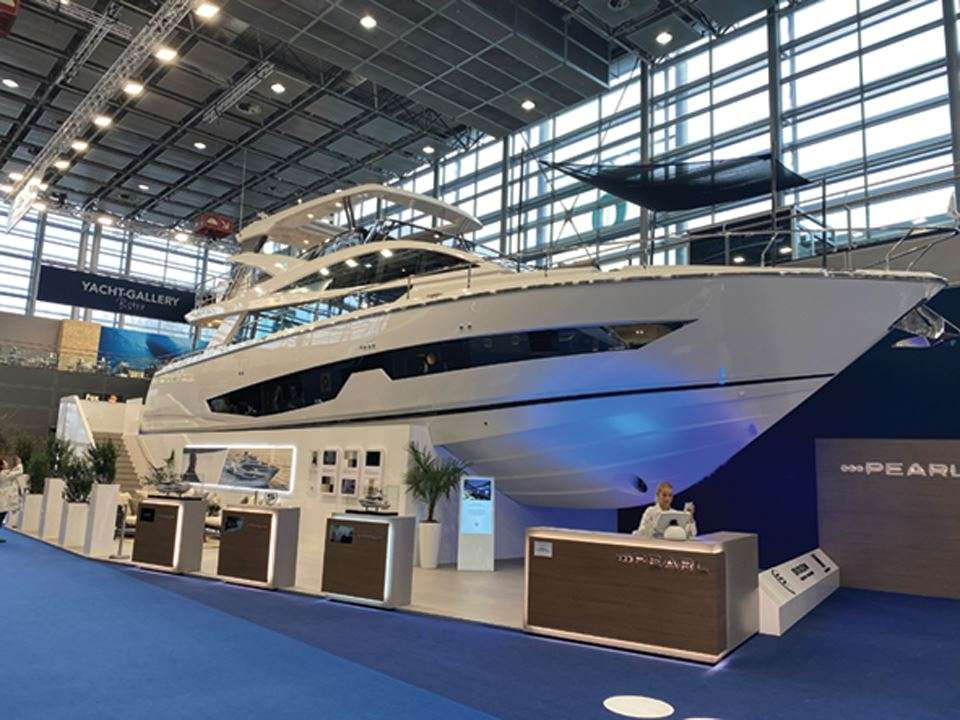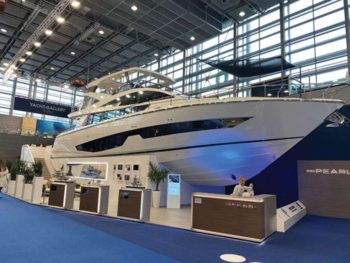 By Ben Toogood
Pearl UK
We have enjoyed another positive and exciting season working with Pearl Yachts in both the UK and France. The yard continues to reinforce their position in the market as a quality, low volume builder with exceptional client service. This is backed up with an industry leading 5-year warranty, offered as standard on all new builds.
The deliberate positioning of Pearl as a "low volume, high quality builder" allows more flexibility for client customisation, more personal interaction and first class after sales. As a result the brand enjoys strong residual values due to limited supply and strong demand.
We attended our first Southampton Boat Show with Pearl in 2019 with the Pearl Yachts 80′, which proved a real star. She is one of the only yachts in class to offer a versatile garage and hydraulic platform arrangement, allowing for stowage of both a tender and ski without the need for fiddly flybridge cranes. In addition, there are 4 luxurious guest cabins (including a vast full beam owner's suite), clever off-set VIP and twin guest cabins, which convert to doubles. The interior was finished in the Kelly Hoppen luxury scheme and is specified with a custom saloon arrangement, dining table and modified forward saloon sofa. To top it all, we have received excellent feedback on the yacht's high technical specification, especially in comparison to her competitors.
The Pearl 62′ made her world debut at Boot Düsseldorf in January, with orders already secured for UK delivery in 2020. The 62′ is one of the only yachts in class to offer 4 spacious cabins, including a full beam owner's suite with dedicated access.
She has a new "modern" interior from Kelly Hoppen (other schemes available) and choice of ski garage or crew cabin. The 62′ is powered by Volvo IPS with the option of DPS, which automatically holds the yacht's position and heading. The IPS system offers improvements in economy, vibration and noise levels over traditional shaft drives.
We have seen strong interest in the Pearl 95′, which was awarded the accolade of best interior design at the 2019 International Yacht and Aviation awards. The 95′ comes with a full beam owners' suite on the main deck with a choice of 3 or 4 cabins on the lower deck. She has a foredeck sun lounge area, expansive flybridge and beach club.
Windy UK
We have seen a strong and exciting year for Windy in the UK.
The 2019 season was a great year for the 31′ Zonda with 4 delivered and numerous clients choosing to upgrade from the 29′ Coho. When compared with the 29′, the 31′ offers the benefits of her additional hull length and a long list of extra features which make adventures further afield and extended stays more comfortable. These boats have all stayed in the UK and have been delivered to clients in both the Solent and Poole Harbour.
The 39′ Camira continues to be popular, and has very few direct competitors. She offers an up-scaled version of the 31′ Zonda hull and is remarkably capable off-shore. It has an expansive cockpit, 2 proper cabins, glass hatchway door and tender garage. The versatile canopy set up easily protects the cockpit and can be converted to a bimini for sun protection, making the 39′ equally well suited to the UK or the Mediterranean.
We delivered a brace of Windy 27′ Solano to clients in the UK with the Volvo D4-300 and V8-350 engines and a 29 Coho GT with the new D6-440 DPI engine. The 29'GT was a hot boat at Southampton Boat Show in September with several orders placed for 2020 delivery.
Also sold in 2019, was a Windy 46′ Chinook to a long term client, who now keeps the yacht in North Wales. Two days after handover, the client was able to fulfil a long term aspiration of visiting the Scilly Isles by sea from Lymington without issue, which is real testament to the quality of build from Windy in Sweden.
In Cannes the 27′ Solano RS was launched together with the new highly anticipated SR44′ Blackhawk, which draws on the success of the Windy SR52′ Blackbird. The focus of this new model has been to offer un-paralleled performance, sea keeping, build quality and range. She will be offered with a wide range of customisation programmes and new level luxurious finish. The SR44′ is equally well suited to day boat, superyacht tender and chase boat applications.
The new Windy 37′ Shamal was launched at Boot Düsseldorf and has already proven highly successful with availability quickly sold out for the 2020 summer season. The 37′ is the first production collaboration between Windy and the renowned superyacht designer Espen Oeino, who has worked closely with Windy on a number of superyacht projects. She embodies the Windy's DNA and sets a new benchmark for future development with retro-modern styling inspired by Windy models of the 60-70's and more recent, discontinued models such as the Windy 35′ Khamsin which were extremely popular.
The Shamal is available with a range of powerful engine options including the new twin Volvo D6-440 DPI engines, which can be supplied with a host of intuitive Volvo EVC features, including the DPS (station hold feature). Her aggressive hull will of course offer impeccable sea keeping and a refined and responsive on-water experience. Production is sold out for 2020 so call me to discuss your 2021 order.
The Windy 32′ Grand Zonda was also launched at Boot Düsseldorf offering a face lift and design update on the ever popular 31′ Zonda. This includes an up-dated dash board design, extended platform and the introduction of an RS sports package. The RS package includes exclusive design updates and a competitive end price.
Read Another Article
Download Market Report 2020 (2.19MB)