Broker's Comments
Alfred Mylne Glen-Coats Gaff Sloop, DUET is a captivatingly pretty yacht, originally built in 1926 with an Alfred Mylne pedigree and thoroughly restored by her current owner. She has been fully optimised and has proved herself to be a phenomenally successful silverware collector in the Vintage Class at the Mediterranean classic regattas.
Compact so easy to handle and to look after, she provides a massive amount of fun both on the regatta circuit and also for local sailing.
DUET is now stored under cover in a barn close to the Berthon Sales Group HQ in Lymington in the UK, where she and her extensive kit can be easily viewed. On the market as her owner's plans have changed, she is a very special piece of our maritime history that also wins races and turns heads. She is being offered at a very modest figure and is VAT paid both in the UK and Europe. She is a honey.
History
Alfred Mylne Glen-Coats Gaff Sloop, DUET was designed by Sir Thomas Glen-Coats and built by the renowned Scottish yard McGruer & Co in 1926 to compete in the International 6 M class.
Thomas Glen-Coats after completing his apprenticeship worked as a naval architect for Alfred Mylne & Co and specialised in the metre class; producing some wonderful race-winning yachts. Born into the famous Coats cotton dynasty of Paisley, he owned many yachts that he had designed himself. Considered an illustrious designer in his own right, his most famous victory was winning the gold medal for Great Britain in the 1908 Olympics; that race contested in his home waters of the Clyde. Sailing HERA, Glen-Coats pushed the Alfred Mylne designed yacht MOUCHETTE into silver medal position – thus securing an immortal Olympics one-two for A. Mylne & Co.
Following the war DUET became a "Q Class" handicap cruiser with the addition of her attractive cuddy / cabin and interior accommodation etc. She was subsequently restored by the International College of Boatbuilding and displayed at the London Boat Show as an exemplar of their work and skill. In more recent years, she has had refits by leading Lymington boat builders, Steve Etheridge and Neville Hutton.
In 2011, DUET took overall victory in the Yarmouth Old Gaffers Festival, held annually on the Isle of Wight, in which 150 plus gaff rig yachts took part. Then on her way down to the Mediterranean she competed in and won the Open Championship for International Classic 6 M Class at La Trinite-sur-Mer. Since then she has raced from her Cannes base, winning several races including the Yacht Club de France "Coupe d'Automne" in 2012 and the Vintage Class overall at Les Voiles d'Antibes in 2013. In 2014, she was 3rd in Les Voiles d'Antibes and 2nd at the Régates Royales Cannes. DUET has a 2014 CIM certificate, APM 245 and is also 6 M certificated with Bermudan rig. An extensive selection of original drawings is available from the Alfred Mylne design archive.
Panerai Les Voiles d'Antibes 2013: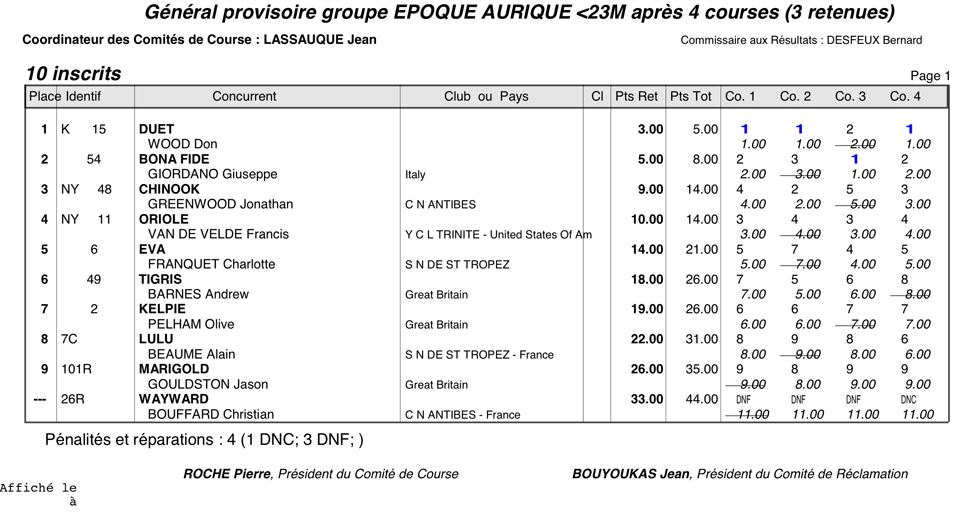 Yacht Club de France Coupe d'Automne 2012: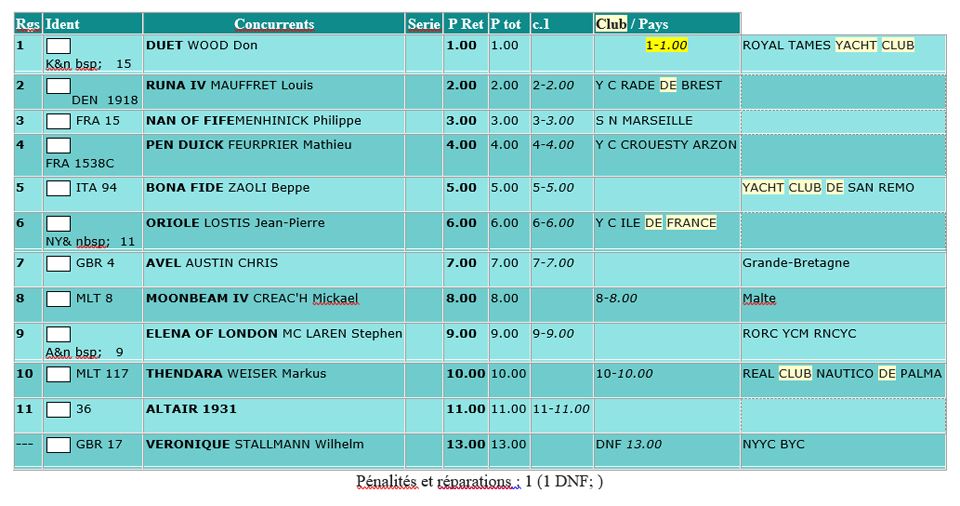 ---