Another Berthon Forecast and another wintery day outside, seen through the windows of my garden shed, and what a year 2021 was! We predicted a buoyant year, but nothing could have prepared us, glass half full in hand, for what happened in the yacht market as the year matured.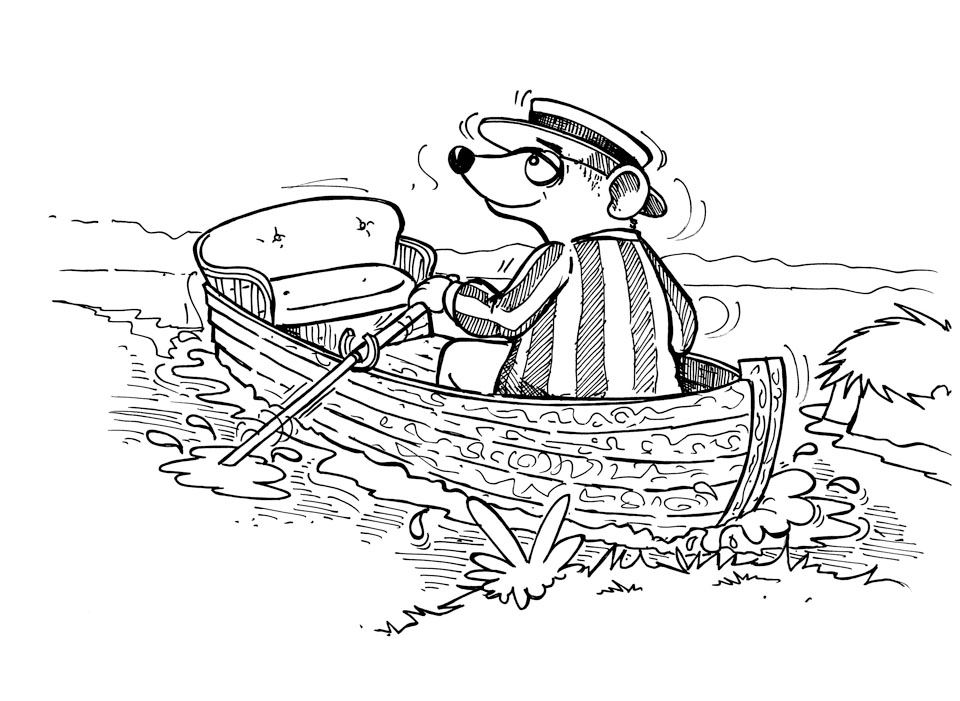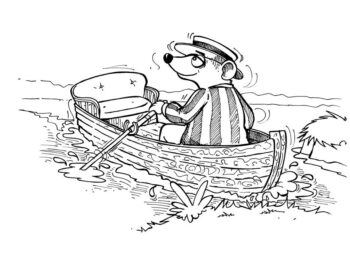 At the Berthon Sales Group we have always believed (like Ratty) that there is very little else half as worthwhile doing as messing around in boats. Our clients clearly agreed! The Covid-19 crisis was a driver for getting out there and doing that ocean, buying that yacht for lazy family time or for doing the yachting project that hitherto was an idea in the back of your mind, misunderstood and disapproved of by your bank manager.
2021 was all about the jab, or should I say jabs… These marvellous interventions took us out of our houses (and garden sheds) and back into the reality of living life – albeit cautiously. We all learnt about Fit to Fly forms, PCR tests, vaccination passports and most horrible of all – the dreaded Passenger Locator Form. Most of us dived into the bureaucracy, hungry for the return of normal life and the opportunity to travel and to do stuff…
Aside from Covid-19, the strained relations between China and the West, Russia and its many tanks parked on Ukraine's front lawn, which as I edit has led to an altogether more serious situation; and a full-blown energy crisis have made for exciting times for the political commentators around the world and worrying ones, for the rest of us.
As I write, the stock market is what is called volatile, inflation and interest rates are climbing, none of which are particularly cool, but the issue that has touched us all and which continues to be a real problem, are the supply chain issues that affect everything from avocados to turbo chargers. The yachting industry has suffered along with the rest of the planet, and as this problem brought on initially by the Covid shut downs is now amplified, and is sadly not a quick fix.
Looking back at our predictions for 2021, I think that a collective pat on the back is probably in order, except of course that we did not see the size of the growth in yacht sales, which for us hit unprecedented levels. As for the rest of it, we did quite well….
This time last year we were in shut down and hoping for better times. We predicted that the vaccination roll out would give our clients the freedom to leave home and go yachting, and that for us this would mean yacht sales. We also felt that the wall of money not spent in lockdown would fund yacht purchases – helped by a strong equities market – another tick!
We predicted a continuation of restrictions in some form and as we battled through Delta and then Omicron; that was the case. Importantly our prediction about the lead times for new yachts and lack of pre-owned yachts on the market all came to pass.
The European/Brexit VAT situation has been slightly relieved. We didn't see that one and we were cautious about boat shows – and to a degree were right. These events carry significant risk and the fact that Boot Düsseldorf has not run either in 2021 or this year, shows how fragile our exit from the lair of the Covid dragon really is. However, no one could have predicted how amazing and fantastic Cannes Boat Show was and how good it felt to be at this awesome in-water show in glorious sunshine with yachting enthusiasts and epic yachts of all hues, type and size all around.
So what of this shiny new 2022 as a high weather pressure system clothes Europe in sunshine? Last year was so exceptional that it is hard to believe we will enjoy the same levels of activity a second year running. The stock market has come off, the frenzy of government spending to ward off Covid around the world is starting to bite and as a result tax rises and the task of rebuilding our planet's economy is beginning, against the back drop of the threat of a new variant sometime soon. Although, a second booster is offered to over 75-year olds, in the UK, with half the world still unvaccinated, there is a lot to do.
The conflict on Europe's eastern border is an unwelcome hiatus for our planet and predicting the effect of this, is something way above the pay grade of this scribe. However, it seems likely that aggression could last through the summer to keep gas prices high into the autumn and winter as another negotiation positive for the largest autocratic land mass in the world.
As mentioned above, in January we mourned the loss of the Düsseldorf Show and the frenetic activity of the past year was replaced by more normal activity patterns. Parts of the Sales Group trucked on without pause – our Service business in Spain and the Swedish office both had amazing January results.
However, the market elsewhere is now starting to gain pace with small local boat shows popping up again. The concern that all those who wanted to buy a yacht and have this safe, fun and special place were done and suited in 2021, is not so. With a more open world, we are seeing that cruising plans for 2022 are more ambitious – Mediterranean and further and many clients are furiously planning planet circuits that pre-Covid would simply never have been on the agenda, as the office treadmill would for sure have intervened.
We predict that the market will have good traction this year, although the already gathering economic storm clouds will slow some of our clients down, so we don't expect such a stellar year as 2021.
A limiting factor for this is certainly around the delivery times for new yachts. The shipyards that we represent are mostly offering delivery out to 2024 as I write. What has been encouraging is that so far, and we think that this will continue, clients are prepared to wait for a quality new yacht built to their specification and with all the joy that this brings.
The brokerage market also has obvious supply and demand issues. The fact is that in 2021 yacht brokers sold more yachts off the market than came onto it. The lack of new yachts to fill the void and reduced listings will be a continuing feature of 2022.
Given the challenges of getting either a new yacht or a recent pre-owned yacht in turn key condition, we predict that buyers will start to explore the possibilities with brokerage yachts needing refit to bring them into tip-top condition. Covid is not gone but is fading fast, and the wish to continue the journey of an improved work life/balance and enjoying more time on the water remains.
Supply chain issues and inflation will continue to put pressure on new yacht prices and this will keep brokerage yacht prices stable. However, we predict that for 2022 buyers will definitely wait rather than pay an inflated price for a second hand yacht to get out on the water now and so the opportunities for making hay when you sell your yacht will be fewer.
On other predictions we feel that electric drive, foiling (sail and power) and greener solutions to the construction, powering and maintenance of yachts will gain importance this year and that this is the year that the teak laid deck's decline will start to become very apparent. With so many excellent synthetic alternatives on the market, and the unacceptable reality of cutting down trees to make a cosmetic covering a yacht's deck, means that more people will order yachts without teak decks and those replacing worn out teak decks will do the same.
We also think that the rush for the ARC in 2021 and the number of clients that we are talking to about world trips – both sail and power – will see historic numbers of yachts crossing the Atlantic at the end of 2022. No crystal ball, but if the Pacific is open for business in 2023 – expect rush hour for pleasure yachts in the Panama Canal!
The FPB market continues to do well, with Steve and Linda Dashew's magnificent designs born out of literally hundreds of thousands of sea miles still proving to be in a class of their own. FPB was hot in 2021 with 6 x FPBs finding new owners keen to dive into the capability and cruise fast, and in comfort and safety with friends and family. The fleet will continue to reach the parts that other explorer yachts simply cannot and we also predict the possibility of a new development that will be welcome to all for whom FPB is the benchmark by which others are judged.
It was sad to see the Discovery Shipyard falter and finally stop at the end of 2021. However, we think that its legacy of fine cruising yachts both Discovery and Southerly will continue to sell well on the brokerage market assisted by good support from Berthon, JE Marine and other companies that know these yachts well.
And so what of the Berthon Sales Group?
Having navigated our little ship through the shoals and shallows of the pandemic and hoisted downwind sails for the trade winds of the market in 2021, we have taken the opportunity to upgrade her with some new kit and have fully serviced her systems. We also welcome some new faces to the crew. For me, the most important thing about the last 12 months is that the original crew who signed on for our 2021 voyage all remain aboard and the experiences of the past 2 years have pulled us closer together than ever. This is the glue that welds the team together, my huge thanks to them all.
The service operation in Spain is growing at pace. Palma de Mallorca continues to be the prominent centre in the Mediterranean for service and yacht sales. This will continue and the service facility and resources that we now have available will mean that in 2022 we will refit more yachts, do more guardiennage and the crew will expand further. We are also working hard to develop the yacht sales part of the business that did so brilliantly in 2021.
The USA is the economic driver of the yachting industry. The performance of Berthon USA in 2021 confirms this to be the case. We continue to develop this business with Solaris added to their new yacht stable and Peter Houghton to the team. We predict another strong year in the USA – limited by the availability of yachts both new and second hand.
This year we are expecting more boat shows from the British Motor Yacht Show and the South Coast Boat Show in the UK, to Mandelieu, to the yachting bazaars that are Cannes, Southampton, and Annapolis – and Berthon will be there!
Predicting weather is not a good look – whoever you are – and particularly in these times of extreme weather events and global warming. However, we will be bold and for the UK at least, we will predict that the weather will be no worse than last year…
Read Another Article
Download Market Report 2022 (9.75MB)